Dallas native and professional actor David Novinski earned his B.A. in Drama from the University of Dallas and went on to the University of Pittsburgh to earn his MFA in Acting. After some regional Shakespeare festivals and summer stock he returned home to the metroplex to raise a family with his beautiful wife. Presently he makes his living as a designer/artist with novinskistudio, a design firm he founded with his father. He is excited to join D's website in its effort to shine a light on the excellent art taking place in north Texas.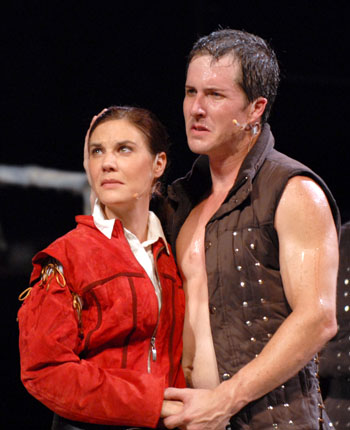 A
Cymbeline is Shakespeare Light: twice the plot with half the text. If you like disguises and discoveries, poisons and pardons, Kings, Queens and all that's in between, this is your rare opportunity to get them all and then some. This script is the closest thing to the Monty Python version of a Shakespeare mash-up. You get the impression the Bard began with trying to write the longest, silliest, most convoluted resolution scene possible. Then, he went back and wrote the play to fit the ending. How ever he got there, Director Rene Moreno seems to get the joke and ends up with a production that is equally laughable as laudable. Get a blanket, cooler and sand chair and head outside your house and your comfort zone to Shakespeare Dallas at Samuell-Grand Park.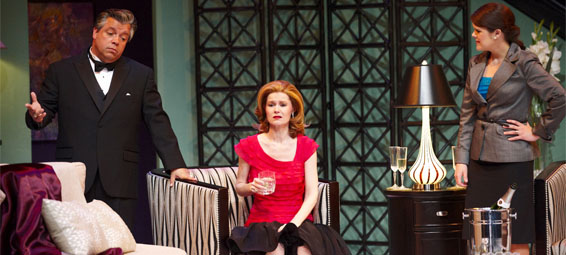 B-
In Regrets Only, Paul Rudnick serves up a referendum on gay marriage couched in a modern drawing room comedy. Unfortunately, the audience is left unsure if the show is for or against. And when you are playing in front of Uptown Players' patrons, that's just confusing. The politics may be cloudy, but the comedy is clear. That's why it is so surprising that it misses the marriage mark as it hits everything else. This is a one-liner shoot-out with plenty of friendly fire and ammunition to spare. So, if you like your wit strong and your issues weak, put on your best designer duds and head uptown.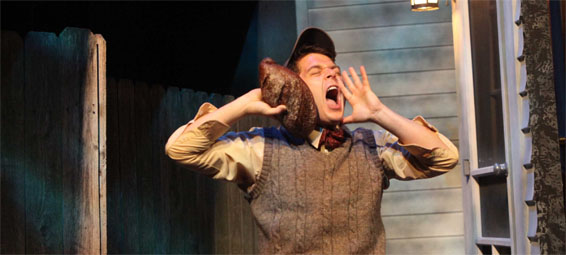 B-
Eugene Jerome tells it like he lives it. You see he wants to be a writer and these are his memoirs. Truthfully, they belong to Neil Simon. His award winning Brighton Beach Memoirs is semi-autobiographical, and in the hands of Contemporary Theatre of Dallas and director Michael Serrecchia, it's also semi-funny, semi-serious, and only semi-effective.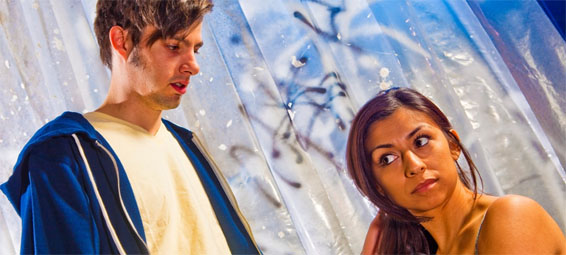 A
Long Way Go Down is the story of an illegal couple stuck at the border in Arizona, but don't think this is just a topical issue play. It could be set in any border state and it was written before their new law. It doesn't waste time shaking its fist. High stakes makes for high drama in this no-limit world of people with nothing to lose but everything. Playwright, Zayd Dohrn, has created a sort of nouveau noir world like some great detective thriller without a detective. Director Chris Carlos has a hit on his hands.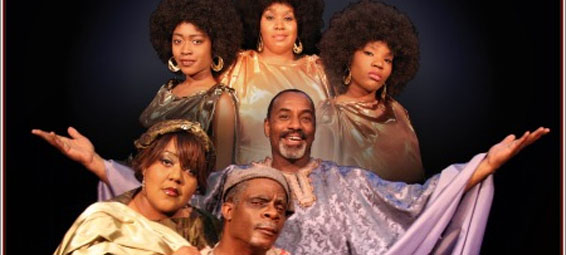 A
The Gospel at Colonus combines the black gospel choir of modern America with the tragic chorus of ancient Greece, reuniting theatre and religion in manner that would make sense to the founders of our Western civilization. After all, in Greek, tragedy literally means "goat song." Sacrifice an animal and tell a story in song. That's the way it was. In fact, it was so important to attend, they even brought the prisoners. It was medicine for the society and the soul.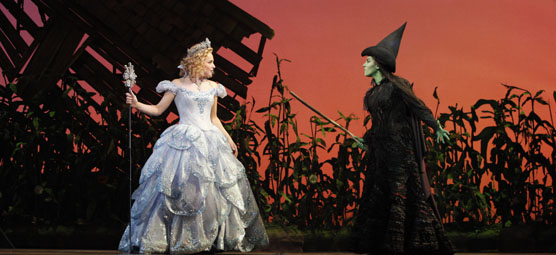 A
The story, compelling as it is, would not account for the show's unrivaled success. The team of Stephen Scwartz (music and lyrics) and Winnie Holzman (book) combine Broadway, movies, and television know-how. They know what works and aren't afraid to sail those waters. Joe Mantello's direction combined with Wayne Cilento's musical staging adds their Tonys to the experience tally. But none of them won for this show. The designers for set and costume swooped and swiped the statues, and deservedly so.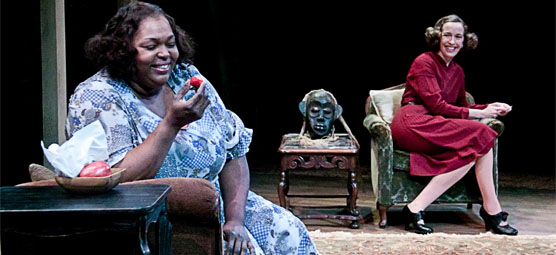 B-
On the face of it, this seems like a fantastic scenario ripe with dramatic potential with great historical legs to boot. And, author Frank Higgins knows how to twist the plot knife at just the right time. These are the things you get. What you give up is dialogue. It has the blunt edge of exposition. If you are hoping to eavesdrop on the complicated cat and mouse bargaining inherent in the plot summary you will be disappointed. The banter of the play lacks feminine finesse. Even Meisner master Martin can't overcome the clunk. So, you've got richly drawn characters replete with detail but they don't interact well. In fact, Susannah at one point even says, "We do better when we're singing." She's right.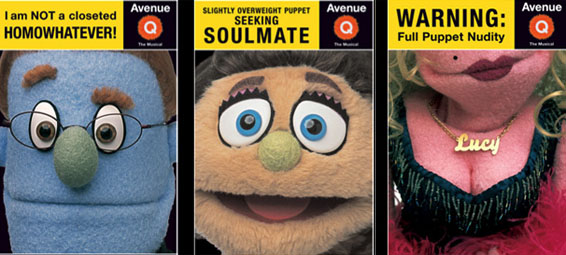 B-
You can't talk about
Avenue Q
without talking about
Sesame Street
because they're both talking about the same things – albeit on different ends of the educational continuum. Both use humans and puppets in an urban environment confronting mysteries big and small with frank discussion. As the advertisements warn: there's full puppet nudity. It's shocking, but the shock is part of the point.
B-
Risk averse, One-Thirty Productions (named after their chosen curtain time) is devoted to the art of the early afternoon. As such they've chosen a perfect vehicle: the world premier Well-Travelled, But Not Well-Known by Ellsworth Schave. It's an ode to summer stock theater, mom and apple pie. A safer afternoon in the theater can't be found. Unfortunately, un-threatening may mean un-thrilling as well.
B-
When the creators of a musical name it [title of show], you know they're betting their bucks on pure moxie. Theatre Three has Bruce R. Coleman directing a sparkling cast in this "let's put on a show" musical, and that's a good thing because the moniker is a harbinger of the level of jokes to come. It is a musical about writing a musical, which isn't such a new idea. Only this musical about writing a musical is about writing this musical. Narcissism, thy name is theater.