Hockey
Ty Dellandrea was a surprising hero, and Dallas has new life in the series.
Hockey
Dallas isn't done quite yet.
Hockey
According to Amazon's virtual technology assistant, Dallas is only down a game in its series with the Golden Knights.
Baseball
Plus: the Stars try to escape an 0-3 deficit against Vegas, while the Wings look to remain undefeated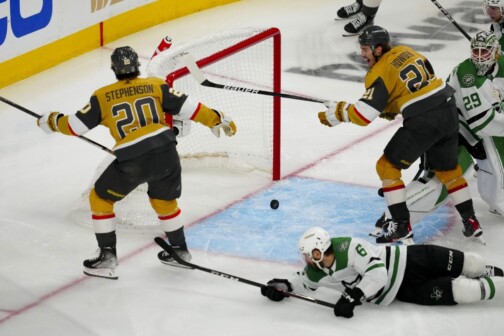 Hockey
Dallas is down 0-2, having yet to exorcise their demons. Did it seal their fate?
Hockey
If the Western Conference Finals follow the script of the first two series, maybe losing in overtime isn't so bad.
Hockey
Once upon a time, Dallas' captain was the star of the show. Now, his contributions in a lower-profile role have led his team back to the conference finals.
Hockey
The right names stepped up as Dallas moves on to the conference finals.
Basketball
Plus: the Wings' season begins as the Stars fight to make sure theirs doesn't come to an end.