| 8 hours ago
A long-awaited pedestrian and cycling connection from Victory Park to the Design District appears to be moving forward. The plan's brushstrokes date back at least to 2016, when a nonprofit called the Circuit Trail Conservancy unveiled a 50-mile cycling loop that would extend from just west of White Rock Lake south to the Great Trinity Forest. From there, it would take you to the Design District via the Trinity Strand Trail along the levee and back up through Oak Lawn along the Katy Trail, eventually meeting at the trailhead near White Rock.
We've written about many angles of the Loop, from the 17-mile Trinity Forest Spine Trail, the $20 million voters approved during the 2017 bond, and the questions the City Council had about funding for the whole project.
But one of the trickiest connections in the entire system is also one of its smallest. What's known as the Hi Line Connector is just a one-mile stretch between booming Victory Park and the Design District, which are split apart by Interstate 35E and an elevated rail line.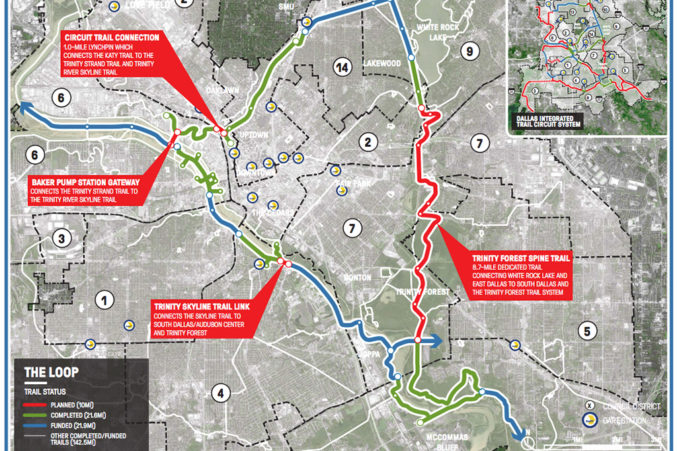 Despite being a smidgen of the total Loop, it will require more interaction with public right of way than any of the other planned 49 miles, according to Philip Hiatt Haigh, the Conservancy's executive director. That includes some difficult, major pieces of infrastructure: the roads beneath both Interstate 35E and the elevated DART/TRE rail line as well as the enormous, busy intersection at Oak Lawn and Hi Line in the Design District.
Read More