Things To Do in Dallas This Weekend
How to enjoy local arts, culture, food, fitness, and more while practicing social distancing.
While restaurants, movie theaters, and other local businesses have reopened with limited capacities, we're still very much in the midst of an infectious outbreak. Dallas County is experiencing record numbers of COVID-19 cases, and Gov. Abbott has paused the gradual reopening of Texas' economy. Bars are closed again and restaurants are back down to 50 percent capacity. Medical experts recommend that we continue to practice social distancing and wear masks vigilantly. 
Many arts and entertainment venues have made the decision to stay closed a little longer. Most Dallas museums have remained closed while those in Fort Worth reopened at the beginning of July. Other cultural venues have made some big changes in order to open their doors again. A couple movie theaters, including Cinépolis, Studio Movie Grill, and Cinemark, have started the process of reopening. Most food and drink spots have implemented new safety measures, but we've also seen a surge in COVID-19 cases among employees in the service industry. 
Getting out and about poses a considerable risk until we see a two-week decline in new cases, hospitalizations, and deaths. Take that into consideration as you map out your plans for the weekend. 
We've rounded up some fun things to do at home in addition to socially distanced happenings around town this weekend.
Things To Do This Weekend: Aug. 6 – Aug. 9
Thursday, August 6
Jazz artist The Kwinton Gray Project is live streaming a concert from Deep Ellum Art Company at 9 p.m. on Thursday. Tune in on Facebook.
The Cedars Union and Erin Cluley are teaming up for a Q&A called How to Find Local Artists & Get Found. Cluley, who owns a self-named gallery in the Design District, will discuss how she's built her roster of DFW artists, and what artists can do to put themselves out there. The virtual event is taking place at 5:30 p.m. over Zoom. 
It's National Legendary Margarita Day at The Rustic and they're celebrating with $5 frozen drinks, house-made popsicles, and more. The event goes from 3-10 p.m. 
Uptown Bar Tipsy Alchemist is having a cocktail pop-up at Krio, a new Asian-inspired Cajun restaurant in the Bishop Arts District. Bartenders will be whipping up liquid nitrogen cocktails from 4-10 p.m. 
Friday, August 7
The Texas Theatre Sunset Drive-In has a showing of The Road Warrior on Friday at 9 p.m. The theater has set up a mini drive-in in the parking lot on Sunset Ave. There's food and beverage service available via phone, and audience members are encouraged to stay in their cars. Purchase tickets here.
Fletcher's Original Corny Dogs will bring some fair flair to Lakewood Growler on Friday from 3-8 p.m. There will be two food trucks with corny dogs, funnel cakes, and lemonade (credit cards only–no cash). 
Farmers Branch is hosting Music and a Movie in the Farmers Branch Historical Park on Friday at 6:30 p.m. There will be a concert featuring Straight Tequila Night at 7 p.m., and a screening of Urban Cowboy at 8:45 p.m. Food and concessions will be available for purchase. 
Cafe Madrid has First Friday Flamenco from 7:30-9:30 p.m. Diners can watch a flamenco performance from their distanced tables during dinner. 
Saturday, August 8 
Dallas Yoga Center offers free yoga in Klyde Warren Park on Saturday at 10 a.m. Bring your own mat and mask. 
The Boho Market is back at Dallas Farmers Market on Saturday from 10 a.m.-5 p.m. You can shop small businesses and artisans alongside the market's regular vendors. 
The group In Solidarity is hosting a vigil, #SayTheirNames, in Belo Garden Park on Saturday at 7 p.m. Bring candles, signs, flowers, photos, or balloons and help the group erect a makeshift memorial. Check the Facebook page the day of the event for updates. 
Musician Alexandra Tayara is performing for the patio crowd at Whitehall Exchange in the Bishop Arts District around 8 p.m.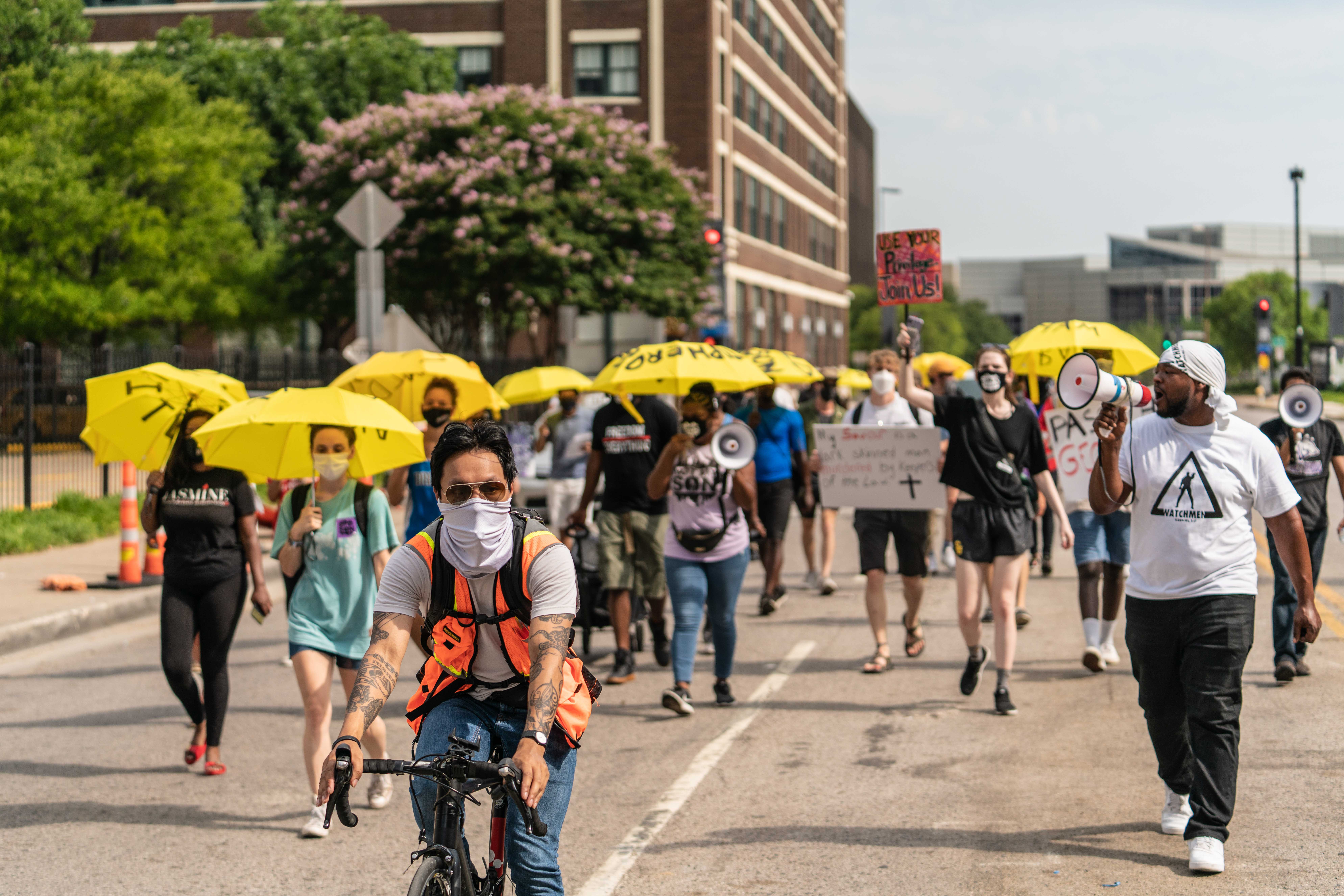 Sunday, August 9 
Several social justice organizations have banded together for Dallas Against White Supremacy 2020, a rally taking place at Dallas City Hall on Sunday at 3 p.m. Masks are required to participate. 
Jaxon Beer Garden is hosting an outdoor concert with Fort Worth musician Rahim Quazi. He'll be playing from 12-3 p.m. 
Plano Children's Theatre presents a playful rendition of Legally Blonde The Musical at Willow Bend Center of the Arts. There are shows at 1:30 p.m. and 5:30 p.m. on Sunday. Buy tickets here. 
Recurring Things To Do
Support Black-Owned Businesses 
Buying from Black-owned businesses is one small way you can lift up the Black community. Make it a habit. Here is a list of Black-owned food and drink businesses in North Texas; here is a list of Black artists and creatives to buy from, stream, and follow.
Movies 
As the pandemic has shifted the ways we entertain ourselves, the drive-in movie theater has been experiencing a major renaissance. Here are some places to enjoy cinema al fresco in the Dallas area.
Fort Worth-based filmmaker Channing Godfrey Peoples just released her debut feature film, Miss Juneteenth. The movie follows a single mom and ex pageant queen as she prepares her rebellious teen daughter to claim the title of Miss Juneteenth. You can watch it on Google Play. 
Frisco-based social media stars Dude, Perfect have a new documentary about how they went from taking funny videos of their friends to being among the top YouTubers of the world. (They came in at no. 2 on the top earning YouTubers of 2019.) The documentary, Dude, Perfect: Backstage Pass is free to watch on YouTube–of course.
Looking to curl up on the couch with a nice doc? Shawn Shinneman rounded up seven recent documentaries (and docuseries) with Dallas ties that you can stream at home.
Did you know that Hooking Up, the new road-trip comedy starring Brittany Snow, was filmed in Dallas? Todd Jorgensen talked to Texas filmmaker Jon Keeyes about the recent release, which is now streaming.
Music  
Blake Ward and Double Wide's Joel Stephenson have started a series of live streamed videos featuring local musicians, performers, bartenders, and more. Check out the channel, QuaranTV, here.
Local Sara King has racked up more than 200,000 YouTube subscribers with her dreamy voice and soft covers of artists like Tyler, The Creator and Billie Eilish. Read more about her here and watch for yourself on King's channel. 
Books 
The period of quarantine is a great time to start a (virtual) book club. Zac Crain talked to a number of local authors to get their reading recommendations, which you can find here. Deep Vellum Books founder Will Evans also has five excellent books by local authors for you to check out. You can read about his picks here.
Visual Art 
The Fort Worth Modern has officially reopened and debuted a new exhibit by artist Mark Bradford called End Papers. You can read Trace Miller's write-up of the show here.
The Meadows Museum at SMU has reopened with a new special exhibition, Berruguete Through the Lens: Photographs from a Barcelona Archive. The show features photographs of work by Spanish Renaissance artist Alonso Berruguete (1488-1561) and his contemporaries. Find info for hours and admission here.
The Nasher Sculpture Center has figured out a way to allow its audience to physically engage with art while social distancing–it's a new series called Nasher Windows and it highlights a Dallas area artist each week. Read about it here.
The Dallas Museum of Art has been hard at work making its current exhibitions accessible during lockdown through virtual gallery tours. The DMA's latest exhibition, For a Dreamer of Houses, is also available to view online. Read Trace Miller's review–which considers both the physical and the virtual exhibition–here.
Sweet Tooth Hotel has reopened with an exhibition of fiber art and new precautions to prevent the spread of COVID-19. Buy your tickets for Intangible here.
Wellness
We're all going through something confusing and difficult right now. Be kind to yourself. We chatted with local mental health experts to get some tips on maintaining a positive state of mind amid a pandemic; read their advise here.
Staying at home doesn't mean you can't reach your fitness goals. Find some space to stretch out and give at-home workouts a shot. These moves from Dallas-based model trainer John Benton don't require any equipment.
Now's a good a time as ever to figure out how to meditate–for real this time. Read some tips from local experts on meditation and mindfulness here.