Stories by Bethany Erickson
Local News
The City Plan Commission will be briefed on future development plans for Hensley Field, 738 acres that have been the subject of a court-mandated, ongoing cleanup by the Navy since 2002.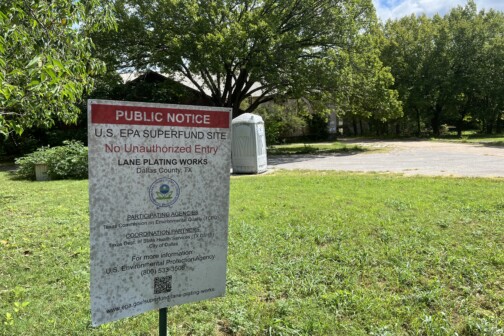 Local News
Lane Plating has been closed since 2015, and is toxic enough to be deemed a Superfund site by the Environmental Protection Agency. Its neighbors could see the site finally demolished by next summer.
State Fair of Texas
Five local artists are using an Acura as their canvas, and you can vote on the winner. It's State Fair of Texas time, guys.
Local News
Not everyone incarcerated in the Dallas County Jail has been convicted of a felony. Wednesday, the Commissioner's Court will decide whether a polling place at the jail is needed.
Local News
The City Council denied Crow Holdings plan to develop a 175-acre tract into a mix of residential homes and a warehouse complex, after neighbors at near Capella Park argued against it. What could come next might just be even better for Dallas.
Stories by Bethany Erickson
Arts & Entertainment
Start the weekend with Elton John, hit the State Fair, then end it (if you're lucky) with Mary J. Blige.
Arts & Entertainment
It's officially time for the State Fair of Texas, and we have some suggestions to help you plan your family-friendly outing.
Local News
Beautiful weather means you should probably plan to do lunch outside today.
Local News
The Environmental Protection Agency recently objected to the way the West Dallas shingle manufacturer recorded its emissions totals. But the community suspects the plant found a way to avoid federal oversight.
Local News
Just months after taking over management of Dallas' classical music station, KERA is now in talks to purchase the Denton's daily newspaper.