Yesterday Bethany broke down a recent survey of Dallas citizens to gauge how they feel about their city and the services it provides. For nuance, you need to go read her post. But I want to share just one slide from the survey, which is conducted every two years by the ETC Institute.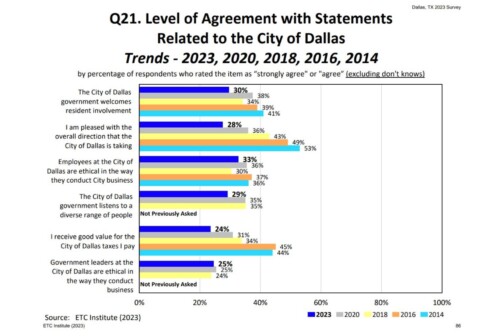 Look at the second entry: "I am pleased with the overall direction that the city of Dallas is taking." It's just one statement. Who knows what the 1,475 respondents this year were thinking when they gave their responses? But the trend is terrible. In 2014, 53 percent of respondents agreed (some strongly) with the statement. Mayor Eric Johnson was first elected in 2019. That year, something like 40 percent of respondents thought we were headed in the right direction. Since then, the percentage has dropped to 28.
With that terrible trend in mind, I'd like to take you to an interview Johnson did yesterday on The Mark Davis Show, on 660 The Truth. You can listen to it with the player below. The part I'll focus on begins at around the 11-minute mark.