Yesterday Bethany broke down a recent survey of Dallas citizens to gauge how they feel about their city and the services it provides. For nuance, you need to go read her post. But I want to share just one slide from the survey, which is conducted every two years by the ETC Institute.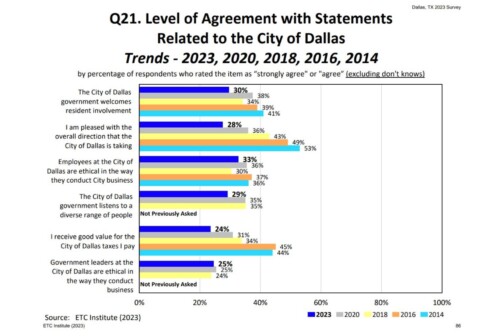 Look at the second entry: "I am pleased with the overall direction that the city of Dallas is taking." It's just one statement. Who knows what the 1,475 respondents this year were thinking when they gave their responses? But the trend is terrible. In 2014, 53 percent of respondents agreed (some strongly) with the statement. Mayor Eric Johnson was first elected in 2019. That year, something like 40 percent of respondents thought we were headed in the right direction. Since then, the percentage has dropped to 28.
With that terrible trend in mind, I'd like to take you to an interview Johnson did yesterday on The Mark Davis Show, on 660 The Truth. You can listen to it with the player below. The part I'll focus on begins at around the 11-minute mark.
First, it's clear to me that Johnson plans to switch parties and run for statewide office as a Republican. That's why he and Davis are verbally hugging each other, and that's why Johnson beamed at Tuesday's City Council inauguration, having gotten both Ted Cruz and John Cornyn to attended.
Now let's get to what the mayor said on the radio yesterday when Davis lobbed him a softball question about being a "post-partisan leader":
"This is a fact. Nearly 99 percent of Dallas voters voted for me for mayor. I won the election with 98.7 percent of the vote. So that means, doing the math, Republicans, Democrats, independents, whatever they are, they like what I'm doing as mayor. So we have to ask ourselves what I'm doing. … I am focusing on the things that people in the city for a long, long time have wanted their city government to focus on, and we have [in the past] found all kinds of ways to get involved in a bunch of other stuff that they don't particularly want or are asking us to do. … Police and fire—basic—we got to do that. We hadn't been doing it. So I said let's do that. … It's been overwhelmingly popular with the voters. So it's not about Democrat and Republican. It's really about people and giving them what they want and delivering for the residents, and that's what we've been doing for four years."
Based on the survey results we just got, the people seem to disagree. They apparently aren't getting what they want. They were happier with the city's direction before Johnson became mayor.
More important, though, it is not true that 99 percent of Dallas voters voted for Eric Johnson in the most recent election. He surely knows this.
The Dallas County Elections Department tells me there are 650,607 registered voters in the city of Dallas. Johnson got 42,990 votes. That means 6.6 percent of Dallas voters voted for Johnson, not 99 percent.
But maybe he meant to say he got 99 percent of the votes cast. Well, that's not right either. He got about 93 percent of the 46,217 votes cast in the mayoral race. Not 98.7 percent. Not 99 percent.
Again, the mayor knows how many votes he got. He knows the actual percentage as well as he knows his new street address. And he knows how easily that number can be looked up. It totally makes sense that he'd go on a conservative AM talk show and claim that his administration has given the people what they want, but why would he inflate his reelection margin?
It's a question I won't bother to ask him directly, by the way. The mayor doesn't talk to D Magazine. Hasn't since he got elected. So I'm left to wonder. Why invent 6 lousy points? How desperately does our mayor need to be loved?
Correction: an earlier version of this story relied on a bad estimate of the number of registered voters in the city to report that 3 percent of registered voters voted for the mayor; the actual figure, as the story now indicates, was 6.6 percent.
Get the D Brief Newsletter
Dallas' most important news stories of the week, delivered to your inbox each Sunday.
Author
Tim is the editor of D Magazine, where he has worked since 2001. He won a National Magazine Award in…