M2G Ventures
has extended its reach to Old East Dallas with a bold refresh of the former YWCA-turned-CAN Academy along Ross Avenue. With a dramatic, stark white exterior with black trim, the mixed-use office redevelopment stands out in the up-and-coming neighborhood.
Now open, the three-story nearly 50,000 square-foot space was designed to resemble a museum. And it all began with a name. Humphrey Bogart.
Walking into the bright two-story lobby of Bogart, a floor-to-ceiling Andy Warhol-inspired art installation pays homage to the late movie icon and is a nod to the building's aesthetic, which Katie Murray, M2G's chief creative, describes as a mix between pop art and Neo-expressionism. With installments created by Murray and other artworks curated from local and regional artists, standouts include a climatic chandelier, graffiti-style murals, and even a ceramic lamb sitting in a field of cigarettes.
With successful Fort Worth projects behind the firm's identical twin founders Susan Gruppi and Jessica Miller Essl—such as the O.B. Macaroni Co. building on Vickery Street in 2017 and transforming an old industrial part of Fort Worth into today's
Foundry District
—this is the duos first entry into Dallas.
"We have always had our eye on old East Dallas," Miller Essl told
D CEO
. "The history and authentic way the area has redeveloped has always been something that kept us scouring for opportunities in the neighborhood. It turned out better than we had envisioned, and that's tough to do."
With a recorded population of just under 38,000 in 2016, it is anticipated that Old East Dallas will grow by 6.2 percent in the next five years. The number of households is projected to grow by 8.1 percent in the same time frame. And today, the neighborhood has a daytime population of 55,000, according to M2G research.
An extension from downtown and Deep Ellum,  Miller Essl says the building's strategic location—butting against neighborhoods like Knox/Henderson and Lowest Greenville—will be attractive for corporate headquarter locations.
Law firm Savrick Schumann Johnson McGarr Kaminski & Shirley has already secured 2,753 square feet at Bogart with plans to relocate Aug. 1 from its North Central expressway office. JLL's Chris Doggett and Ashley Curry, who are leading the leasing efforts for the property, successfully negotiated the lease on behalf of M2G Ventures. Edge Realty Partners' Rena Padachy represented the tenant.
The building offers an array of office space from a 10,000 square foot space on the first floor that once served as the CAN Academy gymnasium, which can connect to another large first-floor space, to a skylight topped 8,211 square foot office on the second floor—to name a few.
A total of 25,223 square feet is on the first floor, 14,707 on the second, and 9,303 on the third.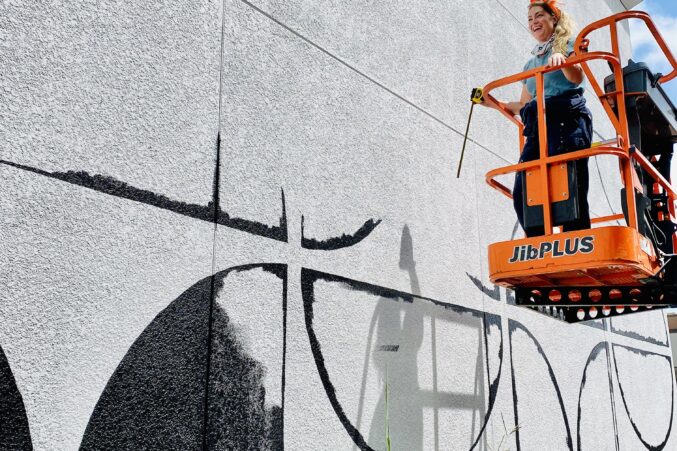 Dallas-based architect Modus Architecture worked alongside M2G to completely revamp the building's exterior, windows, lighting, ivy and greenery, and the main entrance to extend the building's artistic touch outdoors.
To add to its charm, Murray is currently working on an exterior mural that complements the color pallet and lawn sculptures.
While the building provides a modern look to a stretch of Ross Avenue bookmarked by new development and vacant property, Murray says a lot of research into the neighborhood went into designing Bogart, "everything builds up from the history," she adds.
Gruppi says the curated collection of museum quality art throughout the project is a highlight she and her sister are most excited to showcase.
"The unique amenity spaces and exclusive address has already piqued the interest from headquarter potentials to intimate studio users wanting the light-filled open spaces to private offices," she adds.
On-site amenities include a gym complete with spa-like showers, a library lounge, a terrace on the second floor, and ample parking—three spaces for every 1,000 square feet. As well, talks are in place to turn a first-floor space overlooking Ross Avenue into a premier coffee shop.
"Leading organizations must reimagine the role of office to create safe, productive, accessible, and enjoyable jobs for current talent and recruits," Miller Essl says. "Bogart has risen to the occasion, acting timely and swiftly to deliver an office environment where employees feel safe. Private office entrances, no vertical transportation, ten seconds car to desk, and ample on-site, on-grade parking will all be in high demand as employers reimagine the future of office. The value of these offerings at stake is significant, and we are thrilled to introduce Bogart in a time when it is needed most."