Four days. That's how long it took the editors of D CEO to pore over the hundreds of nominations in our annual Commercial Real Estate Awards and select this year's winners and finalists. It wasn't just the volume of entries that made it such a challenge; it was the caliber of the nominations, and the impact the projects, deals, and industry professionals are having on our economy. Dallas-Fort Worth has a national reputation for its commercial real estate prowess, and it's easy to see why.
Even after riding a decade-long boom, 2019 was a banner year—one that saw newer submarkets solidified and older ones reinvented. In the end, after much debate and discussion, editors selected winners in 17 categories, from Best New Headquarters to Executive of the Year. They're profiled in this feature. Visit our news site, D CEO Real Estate, in the coming weeks to read stories on all 64 honorees.
Developer of the Year
Joseph Pitchford
Crescent Real Estate
Crescent Real Estate marked its silver anniversary by starting or completing seven major development projects representing $1.8 billion. If you ask Joseph Pitchford, managing director of the firm's development group, 2019 was the year where it became undeniably clear that Crescent's funds-driven business model was succeeding on all fronts. At the top of the company's show board is a beautiful new campus for American Airlines in Fort Worth. Completed in 2019, the five-year project involved a 1.7 million-square-foot global headquarters, called Skyview Office Complex, and a 519,000-square-foot hospitality complex. Other 2019 highlights include a new project in the West End District, The Luminary, and 2401 Cedar Springs in Uptown.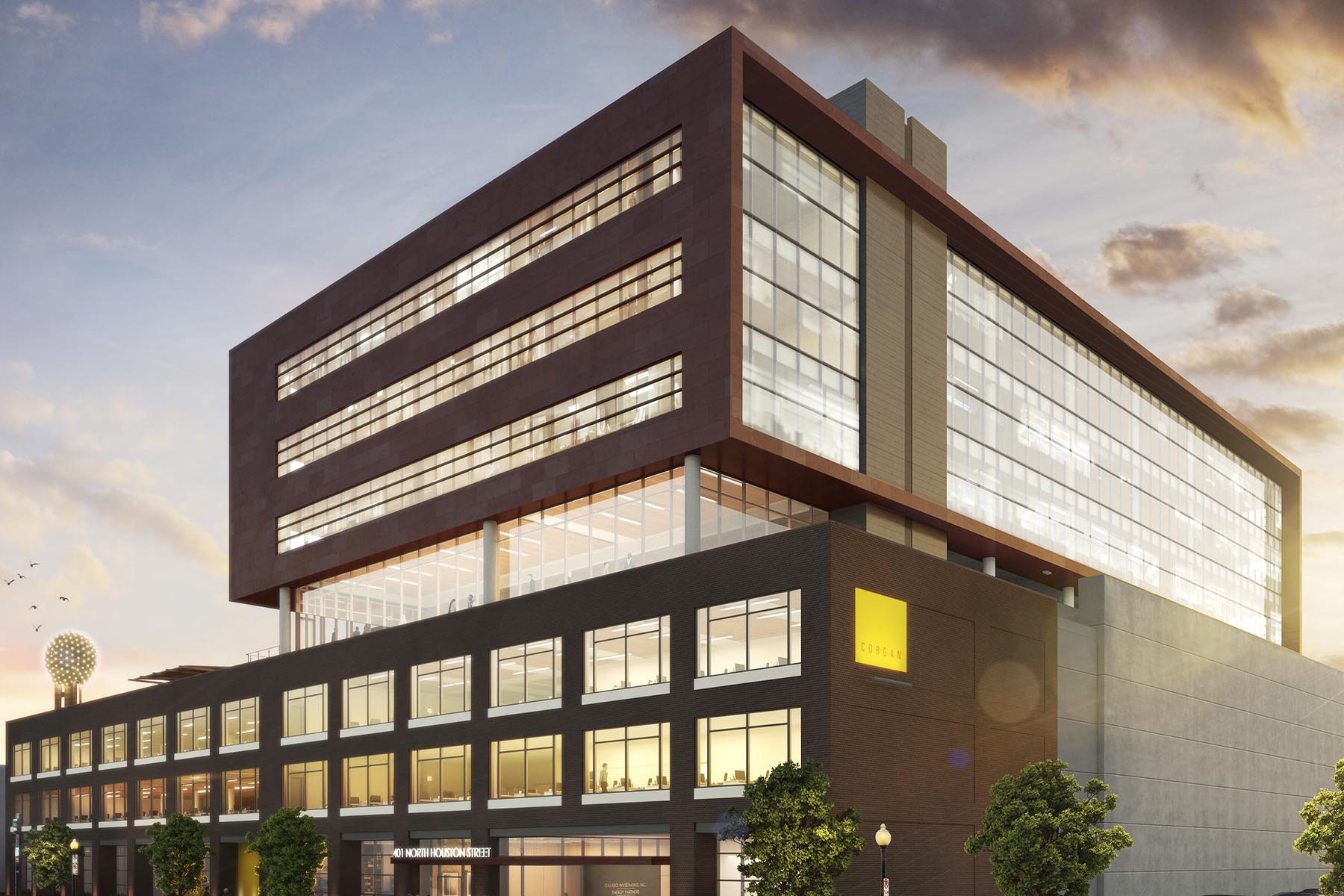 Firm founder John Goff helped pioneer Uptown in the 1980s; Crescent has continued to elevate the neighborhood with projects like The Residences and Regency Row, McKinney & Olive, and The Ritz-Carlton Hotel and Residences.
Finalists: Toby Grove, KDC; Brad Taylor, JPI; and Shawn Todd, Todd Interests
Best Office Lease
Uber
Uber Technologies leased 450,000 square feet at The Epic II in Deep Ellum. By 2025, more than 3,000 Uber employees will be working in the building. The company will initially occupy The Epic I, before moving into The Epic II in 2022.
The lease boosts the region's reputation as a hub for innovation and tech talent. Uber will make an initial capital investment of more than $75 million, breathing new life into the urban neighborhood at the eastern edge of downtown Dallas.
"Uber is essentially pioneering a new submarket," says CBRE's Harlan Davis, who, along with Phil Puckett and John Ellerman, represented the tenant. "We're already seeing the 'Uber effect' in action with other tech companies and developers."
"Uber needed to find space that they could immediately occupy, and there was significant competition for space at The Epic," Puckett says. "We had to keep the high-profile client under the radar, while also conveying the urgency of their needs."
Finalists: Caris Life Sciences, Kirkland & Ellis, ORIX USA, Splunk, Tenet Healthcare
Commercial Real Estate Executive of the Year
Michele Wheeler
JacksonShaw
Michele Wheeler describes her leadership style as collaborative. As president of JacksonShaw, she likes to seek various opinions and ideas from teammates to build strategies, solve problems, and find solutions. "This leads to the team being engaged, feeling trusted, and taking ownership of their work," she says. "Collaborative leadership results in a workplace that is productive, creative, and sustainable." In 2019, the firm broke ground on the first AC Hotel by Marriott in Tarrant County-, signifying its "big player" presence in hospitality development, a complementary diversification to its ongoing growth in the urban industrial space. A longstanding member of CREW, Wheeler also takes an active role in supporting the next generation of women in real estate. The culture shift spun by millennials and Gen Z is exciting, Wheeler says. "They are changing the status quo. These generations will drive more transformation and improvement than we've ever seen."
Finalists: John Griggs, Presidium; Joe Beard, Westdale Real Estate Investment & Management; Steve Lieberman and Alan Shor, The Retail Connection
Best New Industrial Project
Stanley Black
&

Decker

The world's largest toolmaker decided not only to establish a 1.2 million-square-foot distribution center at Hillwood's Alliance-Texas but also to build a separate, $100 million, 425,000-square-foot manufacturing facility for its Craftsman line, as part of its "Made in the U.S.A." legacy. It brings 500 jobs that had been based in China back to the United States and creates about 800 new jobs in all.


Finalists: K&N Engineering, Parc NorthEast
Best New Office Project
Rolex Building
Harwood International opened the Rolex Building in January 2019. Recognizable for its twisted architecture, it is the eighth tower in Harwood's 19-block mixed-use development.
The building was designed by Harwood's in-house firm, HDF, in collaboration with Japanese architect Kengo Kuma, whose latest project is the 2020 Tokyo Olympic Stadium in Japan.
There are not two identical corners among the Rolex Building's staggered floor plates. The building also features a castle wall designed by Japanese stonemason Suminori Awata.
Finalists: The Epic II, The Stack, Weir's Plaza
Best Land Deal
1100 McKinney
Last summer, news broke that Kaizen Development Partners, Woods Capital, and Dundon Capital Partners had quietly acquired 6 acres on McKinney Avenue at Field Street—a prime tract and one of the largest in Dallas' Central Business District. The developers are planning a $1 billion+ mixed-use development with five towers (office, residential, hotel, and retail) in the first phase. "This site will change the skyline of downtown Dallas forever," says Sarah Hinkley Kennington of Thirty-Four Commercial, who brokered the complicated deal.

Finalists: 46 Ranch Logistics Park, 5523 Boulder Drive, Diamond J Ranch, Miyakao Hotel
Best Commercial Property Sale
1900 Pearl
"The sheer amount of interest in 1900 Pearl was staggering," says Mike McDonald, vice chairman of capital markets at Cushman & Wakefield. "It broke the Dallas office sales record by almost $200 per square foot."

Finalists: 508 Young Street, Braniff Hostess College, Inwood Center, KPMG Plaza at Hall Arts

Best Redevelopment or Renovation
Fountain Place
With its $120 million renovation of Fountain Place, Goddard Investment Group showed great respect for the 58-story landmark while embracing the future. Signature fountains were restored, and a dramatic new two-story lobby —featuring a stunning installation of frameless glass walls—was created. A land sale paved the way for a new AMLI residential tower on the site.
Finalists: 2401 Cedar Springs, East Quarter, Energy Square, VariSpace Las Colinas
Best New Mixed-Use Project
Hidden Ridge
A partnership between Verizon and KDC and home to Pioneer Natural Resources, Hidden Ridge pushes mixed-use development into the future.
Built on 60 acres of historic Carpenter family ranch land in Las Colinas, Hidden Ridge features 5G infrastructure, high-tech apartment homes, and plentiful amenities. It's anchored by a 1.1 million-square-foot headquarters for Pioneer Natural Resources, a striking glass-and-limestone campus developed by KDC. Completed in August 2019, the 10-story complex is one of the largest in Texas and was designed to enhance the land's natural surroundings. Hidden Ridge is planned to accommodate 3 million square feet of office space, 80,000 square feet of retail space, a hotel, 1,000 apartments, and a large park. The project also is getting a new stop on DART's orange line, with service beginning this year.
Finalists: The Braniff Centre, The Realm at Castle Hills
Excellence in Architecture and Design
Scott Lowe
5G Studio Collaborative
Scott Lowe runs a design firm that operates under the radar, but its projects certainly do not. Last year saw several notable achievements for Lowe and his team at 5G Studio Collaborative, including breaking architectural norms with The Stack in Deep Ellum and creating a new landmark with the Virgin Hotels Dallas in the Design District. 5G also designed the high-profile retail store Forty Five Ten at Hudson Yards in New York and won recognition for its Marriott AC Hotel at Midtown in North Dallas. Lowe and four partners, most of whom had been working at The Beck Group, launched 5G in 2005. Today, the Dallas-based firm works all over the globe. Even with many accomplishments under his belt, including the transformative Omni Dallas Hotel, Lowe never stops looking forward. "I am excited for this next quiver of projects," he says. "We are doing our best work, with our best talent, right now. Our work seems to be rapidly evolving."
Finalists: Jerry Merriman, Merriman Anderson Architects; Dan Noble, HKS Inc.; Cindy Simpson, Gensler
Community Impact Deal of the Year
The Epic
Living up to its name, The Epic in Deep Ellum is poised to have a transformative impact on downtown Dallas, essentially creating a new urban submarket for the city.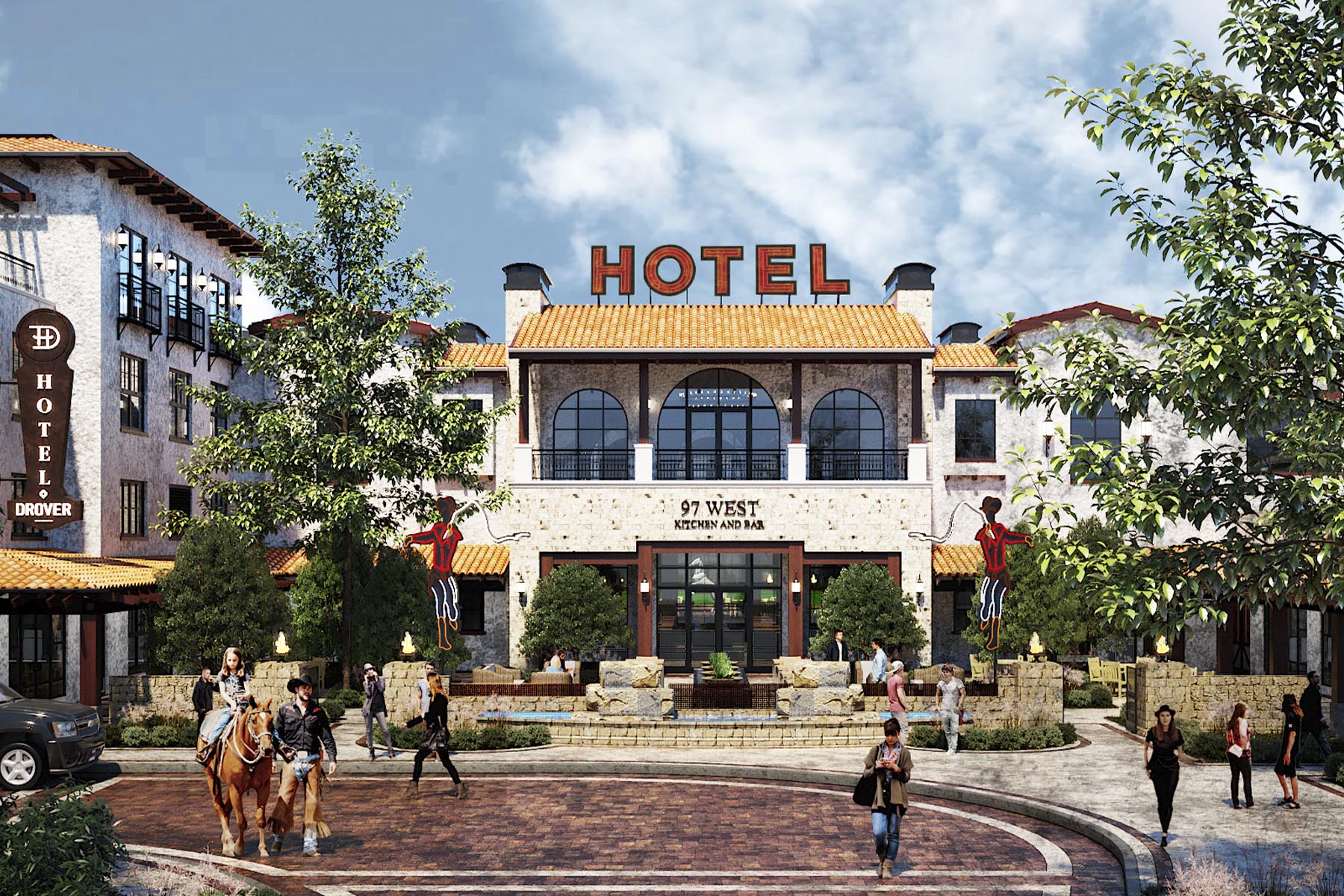 Best Retail Deal
Mule Alley
With Mule Alley, the Stockyards Heritage team has taken century-old horse and mule barns in a highly visible National Historic District and transformed them into an eclectic mix of curated shops and restaurants like Stetson, King Ranch Saddle, and Lucchese. It's anchored by the 200-room Hotel Drover, scheduled to open this fall.
Finalists: Amazon 4-Star, Eataly, Royal Blue
Best New Headquarters
American Airlines Headquarters
Called Skyview Office Complex, this five-building campus marks a huge investment in the cultural transformation of the world's largest airline. The project's all-star team includes designers Pelli Clarke Pelli, Kendall/Heaton, Gensler, and OJB and developer Crescent Real Estate. With its new Fort Worth home, American now has a unified world headquarters campus for the first time in nearly 40 years.

Finalists: Charles Schwab, Keurig Dr Pepper, Pioneer Natural Resources

Commercial Real Estate Broker of the Year
Jeff Ellerman
CBRE
During his 36-year career, Jeff Ellerman has been the guiding force behind many of the region's most significant office relocations and leases. Recent deals include McKesson's 525,000-square-foot headquarters in Las Colinas, American Airlines' 1.7 million-square-foot build-to-suit campus in Fort Worth, AT&T's redevelopment in downtown Dallas, JPMorgan Chase's 1.4 million-square-foot lease in Plano, and Fossil's corporate headquarters in Richardson. Last year was another standout, as Ellerman helped ink deals for Reata Pharmaceuticals, Keurig Dr Pepper, and Fleur de Lis Energy, just to name a few. "It has been incredibly rewarding over my career to be involved in key decisions regarding where companies are going to be located to recruit and retain talent and, ultimately, grow their companies," he says. "I never lose sight of the fact that I'm very fortunate to be in a market like Dallas." It's not just about real estate for this pacesetter. In his free time, Ellerman chairs the Circuit Trail Conservancy, which is creating a 50-mile hike-and-bike trail in the core of Dallas.

Finalists: Matt Schendle, Cushman & Wakefield; Brad Struck, esrp Real Estate Services; Luke Wilson, The Retail Connection
Best Industrial Lease
Amazon Air
While everyone was focused on the hunt for Amazon's HQ2, Hillwood was quietly working on a project that became the online giant's single largest commitment to the region to date.
The company's new regional air hub at Fort Worth Alliance Airport is the first automated air hub in the Amazon Air system, critical to helping it achieve same-day delivery guarantees.
The two-story hub can accommodate a dozen 767-300 aircraft and is expected to employ 1,500 people. It's one of the most significant aviation deals for North Texas in the past decade.

Finalists: Goodyear Tire Co., Wesco Aircraft
Best New Multifamily Project
The Christopher
at
The Union
The Christopher is the luxury residential component of The Union, one of Uptown's most successful new mixed-use projects. It made its debut in March 2019. 
The Christopher was developed by StreetLights Residential, which takes a design-based approach and considers the impact its projects will have well into the future.
Amenities at The Christopher include valet parking, private resident coffee and cocktail bars, and a luxurious pool deck on the eighth floor with views of downtown Dallas.
What really sets the 31-story residential tower apart is a private entrance to a 60,000-square-foot, full-service Tom Thumb grocery store that sits at the base of The Christopher.

Finalists: Amelia at Farmers Market, Jefferson Vantage and Reserve, The Neighborhoods at The Sound, Presidium at Edgestone

Pioneer Award
Gabriel Barbier-Mueller
Harwood International
From the start, developer Gabriel Barbier-Mueller was determined to create something special in Dallas. A native of Switzerland, the founder, and CEO of Harwood International, saw a blank canvas after arriving in the city 40 years ago and has since created a 19-block neighborhood of luxurious office space, quaint restaurants, high-end residential high-rises, and lush gardens inspired by his world travels. "To me, the definition of a pioneer is someone who uses his skills and knowledge to add something," Barbier-Mueller says, looking out at the recently built Rolex Building from his office in Harwood. "Many forefathers have done bigger and better things than I have. But I brought my best abilities to make a difference." Even with all that has been developed at Harwood, Barbier-Mueller is not close to being done. With only 30 percent of the area developed, he and his children are moving forward with a next phase that includes one of the tallest buildings in Dallas, eight new restaurants, and an "urban oasis" hotel. 
Get the D CEO Newsletter
Stay up to speed on DFW's fast-moving business community with weekly news reports, interviews, and insights.