Ramadan began on April 12
, ushering in the Islamic month of fasting from dawn till dusk. Eid al-Fitr is a holiday that marks the end of Ramadan when it concludes on May 13. In between now and then, local confectioners are crafting a world of sweets. They see special flavors increase in orders during the holiest month. They introduce us to the varied, sugary delights of Eid and Ramadan, bringing us the sweets that make life, well, sweeter.
As individuals break their fast and gifts wing between households, whether you're fasting or not, it's a time to welcome a sugar rush.
Marwa Tarabishi, Marwa Petite Cookies
Marwa Tarabishi makes butter spritz cookies and the Arabic dessert she calls "sweet cheese delights" (for pickup in Irving and Mansfield once they leave her home kitchen).
Tarabishi is Syrian, born in Kuwait of parents from Damascus. She had been making the delicate, crumbly morsels for years for family and friends. She started small, with 10 cookies on plastic plates stapled together and a little logo. Soon, she started offering monthly flavors.
In 2019, she expanded from simple four-petal cookies in three flavors—pistachio, strawberry, chocolate—to flavors like hazelnut-chocolate, flan, and fruity orange and lemon curd.
Her sister runs the home business Glacé Cakes and Tarabishi grew up watching her bake cakes. "I guess baking maybe is in our blood," she says.
But for her, it's the small bites, "something people can eat not just at parties, but all day, with a cup of tea, with a cup of coffee. Something small, something bite size." Hence,
Petite Cookies
.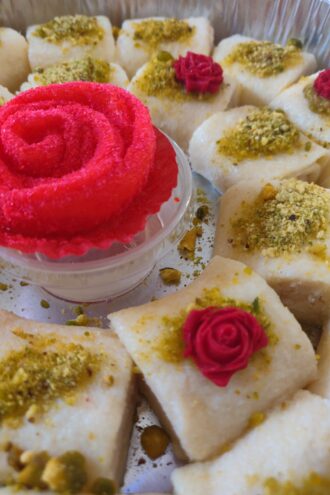 For her cheese desserts, a traditional Arabic pastry she debuted five years ago for Ramadan but now offers year-round, she fashions an outside layer of fresh mozzarella cheese, sugar, orange blossom water, and semolina. "They use very heavy-duty, delicious cream" in Syria, she says. "And we don't have that here." So for the filling, she's found a mix of heavy whipping cream, sugar, ricotta, and a special cream she keeps secret suffice to conjure the flavor. She played with the consistency—not too soft, nor too firm—because it gets rolled inside the mozzarella layer and then cut into little squares and embellished with rose petals, sugar roses—"I love roses," she says—and pistachios.
For Ramadan, her special spritz cookie flavors will include a trio: a date filling; a pistachio cream ("because in Syria everything has pistachios"); and an Arabic coffee and chocolate nod ("because after a fast, you want a pick-me-up").
For her own Eid, she'll make the pinwheels of phyllo dough filled with pistachios and ma'amoul with date paste tucked inside of them.
"Last year, we had to pray at home. But a big part of Ramadan is praying at the mosques. This year, we'll feel more comfortable." Her sweets will be part of it.
"You know, when you're fasting, the only thing you think about is food. You're not supposed to. But you think about sweets."
Yasmeen Tadia, Make Your Life Sweeter
When she opened her sugar-filled boutique
Make Your Life Sweeter
at the Galleria
last November
, Yasmeen Tadia didn't mean to be the first she knows to host a Ramadan and Eid collection in a high-end mall snuggled between Louis Vuitton and Banana Republic.
But last year during the early pandemic lockdown, as she saw that mosques would be closed, Zoom calls and soul-searching led to a sweets line whose purpose was to fill the gap of gift-giving and communing. And with such treats it embraces the flavors from all over the Islamic world, drawing inspiration from Iran, Qatar, India, Pakistan, her own South Africa, Morocco, and others.
So within the Eid cotton candy collection you'll find falooda milkshake, baklava cheesecake, pistachio burfi, and sticky toffee pudding. The coconut ladoo option is studded with coconut flakes. Jasmine and clove gently scent others. Yet more tufts evoke rose kulfi, gulab jamun, black licorice, or knefeh with orange blossom water. Puffs evoking Moroccan mint or atayef (little pancakes stuffed with cream and pistachios) come in gift sets with signs bearing punchy mottos like "Ramadan is about to get a little sweeter," "We are Rama-done. Let's Eid a lot," or "Straight Outta Ramadan." You can send a friend a kit with a door tag reading "Wake me up for Suhoor" (the day's first meal before fasting).
These messages were intended to sweeten Ramadan and Eid in a particularly bitter time. If a culture celebrates Ramadan with a sweet, likely it's there.
Towers of the fluff form the focus along a back wall as you walk in. Was she nervous? Yes, she was, a bit. It's so visible. But that's the point. That's what's needed. Tadia had already tiptoed into the political arena with an online Black Lives Matter collection before launching the Ramadan collection in-store. (Last year she hand-delivered the more than 400 orders.)
She does look to the good in a line that includes a pistachio orange blossom truffle; a falooda milkshake kit (a make-at-home affair involving rose syrup and milk poured over a puff of gold-dusted cotton candy); and an edible printed inscription in swirling Arabic script on a white chocolate macaron, say.
The whole idea is that guests feel represented.
"It's super simple and funny," she says of the upbeat, cheeky slogans. "And I think that it makes us feel relevant." She compares her own experience to that of her son, who can find sweets that mean something to him reflected in boutique windows.
"We are a group of immigrants. We are immigrant children. This is definitely a little more edgy than what my family would prefer," she says, referring to her more cautious parents. "But we're gonna try it—we never had the ability to feel relevant."
Saadia Iqbal, Buttercream Bliss
Saadia Iqbal, a Plano-based home baker who constructs elaborate ombré, marbled, or character cakes sees a huge influx in orders during this time of the holy month. For the past several years, she has fashioned cookies and cupcakes that are easy to gift, with tags of Ramadan Mubarak.
Her
Buttercream Bliss
cupcakes include a cardamom- and saffron-scented cupcake dusted with pistachios and rose petals that mirrors the flavor of gulab jamun, the traditional funnel cake-like fried-dough sweet common in Iqbal's native Pakistan and India. Mocha and toffee fill another. Another is adorned with a star and the crescent moon of Islam.
Additionally, she assembles sugar cookies shaped like mosque façades decorated with stenciled airbrush designs that etch arabesques onto fondant in colors of deep turquoise, orange, maroon, and blue. They are gorgeous. Or, then again, cookies may be shaped like Arabic lanterns.
Towards the end of the holy month, she'll double down.
"Sweetness has always been viewed as something to celebrate. For a birth. For happiness." Hence the panache of Eid.
Iqbal is tired from fasting, so she doesn't take a lot of orders. But the ones she takes and fills matter.
Get the SideDish Newsletter
Dallas' hottest dining news, recipes, and reviews served up fresh to your inbox each week.