This year has turned upside-down for Yasmeen Tadia. Her company Make Your Life Sweeter was, until the pandemic foiled everything, near-fully booked until 2021 for events showcasing her imaginative cotton candy and gourmet popcorn. Forbes corporate events, Facebook gatherings, celebrity-filled parties—this was supposed to be Make Your Life Sweeter's year. When COVID-19 put the kibosh on in-person happenings, the 38-year-old entrepreneur adjusted her game plan. 
Last week, Tadia and her team opened her first retail location, The Sweet Boutique, at the Dallas Galleria. Sweet-toothed fans can shop rainbow-hued chocolate truffles, 48 flavors of cotton candy, or partake in a 21-course "omakase"-style dessert tasting menu without having to be packed into a room with 100-plus people. 
"That's what a real entrepreneur does in my opinion," says Tadia, who'd never planned on going into retail or running a physical location prior to the pandemic. "You try to pivot your business as much as you can—my whole business has been a pivot."
After 10 years working in corporate America, Tadia, a alum of SMU's Cox School of Business, created a healthy cotton candy for kids. It was smaller in portion, gluten-free, organic, and vegan. Kids, it turns out, did not go for it. So she swiveled to adults with a childlike palate: they loved the upmarket confection. "Cotton candy is one of one of those things, no matter who you are, even if you do not like sweets, when you see it it just takes your brain back to this nostalgic space," says Tadia. We're hard-wired for it, we simple humans. In 2013, Make Your Life Sweeter was born.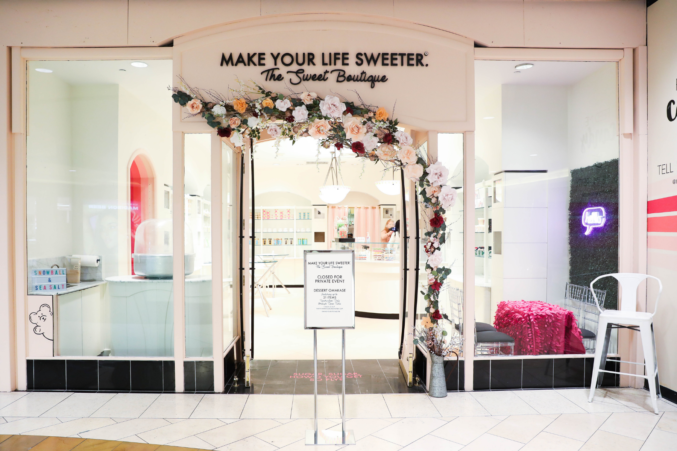 The Sweet Boutique has taken over the old Godiva Chocolatier digs. It swapped dark browns for blush pink with colorful truffles inside display cases, a wall of Sugaire cotton candy in 48 flavors, gummy bear–bedecked chandeliers, and what Tadia calls "Instagrammable moments" throughout the store. Before entering the shop, epoxy gummy bears affixed to the walls usher you toward the Sweet Boutique.
Tadia has asked fellow entrepreneurial artists to create a whimsical space with paper flowers and murals made from precision-cut tape. She has transformed an old chocolate store into something reminiscent of San Francisco's Museum of Ice Cream, where the experience is just as important as the treats themselves.
It's tempting to compare Tadia to a modern day Willy Wonka—though less zany and with better fashion sensibilities. Both trade in sweets and both have a natural flare for turning a space into a dessert-filled world. Tadia looks to her own family's roots for inspiration; the fictional candyman isn't necessary. She was born in South Africa where her family has lived for five generations. She grew up in Richardson and now resides in Plano. Her family originally hails from India. "Last year, we went to my ancestral village in India and found family there," she says, adding that she also discovered her "ancestors are actually sugarcane farmers, which is crazy and weird."
Perhaps this passion for sugar is somehow in Tadia's blood or destiny, or maybe it's just life's cosmic sense of humor. In any case, Tadia does look to her food culture where taking care of others and putting out one heckuva spread is the entertainment norm. Here is a taste of a South African wedding: "the tea table alone is 25-feet long; there's like 30 or 40 different types of cookies," she says. "It's really opulent." 
So the 21-course dessert menu ($115 per person, reservation only via Open Table) isn't too far from what she's known. Each course an elegant bite or sip of something sweet and occasionally savory. Things might begin with champagne or soda poured over a fluff of cotton candy in a flute. Toasted marshmallow cotton candy dissolves under a stream of hot cocoa. While 95 percent of the chef's choice menu—there's that the nod to the Japanese omakase dining style—is sweet, you might find something salty or spicy in the form of wasabi cotton candy or buffalo hot ranch popcorn. The menu changes often so repeat diners will find something different every time.
"Every part of my store, there's something everybody can eat. If you only eat halal, if you only do kosher, there's something in the store for you." She didn't phone-in the vegan offerings either. "I think some of our coolest flavors are vegan." She points to the cookie butter truffle or one with quinoa and hazelnuts or the Italian Cream popcorn, all of which happen to be vegan but retain the flavor you'd expect. She seems eager to debunk the prevailing myth that vegan food equals "tastes bad."
That's just how she works. Everything is to elevate the experience, whether that means customizing a no-chocolate tasting menu, providing tea instead of cocoa, or substituting almond milk for cream. She's taken her philosophy of catering to clients' needs and expanded that for every person who walks into her confectionary. You don't get to work with people like Oprah or Justin Timberlake without understanding how to make people feel special. "When you come into our store, this is like our home," she says. "We want to take care of you."
The shop is open now until January 10—unless it's a sweeping success, then Tadia might think about a more permanent endeavor. For now, she's sticking to those 21-course dessert tasting menus, fun exclusives she has planned for December, and all of the a la carte treats you can take away with you to make your day, or someone else's, special.
Get the SideDish Newsletter
Dallas' hottest dining news, recipes, and reviews served up fresh to your inbox each week.