This is a story about a local coffee shop that could—and did. There has been no lack of innovations, evolutions, business model shifts—"pivots," seems to be the word these days—in surviving the pandemic, food industry edition. Peaberry Coffee owner Elijah Salazar, though, had the foresight to roll out his first small batch of canned iced coffee back in December. It was more passion project than survival tactic back then, but in 2020, his 16-ounce cans of Kiestwood Iced Coffee have meant the difference between staying open and shutting down.
It began with a simple black coffee—a recipe Salazar spent 10 hours perfecting. Grounds sourced from Eiland Coffee Roasters in Richardson are brewed with hot water—make no mistake, this isn't cold brew—into a concentrate and then poured over ice. The hot coffee melts the ice, diluting the intense solution into the perfect ratio. The result is a clean and flavorful iced coffee with a low acidity. "I wanted a recipe that you could drink black and not have to add anything to," Salazar recalls of the R&D process, "It felt like a laboratory."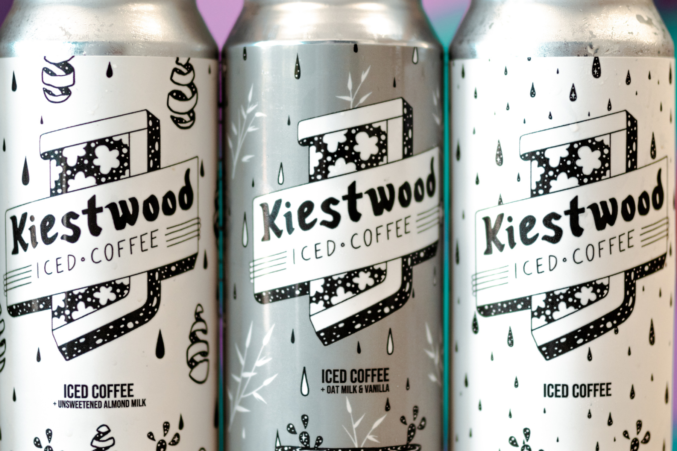 Despite his desire to keep it simple, Salazar realized the recipe readily lent itself to flavor additions. So, Kiestwood Iced Coffee comes in four options: decaf, unsweetened almond milk, oat milk and vanilla, and their best seller, Vietnamese Coffee. Salazar also teased the upcoming release of a Mexican vanilla version.
Ironing out the recipe was just the first piece of the iced-coffee puzzle. Next, came the canning process. Since Peaberry Coffee's opening in January 2019, the coffee shop has always been a community endeavor, aided by generous neighbors and friends. Salazar looked to his longtime friends Matt and Molly Reynolds, owners of the Medical District brewery Celestial Beerworks. They guided Salazar and the Peaberry team through working out the canning process: what kind of equipment was needed, and what sort of cans would suit the delicate brew. This kind of support seems typical of Kiestwood, the coffee's namesake. It is a tightly knit community, with a strong culture of neighborhood pride and helping hands. To return this kindness, Salazar's iced coffee is an ode to Kiestwood, not only in name, but in packaging as well.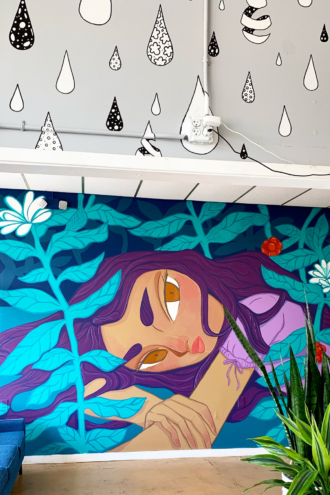 Mixed media artist Will Heron, aka Wheron, who had painted a mural on a wall inside Peaberry, seemed like a natural choice to illustrate the cans in his signature style. Each can bears Heron's rendering of the iconic Kiestwood sign, as well as an illustrated background custom to each flavor. Now, Salazar's biggest issue is just keeping up with demand. "We have people come from all over town to get it. We have our weekend regulars and weekday regulars now," Salazar says. With their boost in business, Peaberry was even able to sponsor Stephanie Sanz and Brent Ozaeta's mural in the Wild West Mural Fest (Sanz's work also graces a wall inside Peaberry) as a way to give back to the community that supported them.
Though the iced coffee undertaking has been a massive labor of love for their smaller operation—there are only five employees besides Salazar—Peaberry wouldn't have survived without it. Prior to COVID, they were seeing decent iced coffee sales, but when the pandemic hit, people started stocking up on four packs of the charming cans. Though many coffee shops churned out gallons of iced latte to combat the new to-go needs of caffeine consumers, Kiestwood's iced coffee stood apart for its quality and longevity. Unlike a gallon of iced latte, the coffee cans keep for well over a month while maintaining freshness.
When it came time to renew Peaberry's lease in June, they were able to keep their doors open even as their seating area stayed closed. Salazar hopes to move the operation out of the back of Peaberry soon to accommodate demand and perhaps expand onto grocery store shelves.
Get the SideDish Newsletter
Dallas' hottest dining news, recipes, and reviews served up fresh to your inbox each week.