In an era when art isn't as accessible as it was even eight months ago, murals are a wonderful way to soak in local culture. This weekend, artists will complete 16 new murals in West Dallas for the annual Wild West Mural Fest, making the neighborhood the best place to see the large-scale art format in town (apologies to the walls of Deep Ellum). Over the past three years, the fest has developed an impressive corridor of artwork around Singleton Blvd, expanding wall by wall each autumn. 
In the past, artists like Mariel Pohlman, Drigo, and Mario Sanchez depicted their own interpretations of the signature wild west theme. Given the unusual circumstances of 2020, the fest wanted to give artists freedom to explore other topics. 
The 2020 roster includes Jeremy Biggers, Sam Lao, Hatziel Flores, Favio Moreno, Desiree Vaniecia, Brooklynd Turner, Caleb and Kaitlyn Ortiz, Rosalinda Rodriguez, Joe Skilz, Ray Albarez, and more. 
"This year, in light of the pandemic, in light of Black Lives Matter and some of these other social justice initiatives that have been going on, we didn't want to pigeonhole it to only 'wild west,'" says the event's founder and artist Will Heron. "We offered three themes."
In addition to the classic Wild Wild West prompt, the artists could choose the themes West Side Stories, which interprets West Dallas history and culture, or Seeking Social Justice, which encompasses systemic racism, urban development, LGBTQ+ activism, immigration and response to COVID-19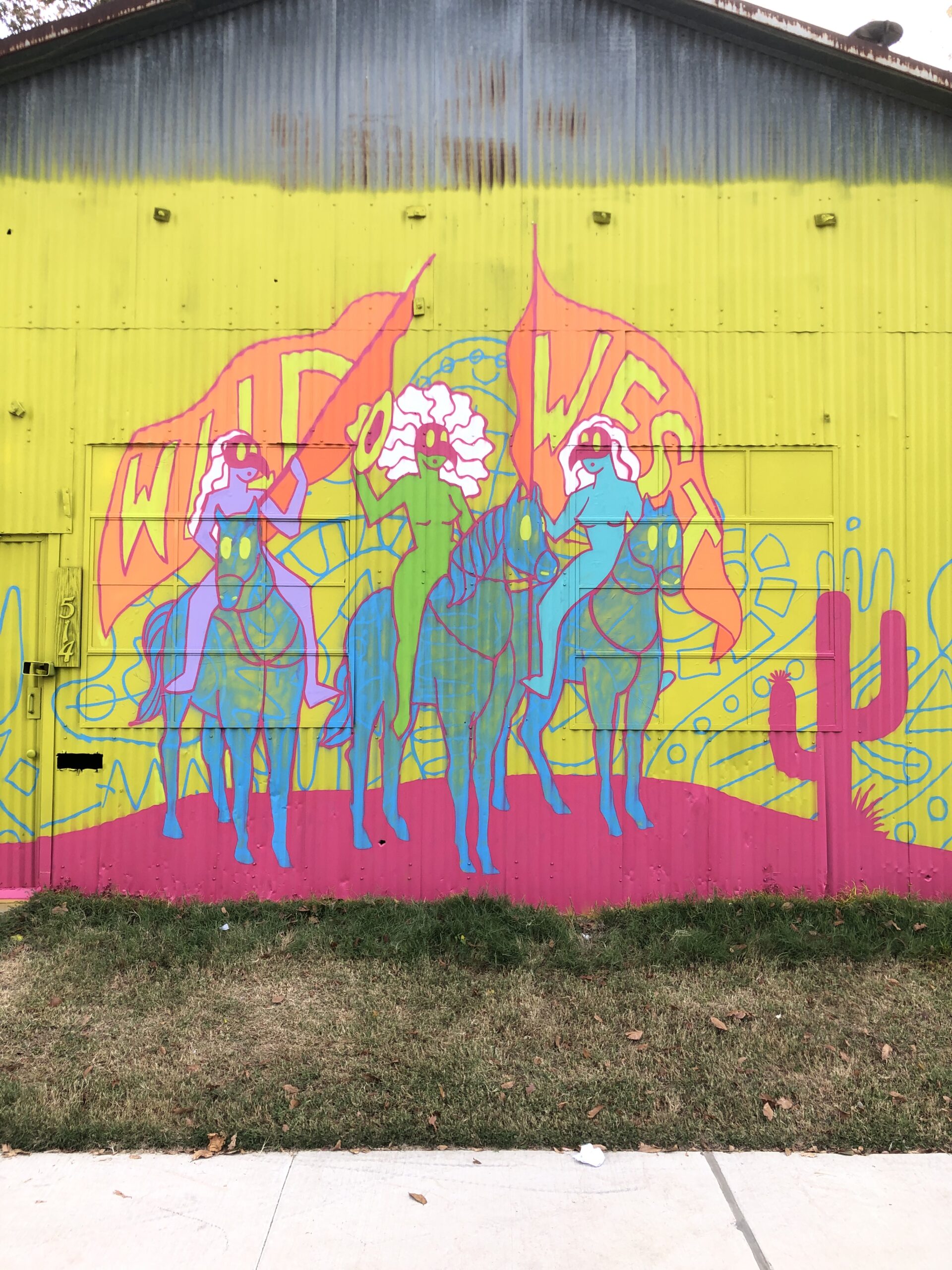 Miguel Donjuan of the Sour Grapes Art Collective used the opportunity to thank essential healthcare workers. That includes his wife, who is an ER nurse at Methodist Dallas Health Center in Oak Cliff. She is at the center of his mural and surrounded by several of her coworkers, who stand in front of bold letters reading "hero." The artist based the image on photos of actual Methodist Dallas employees who work in the coronavirus unit. They're all wearing full PPE gear. 
Originally, he was commissioned by Methodist to create the design for banners and stickers around the hospital to show employee appreciation. When Methodist became a sponsor of the festival, Donjuan decided to bring the vision to a larger, more public canvas.  
"My wife works at Methodist, and she's in her 14th year in the ER. It's pretty cool because a lot of times we'll go to parties or get-togethers and people always want to talk about me, about my artwork and murals, where as I'd rather talk to them about their stories in the ER–the cool things they get to see, and the lives that they save," says Donjuan. "I always felt like that was something to hold up on superhero status. I wanted to paint them in that form and put it on a pedestal." 
Donjuan's mural is going up on Singleton Blvd. near Parvia Ave., where you'll also find two new pieces by Caleb and Kaitlyn Ortiz, and Brent Ozaeta and SM Sanz. 
For other artists, this year's fest is a chance to show their love and appreciation of West Dallas. Enrique Ejay Bernal, owner and artist at Singleton Tattoo, is making his first-ever mural with his wife, Victoria. Their mural combines the Wild Wild West and West Side Stories themes, showing the Margaret Hunt Hill bridge as the gateway to the wilderness of outer space.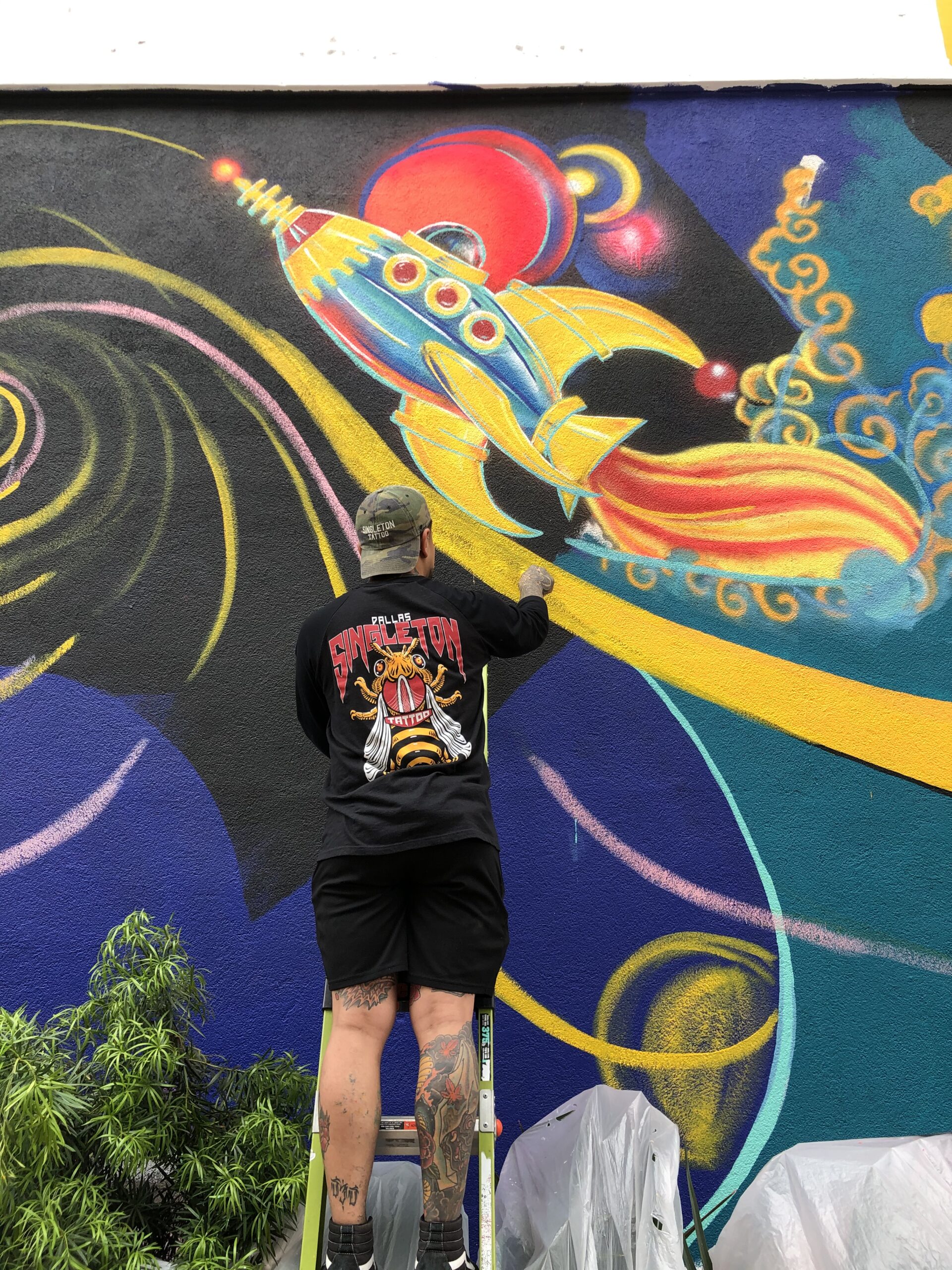 "That bridge was put up not too long ago. The west side was so closed off before that, the west side and Oak Cliff area. Me and my lady are from Oak Cliff and I feel like that bridge has done a lot for us," says Bernal. "A lot of stuff got cleaned up, a lot of opportunities started happening in the Oak Cliff area."
Several other artists from the shop, including Caleb and Kaitlyn, Rosalinda, and Nacho Contreras, also took the week off from tattooing to participate. Now, they'll get to see their own work alongside other murals they pass everyday. 
"We were sponsors for the past two years, so we'd always see the artwork around and it was hard to not want to be a part of it. You know, driving around Dallas daydreaming, 'I wonder if I could ever do a mural,'" Bernal says. 
Contreras chose to reflect on the history and cultural roots of West Dallas in her mural, which reads "La Bajada" in the same ornate lettering she typically tattoos. La Bajada is one of West Dallas' oldest communities, one that was most at risk when the city built the nearby Margaret Hunt Hill Bridge and development quickly followed. Loosely meaning "the descent" in Spanish, the neighborhood will see the phrase like a badge of honor. 
Bernal and Contreras' murals are also along Singleton, but you'll want to hit some side streets to see all of the fresh paint. Lao, Vaniecia, and Moreno's murals are all near one another on Sylvan near Fabrication St. A few blocks down Fabrication on Parvia, you'll find pieces by emerging artists Elianna Paek and Kyle Hanson. Rose Rodriguez's mural is tucked away a couple blocks down on Bataan. Find the full map here. 
The murals debut at Saturday's Art Walk West from 11 a.m. to 5 p.m. The event is free and open to the public, and includes open houses at neighborhood art spaces like Ex Ovo and Fabrication Yard. Bring your mask. 
Get the FrontRow Newsletter
Get a front row seat to the best shows, arts, and things to do across North Texas. Never miss a beat.