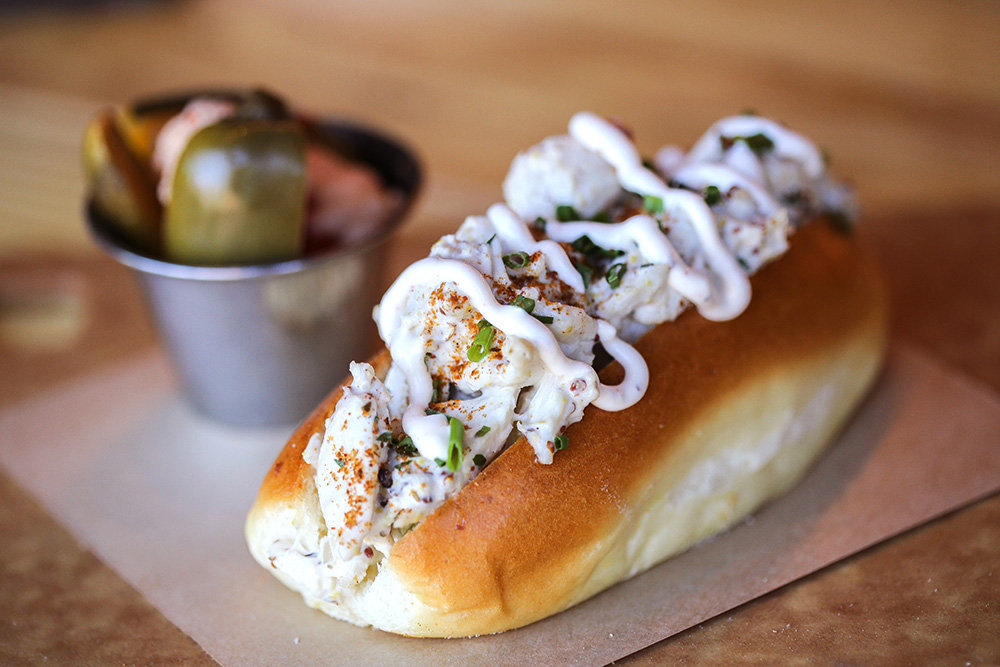 First Take: Clark Food & Wine Co.
The Texas-style tapas concept is plating up lunch and dinner on Lower Greenville.
If you frequent Lower Greenville, then you've surely noticed the sign for Clark Food & Wine Co. by now. East Dallasites have been buzzing about the restaurant and bar for weeks. "What's the word on Clark Food & Wine?" a friend emailed me a couple of weeks ago, "Do you know anything about it?" another asked last week while discussing new eateries popping up in the neighborhood. The restaurant, which took over the space that once housed Billiard Bar, quietly opened a couple of weeks ago. Chef and owner, Randall Warder (previously of The Mansion) and wife Courtney, are behind the Texas-style tapas concept. The name "Clark" is Randall's mother's maiden name. "I ran it past a panel… eleven out of twelve people chose it. It's very American, real and adventurous. Like Lewis and Clark-style," he explains.
An exposed brick wall spans the dining room which is adorned with average-looking dark wood tables and chairs, concrete floors, rolls of butcher paper with the day's special scribbled on them, a quartz-top bar and paintings from local artist Melissa Ellis. "It's rough and tumble with an upscale finish… [and] I wanted to pay homage to the history of the building," Randall explains of keeping some of the building's original features intact. The space is warm, but the aesthetics aren't nearly as stylized as some of the restaurant's trend-setting neighbors.
The menu is communal, and designed to be shared. It's a reflection of what Randall likes about European tapas culture. Highlights from the "shared" section include charcuterie with cured meats, house pickles, spicy mustard and crostini; a cheese board with honeycomb and almonds; goat cheese stuffed peppadew peppers and the most popular item (so far), brisket meatballs with balsamic glaze and shaved blue cheese.
Other menu items include a variety of flatbreads, salads, sandwiches, sides and smoked meats. Wild Gulf shrimp, arctic char, chicken, turkey breast, pulled pork and brisket can all be purchased in half and full-pound heaps. The smoked meats were originally meant to be part of dishes and not stand-alone items, but Randall decided last minute to stick them on the menu.
There are four rotating wines on tap — two whites and two reds — and thirty-eight wines by the bottle. The bar offers four draft beers, along with a cider and root beer and only six bottled brews. Signature cocktails include a Waterloo gin and tonic with house-made tonic, prickly pear mojito and ancho chili martini. There is also a "secret menu" but only for those who choose to sit at the bar.
Clark Food & Wine Co. serves lunch and dinner, and is open Sunday to Thursday from 11:30 a.m. until 10 p.m. and until 11 p.m. on Friday and Saturday. They offer happy hour Monday through Friday from 4 p.m. until 7 p.m. Click the gallery below for more photos.