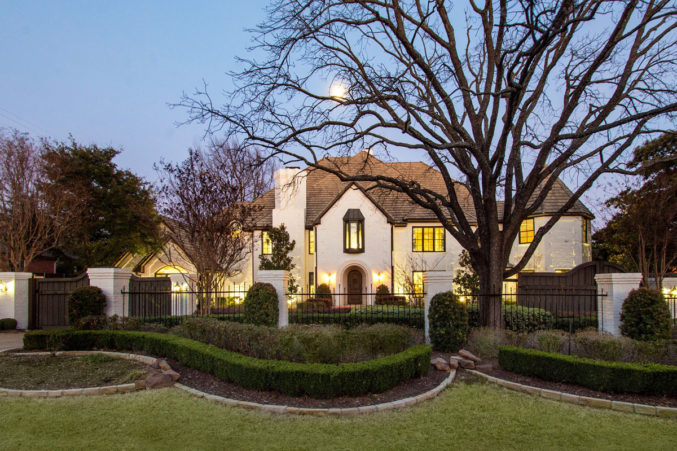 This Taylor Estates Home Has All the Bells and Whistles
No interior design renovating necessary.
When describing this house at 10010 Lennox Lane, we can't help but to think of the Dallas woman. It's glamourous yet traditional. It's grand and larger-than-life but with a touch of Texas charm that makes it seem down-to-earth somehow. And most importantly, it's just as beautiful on the inside as it is on the outside.
The bottom level has an open floor plan that is ideal for throwing posh parties or philanthropic fêtes as intimate or as large as you'd like. High ceilings make the already spacious room appear even bigger, and you'll be floored (no, seriously check out the floors) by the attention to detail on every little aspect of the design.
The downstairs master suite is what any Dallas dweller dreams of, and it can now be yours. A sitting area, dual closets, and even a coffee bar is at your disposal before you even have to leave the comfort your own, personal sanctuary. The spa bath opens to the pool area when you are ready to join the family after some much needed alone time.
Vacation is a state of mind at this Preston Hollow property with the ability to transport to your own Hill Country hideaway by simply stepping into your backyard. One can practically hear the sounds of giddy children laughing and chasing one another around the large, lush backyard. The resort-style pool and spa is perfect for keeping cool during the dog days of summer.
And just when you think this backyard couldn't get any sweeter, there's a leisurely lounging spot for soaking in all the memories that are being made here. Also—a covered space for an outdoor dining table because remember that Dallas woman we were talking about? She knows that the way to her friends and family's hearts are through their stomachs.
---
Kay Weeks
214-676-8230
[email protected]
Kay knows a satisfied client is the best measure of success and, that your satisfaction depends on the personalized service brought to every client relationship. Kay also believes that past success is the best predictor of future success and her track record confirms it: Kay has been a Top Producer with Ebby Halliday, Realtors for 20 years and has completed over 700 real estate transactions since joining the company in 1989. She ranks among the top-six individual producers of 1,600-plus associates at Ebby Halliday since 2000, and in the top 25 since 1992. In 1996, she was chosen as Residential Realtor of the Year by the MetroTex Association of Realtors. Kay also holds the Graduate Realtor Institute (GRI) and Certified Residential Specialist (CRS) professional designations, and has been recognized as one of the Best Realtors in Dallas by D Magazine every year since 2001.