Never mix business and friendship. That was Sara Sands' motto until she bought an apartment at the Mansion Residences.
She loved everything about it—except for the generous use of chintz and plaid in the master bedroom. "It was dizzying to me," she says. "I needed to calm this room down."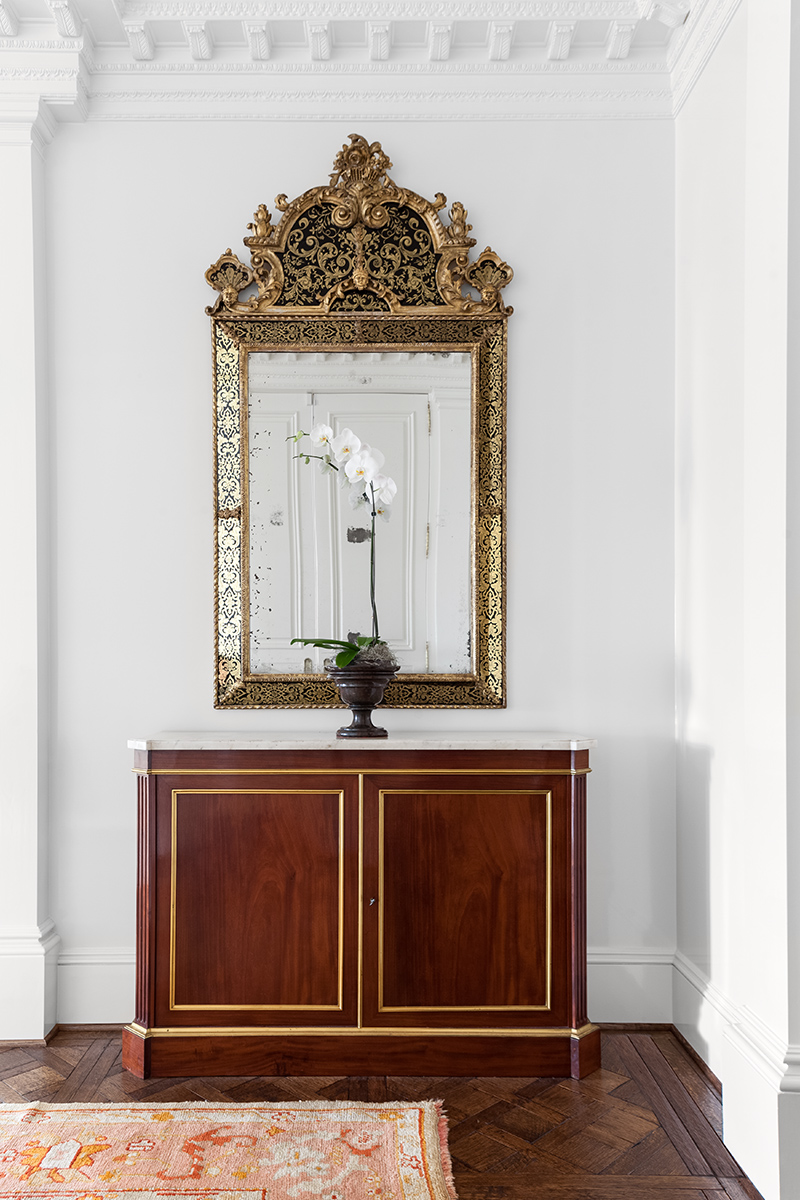 Setting the mantra aside, she turned to Cynthia Collins—her girlhood friend, Camp Waldemar buddy, fellow Longhorn, and Pi Beta Phi sorority sister. Surely a small home remodeling project couldn't sour a 44-year relationship. "I was nervous about it. I didn't want to do anything to upset a friendship," she admits.
But good news: The bond between the two women not only survived, but thrived. Even better news: The one-room project morphed into a total redo of the 5,600-square-foot apartment, which Sara moved into in 2012. The result is an elegant high-rise home where art and antiques live comfortably with fine furnishings in a calm, welcoming environment. Its owner couldn't be happier.
"I never thought I'd be a high-rise girl," recalls Sara. "I grew up in East Texas. Later on, I lived in Highland Park in a house on a big lot," she says. In the apartment, "we ended up blowing out walls and making it just exactly the way I've always wanted my place to be," says Sara. "I literally started from scratch. I have a huge steam shower. A huge room for a closet. A wonderful Roman bathtub. Everything I've ever wanted is here."
Cynthia, a Dallas designer and one of five owners of Uptown's charming Blue Print emporium, describes the home as a respite and a comfortable spot. "It's fresh; it's new; it feels timeless. There's a real balance of old and new, modern and antiques," she says. "You're interested and drawn into what you're looking at."
"As a guest, you know you've entered some place very special. It tells the story of her."

Cynthia Collins
The designer teamed with Jordan Glasgow, senior design associate at her firm, to create a space that showcased the owner's art and antiques in a modern setting. "We went soft on the color so the art and the view didn't get too strong. We started with a large, custom rug from Stark in a pale blue pattern that set the tone for the room," Cynthia says.
In the living room, for instance, Cynthia and Jordan created multiple seating areas to maximize the experience of light from six windows. They furnished it with back-to-back sofas, one facing the fireplace and the other facing a view of downtown Dallas.
Throughout the room are antique pieces collected from Sara's travels. Flanking one sofa is a pair of Biedermeier commodes. Near the fireplace is an armoire with a verre églomisé finish, a technique in which one side of the glass is covered in gold paint, with the design etched into the gold and visible from the front. This piece, Sara explains, took patience to make the journey from Paris to Dallas. "The museum of decorative arts in Paris wanted it. I patiently waited over a year to get the papers and documents. It's just one of those lost arts."
Sara's father, the late Vernon Faulconer, co-founder of The Warehouse art gallery with Howard Rachofsky, was an avid art collector and former trustee of the Dallas Museum of Art. Sara has some of his pieces as well as some she's commissioned. The residence easily accommodates art, with large expanses of wall space.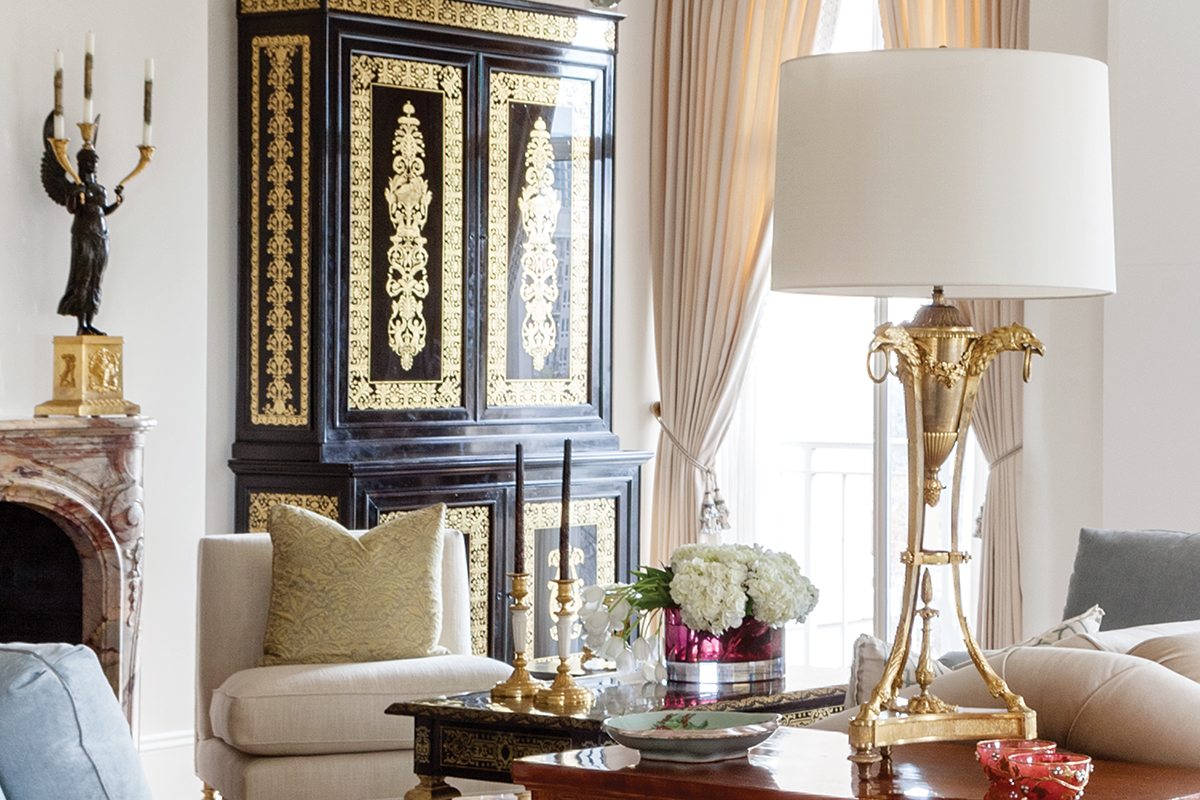 Cynthia took advantage of the generous wall space with a luminous lacquer finish in the entry, living room, dining room, and a bedroom belonging to Sara's two grown daughters, Peyton, 23, and Lauren, 20. (A younger son, 18-year-old Ryan, has one more year at home.) The girls' room is another of Sara's favorite rooms in the house: Lauren was a hands-on partner in the design.
"I think the people in the room should be the color."

rn

 

Sara Sands
"I wanted her to have a sense of ownership. So I told her, 'Listen, this is your room.' I had to tape my mouth and sit on my hands. I let her make every decision," Sara says. "It is the most beautiful room in the house. She did good, didn't she?" the proud mom says.
In the open dining room, silver and white Gracie wallpaper on the walls and silver Anya Larkin paper on the ceiling create a pleasing backdrop for the custom, round Rose Tarlow table and lilac-cushioned Therien dining chairs, upholstered in an embroidered Holland & Sherry fabric. Again, understatement speaks volumes. "I think the people in the room should be the color," the homeowner says.
That sense of welcoming—of putting guests at the center of the experience—infuses the house and informs the design. Cynthia says: "As a guest, you know you've entered some place very special. It tells a story of her. She can have people over knowing the space is big enough to show off her beautiful things. I think most of all, it was a real gift to have something she can call her own."
Get the AtHome Newsletter
Enjoy Dallas' best trends, hot properties, and tips from local designers to help you nest in style delivered weekly.