The offer to me was straightforward: talk with Roe v. Wade attorney Linda Coffee about her case archive, which will be up for auction in Los Angeles on Friday. (Bidding for the collection, which includes nearly 150 documents, letters, and artifacts, starts at $50,000.)
The prospect was strangely emotional. Until I read Joshua Prager's 2021 book, The Family Roe, I did not understand the extent to which the lawsuit's many players were tied to Dallas. Nor did I understand how many of them were, like me, gay. All I knew was that the case had impacted my life as a woman in America — and as a lawyer and as a woman who was able to finally marry her longtime partner in 2013 — in innumerable ways.
The resulting interview? Downright entertaining.
When I talked with Coffee and her partner, Rebecca Hartt, on the phone yesterday, the two continually finished each other's sentences and talked over one another, as long-term couples are wont to do. It was heart-warming. And also a little bit shame-inducing, as they clearly view it as the obligation of the "younger generation" (they couldn't see my white hair over the phone) to take up the now fragmented 50-state battle over privacy and equal protection rights.
But before we got to chatting, because it was such a pretty day both in Dallas and at their home in Mineola, they suggested that I go out for a picnic, or at least for some barbecue. The conversation that followed has been edited for length and clarity.
D Magazine: It is a pleasure and a privilege to have the chance to talk with you both.
Linda Coffee: Well, it's an honor. It's going to be your generation carrying the new issue forward. So I will wish you the best.
D: Tell me about the auction and why you've decided to sell your archive now.
Linda Coffee: It took a long time, but I finally was able to retrieve most of the documents that I had filed in the case nearly 52 years ago. I'm 80 years old now. I can't depend on how much longer I'll live. Sarah Weddington [her co-counsel in Roe v. Wade] passed away the day after my birthday in 2021 [at the age of 76].
Rebecca Hartt: I helped Linda put this together. The reason I'm jumping in is that Linda almost passed away. She had West Nile virus the year in Dallas when people died here. She got bit by a mosquito, if you can believe it, September 7, 2020. She was rehabbing for about a year, and then she was getting better, learning to walk and write again. And then Sarah Weddington passed away. And then, of course, the case was overturned. But that was a real eye-opener. I said, "Linda, you might live to be 88 like Judge Sarah Hughes, but you need to get this stuff to the next generation."
D: Linda, have you kept all of these items in your possession all this time?
Coffee: Yes. I didn't know until I got to the Supreme Court that everybody that's there for the argument gets one of these quill pens. I guess that's how they used to sign the decisions. Now they're sort of symbolic. I had two of them because the case went to the Supreme Court twice. The first case, they were two judges short of having nine, because two of the judges had retired. [The case was first argued on December 13, 1971; it was reargued before the full court on October 11, 1972, with the addition of justices William Rehnquist and Lewis F. Powell Jr.]
Hartt: I'm 10 years younger than Linda. If she's 80, I'm 70. The old system was papers and letters and documents and stamps. You didn't do computers or texts or tweets or any of that. You didn't call after dark, because you used the land line during daylight hours. The court's system has been changed now to computers. So it is really nifty in this important case to have all those letters and documents and receipts.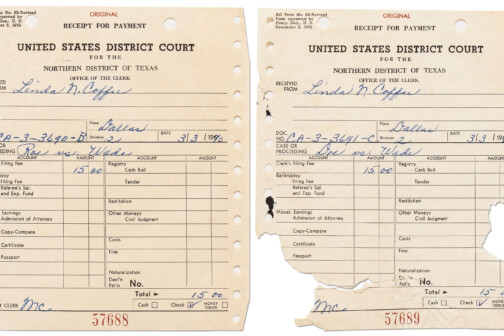 D: Linda, is there one of the items that is most meaningful to you?
Coffee: [laughs] What surprises people most—they can't believe that it all started with $15. That was the filing fee they charged in district court.
Hartt: And the letter you wrote to Sarah Weddington.
Coffee: Yeah, I just suggested she might wanna join our case because we had more liberal judges.
Hartt: [laughs] Dallas was more liberal than Houston and Austin.
Coffee: She accepted immediately, so I guess she thought that was true. Oh, and we had Norma McCorvey's original notarized and embossed affidavit. She never appeared in court to testify.
D: What was it like clerking with Judge Hughes?
Coffee: It was really terrific, because she was really a good judge. She was liberal, but she wasn't one of those crazy liberals. She was fair-minded. But she wasn't afraid. There was so much that was difficult for women back then. It's hard to believe that you couldn't be on juries for a long time.
Hartt: She said only lunatics and criminals and a woman couldn't be on a jury. I remember my mother being on jury duty; Linda remembers her mother on jury duty. They told Judge Hughes she maybe should go back to washing dishes.
Coffee: Oh yeah, I think her husband came out and started washing dishes.
Hartt: We've come a long way.
Coffee: Judge Hughes was only 5 foot or 5 foot and a half. [laughs] She sometimes said she was 5 feet and a half inch.
Hartt: Gwen Graul [Judge Hughes' secretary] would buy the judge's clothes, and she would have to go to the children's department sometimes to get shoes.
D: Linda, how did you end up clerking for Judge Hughes?
Coffee: I probably shouldn't have been hired because Judge Hughes already had a law clerk for the upcoming year. But my mother found out that the Fifth Circuit had spent so much time on all of these civil rights cases in the '50s and '60s — they had such a backlog.
Hartt: When Kennedy was assassinated in Dallas, I was in fifth grade and Linda was at Rice University. They didn't want Sarah Hughes to be a judge; both Kennedys [President John and Attorney General Robert] said she was too old. Sam Rayburn, the Speaker of the House out of Bonham, kept saying he couldn't find the paperwork, his hands were too old and shaking. [Rayburn held up one of Robert Kennedy's bills until Hughes was confirmed.] So they had to let Sarah Hughes be a judge. She outlived Johnson and lived to be so old. She outlived everybody.
D: Linda, there's been a lot of talk over the years about how Sarah Weddington, who argued the case in the Supreme Court, stayed in the spotlight and went on to have a fairly high-profile career, while you, who found the plaintiff and were responsible for much of the legal briefing and strategy, faded into the background. Why did you choose not to stay in the public spotlight? Or was that a choice?
Coffee: Well, I don't know if I had a choice. So many people called me, huh? [laughs] I was with a bankruptcy firm [Palmer & Palmer], and that was the sort of thing that was looked down on. When Clint Murchison with the Cowboys filed for reorganization, that was one of Palmer's biggest cases. I know I got one case against the Proctor & Gamble manufacturing company. That took 20 years. And there was a discrimination case against the sheriff. [In the 1970s, Coffee filed a class action Title VII lawsuit, Richardson v. Byrd, against the Dallas County Commissioners Court and Sheriff Clarence Jones, alleging sex discrimination in the transfer and promotion of employees.]
Hartt: And you would meet with the Dallas attorney group, with the feminist group.
Coffee: There were some meetings in the Adolphus Hotel once a month. The women lawyers tried to share information about who was able to get jobs and what was going on. A really interesting person was Bonnie Wheeler. She was an English professor at SMU. She was the one that got me a copy of the California case, the Belous case [the first case, in 1969, to uphold a patient's constitutional right to abortion]. You learned a lot of things that you might not be aware of.
Sylvia Demarest, who is still alive, was in my law school class at the University of Texas in Austin. She filed an amicus brief, but it was a little too late to join Roe v. Wade. She was also involved in a criminal case because she was representing a 13-year-old girl who had been raped by her father. She had self-aborted and she had to spend two nights in jail before they finally decided that she had a right to do that.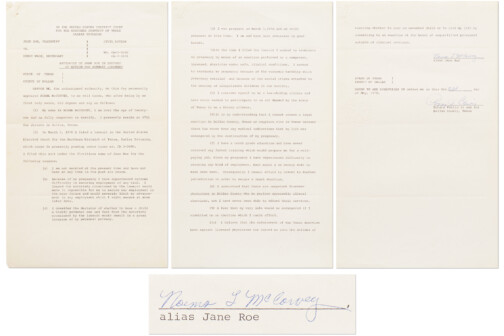 D: Rebecca, when you first met Linda, you didn't actually know who she was, right? She had answered your personal ad under a pseudonym?
Hartt: Right. People have never told the story correctly. Basically, my father [Grover Hartt Jr.] had been a county judge in Dallas, and he had been a good lawyer with Tobolowsky, Schlinger, Hartt. He did discrimination and even censorship cases and things. So I put out an ad — because I was 30, I was wanting to meet someone serious.
And it snowed and it was icy, this terrible weather. So I went to Gennaro's there at Skillman and Live Oak. I was the only one in the restaurant because with snow, people don't drive. This lady, Lee Hogan, came in. And so I introduced myself, and we started talking. I figured she was just a boring bankruptcy attorney. So I started talking about my dad defending these cases in Sarah Hughes' court.
And I finally said, I've worked for Dallas NOW, the National Organization for women, and I'd heard Sarah Weddington speak in Abilene, and Lily Tomlin had done a fundraiser for us in Dallas, and all these good stories. So she started telling me about her discrimination cases, and she mentioned that she had worked on this Roe case with Sarah Weddington. And I said, "No! It was Linda Coffee." Her face dropped.
You see, my mother had worked for the Dallas Times Herald, and she'd been the editor of her high school paper in Highland Park. And when World War II was over, she had to train the men that were coming back from the war, because they didn't know much about the paper. So I'm a newspaper kind of person, keeping track of the trivia. And when she told me her name was Lee Hogan, I said, "No, it was Linda Coffee, and she's so reclusive and introverted."
After that, we dated for about a year. A year later, I moved in.
We've had the ups and downs on the career thing. Being Dallasites on the legal scene, it's a challenge. But, I mean, Linda was going to the SMU law library, where she read the [Belous] case, and she would go to the Highland Park Cafeteria to meet her folks for coffee, and she'd work out at the YMCA. And, of course, she had played professional women's football for the Dallas Shamrocks.
Coffee: That's true.
D: Reading Prager's book, it brought me to tears at the end. He painted a very tough portrait of what life has been like for you both in recent years. I have to ask, was that an accurate portrayal?
Hartt: No, no. He got a lot wrong. Linda's mother is Neely Coffee, not Mary. We didn't have Rhodesian Ridgebacks until later. I was a leasing agent. All sorts of errors right and left. But we did have a financial fortune change. My mother died of cancer. My dad was dying of diabetes. Linda and Palmer were both in the courts for about a year. [Coffee was indicted on fraud charges relating to their law practice, but she was ultimately exonerated.] And I've had breast cancer. So the financial reversal was there. You have the ups and downs of careers. But this person that you refer to did not know the details. He comes on more as a paparazzi person, and that's sad for him not being professional.
[Ed: after this Q&A was published, Prager contacted me. He says that he did not make any errors and that his notes back up that assertion. He also sent me Coffee's birth record, showing that her mother's full name was Mary Nellene McBride.]
D: Linda, you clearly always saw a connection between privacy rights in both sodomy and abortion cases. Has it been surprising to you that it took so long after Roe v. Wade to obtain protections for same-sex marriage, and then to have it all up for grabs again after the Supreme Court's decision in Dobbs v. Jackson?
Coffee: I guess i've seen enough things happen. I think it's going to be going on for a long time, because it's going to go back to the states. Each state is going to decide, and it's going to take a long time to sort that out.
Hartt: That's why the collection needs to go to the next generation, because you're not going to have a case like this again. We don't know who's going to end up acquiring it, but hopefully it will motivate some of the people to get into law or politics or whatever, because it needs to be challenged.
Get the D Brief Newsletter
Dallas' most important news stories of the week, delivered to your inbox each Sunday.
Author
Kathy Wise is the editorial director of D Magazine. A licensed attorney, she won a CRMA Award for reporting for "The…