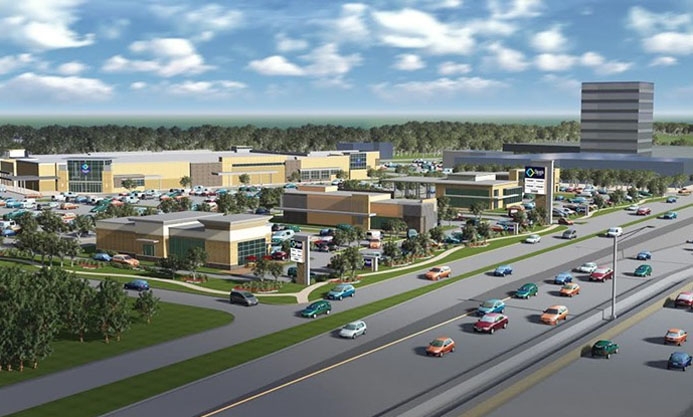 A Tiny Neighborhood Group took on Wal-Mart and Dallas City Hall and Won
The Uptown Sam's Club would have ruined a 75-acre tract in Dallas' most rapidly urbanizing neighborhood. City Hall approved it. Neighbors beat it.
Remember when all we could talk about was how the city somehow allowed a developer to build a Sam's Club in Uptown, adjacent to Central Expressway, directly across the street from the West Village and one of the densest, most valuable areas of Dallas? Remember when we all went on and on about how dumb that was, how business as usual at city hall meant the city shooting itself in the foot, how public officials — from city staff to plan commissioners to the City Council — dropped the ball and made a major mistake that would take decades, perhaps a generation, to undo?
Conventional wisdom, or at least a reading of this city's history, said the Sam's Club was all but a done deal, and the little neighborhood group that formed to oppose didn't have a chance. Well, conventional wisdom was wrong. Today comes news that the Uptown Sam's Club is officially dead.
How did it happen?
To recap the history of the controversy: the big box was approved by a zoning ordinance that slyly concealed the developers' intent to build a Sam's Club at the location. After the zoning passed, neighbors were upset and claimed the city did not adequately notify them about the developer's intent. They formed a neighborhood group to fight the zoning. The city responded by trying to say the new neighborhood association didn't have a right to exist (how's that for City Hall working on behalf of its residents). The developer — Trammell Crow Co. — and its client Sam's Club threatened to sue the city if it reneged its zoning approval.
It all got put into a legal blender, and a few weeks ago, a Dallas County judge ruled that the city played too loosey goosey with the rules regulating rezoning procedures. The judge erased the part of the zoning ordinance that allowed for a big box at the Cityplace-adjacent location.
This is from Robert Wilonsky's report:
"It's a big victory, especially for little people like us who have supposedly no power," said Jonas Park, the Korean-born art director who started the petitions and got the buttons and T-shirts made and went to City Hall demanding to be heard. "We all just knew — believed — that there's still justice out there."

Barring an appeal down the road — an outcome none of the lawyers seems eager to chase — the matter was laid to rest the first week of June by District Court Judge Maricela Moore. It should have been a monumental moment. But I only found out about it when I noticed the City Plan Commission is being briefed about the case in executive session on Thursday and went to look at the case file.

Perhaps such a victory must be whispered behind closed doors before it's shouted in public.

This was never just about sticking a Sam's in a neighborhood that didn't want it. It was also about more than sticking a suburban-sprawl-scented parking-lot development near the city's only underground light-rail station and across Central from the ever-expanding West Village, which is only shoppable, eatable, and drinkable because it's walkable.

This was about whether Trammell Crow Co. tried to sneak one by nearby residents in 2013, when the developer bought the parcel and promised neighbors nothing more than a "retail development with design standards." And whether City Hall actually gave these folks fair warning that they were about to have a megastore slammed down in their backyards.

"If I were advising a real estate client," said Andy Ryan, one of the association's attorneys, "the lesson here is don't do something that intentionally pisses off the community."
So the community beat the big box. In Dallas. How about that? Next up: what to do with those 17 acres.