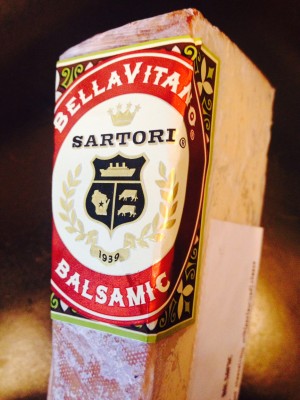 I have something to share with you. Something really, really wonderful.
There is this cheese, this BellaVitano-style cheese made by Sartori. It's got Balsamic. Need I say more?
I pretty much will dive headfirst into anything made with Balsamic. This cheese is of that crumbly, sharp nature that gives you nasty breath that's totally worth it.
From what I could learn, Sartori blends the flavors of young cheddar and aged Parmesan, then immerses the block into 6-year aged, imported balsamic, then aged some more. Something I really enjoy about this cheese, apart from its tangy flavor, is the crunch of the calcium crystals.
It won a silver medal at the World Cheese Awards in 2009, and for good reason. I highly recommend this with a rich red wine, because that's definitely how this whole slice disappeared in my house. With lots and lots of wine.
Since I was so impressed with this variety, I decided to try another Sartori I saw at Central Market, a rosemary-and-olive-oil flavored asiago.
While it's certainly tasty and it looks lovely with the herb crust on top, I didn't love this one quite as much as the balsamic BellaVitano. That's very possibly because I just adore balsamic so much.
It's a very granular, bitter cheese, one that would work really well as a grating or topping cheese. It's got a sharpness to it that the rosemary seems to accentuate.
Apparently this one achieved gold-medal status at the World Cheese Awards, so who am I to judge? I like it enough to eat it, but next time I'll try the Basil and Olive Oil Asiago. I might grate this on pizza for the bright herbiness, but for eating by itself, the balsamic is more pleasant.
Get the SideDish Newsletter
Dallas' hottest dining news, recipes, and reviews served up fresh to your inbox each week.