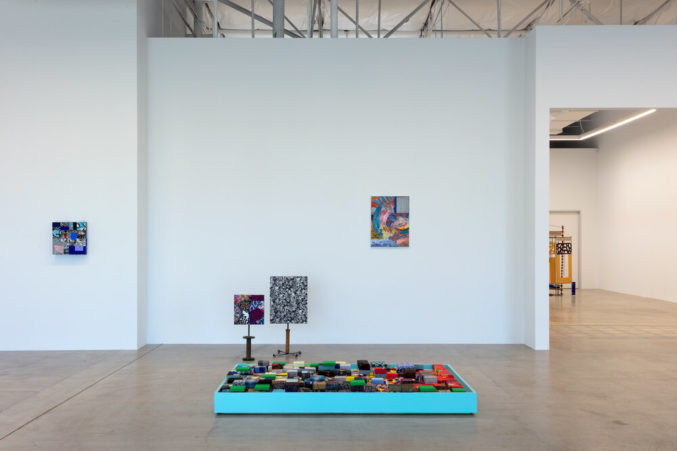 This Weekend Is Your Last Chance to See Gallery 12.26's Inaugural Show in the Design District
Check out the latest addition to gallery hotspot River Bend.
Contained in the next few days is your last chance to see the very first show from Gallery 12.26, a spot that opened in late September in the art-friendly River Bend development of the Design District. The new gallery is the brainchild of sisters Hannah and Hilary Fagadou, who bring experience from Dallas Contemporary and Los Angeles' Parrasch Heijnen Gallery, respectively. Their shared birthdate is the namesake of 12.26, a sentimental project that carries on the legacy of their late grandmother, art dealer and cultural advocate Jeanne Fagadau. 
The gallery is the latest of many to pop up in River Bend, which is owned by Dallas Art Fair founder John Sugrue and houses the Dallas Art Fair offices as well as its gallery, 214 Projects. You may have gotten a preview of 12.26's contemporary tastes when it exhibited at the fair in April. It officially debuted on September 28 with the opening of Alex Olson and Nancy Shaver: Waters. 
The exhibit is a visual conversation between two women artists, Los Angeles-based painter Olson and Jefferson, New York-based sculptor Shaver. Their works are tied together by the theme of water and its many potential interpretations–"contemplative, as verb, as surface, rising waters, John Waters" are all up for consideration. Needless to say, the artists didn't take it too literally. 
On some walls, Olson has created bright, abstract paintings that mimic the movement of water, from the frenzied rush of a river, to the pattern of waves, to languid drops streaming down a surface. 
When the Fagadous first tapped Alex Olson for the exhibition, the artist had been heavily inspired by the work of Nancy Shaver, and the three women decided to invite Shaver to join the exhibition. Shaver, whose work has been shown in the MoMA in New York and the Los Angeles County Museum of Art, contributed several 3-dimensional works that are even less obviously water-themed. 
Most of the sculptures are built around clusters of wooden boxes, all covered in different fabrics like the patches of a quilt. One piece, a rectangle box containing a mishmash of smaller boxes, looks like a topographical map and is curiously called "Blue Pool." 
Go check it out while you still can. Alex Olson and Nancy Shaver: Waters is on view through Saturday, November 16. Find directions and gallery hours here.