Dallas-Fort Worth CEO Survey 2012: Slow Train to Recovery
This year's poll conducted by SMU Cox Business School finds local business leaders a little more optimistic.
By Dr. Miguel A. Quinons and Dr. Robert W. Rasberry, SMU Cox School of Business
Published in D CEO December 2012
Conducting a business survey during a highly contested presidential election gives us a unique opportunity to peer into the psyche of the Dallas-Fort Worth business community. With economic growth still positive but slowing down, unemployment edging down ever so slightly (and slowly), and housing prices beginning to rebound in parts of the country, the national debate has centered on whether the glass is half full or half empty.
By the time this article goes to press, we will have our answer to how most Americans answered this question. At this point, however, one thing is clear: This year's respondents to our annual SMU Cox CEO Sentiment Survey believe the outcome of the election is extremely important. When asked about the election's impact, the vast majority said the outcome would have either a large (55 percent) or some (36 percent) impact on their organizations. In fact, regardless of whether the electorate has decided that a change in president is in order, 54 percent of our respondents expected to implement moderate or significant changes in their organizations.
What those changes will entail depends a lot on their perception of how their businesses will fare over the coming 12 months. And that is exactly what we sought to find out.
WHERE WE'VE BEEN
Back in 2009, as we penned the results of our third annual CEO Sentiment Survey, we found ourselves looking back over an ex-SMU COX CEO SENTIMENT SURVEY 2012 tremely turbulent year. It was a year with economic events that few in this country had ever seen or could even imagine. We did not know it then, but as we stepped back from the economic precipice, the "light at the end of the tunnel" that we were observing was a critical warning. The words of The Impressions' popular song were about to apply: "People get ready, there's a train a-comin'." For much of America the ride has been fearful, just like a monster roller coaster with lots of crazy ups and downs. Our DFW leaders were hopeful we could have a milder ride, and we have. Amidst the global slowdown, the European bailouts and austerity plans, and the lingering concerns of double-dip recession, DFW and our fellow Americans have continued to dazedly ride that slow and jostling trainback to recovery.
North Texas CEOs have kept that "guarded optimism" that has long been a part of our "can-do spirit." Our area's cities have sent out messages to our fellow states and the world saying that, while the runaway train is still raging, DFW is open and ready for business. It was with that optimism that we sent out the 2012 SMU Cox CEO Sentiment Survey, to question and learn how all are surviving the ride and what they expect next year to be like. As we tabulated this year's results, the picture that emerged showed a very slow ride, on a very slow train, with a steady stream of bumps and turns.
PERFORMANCE AGAINST BUSINESS OBJECTIVES
At the outset we wanted to see how our leaders' organizations performed last year, especially in light of recessionary constraints. The picture was fairly positive, with a full third of respondents (32 percent) exceeding their revenue expectations, and another 34 percent meeting them. Most respondents (53 percent) met their cost expectations, although another 31 percent exceeded these. The profits picture is a bit more mixed, with 45 percent of respondents falling below their expectations for the year, 29 percent meeting them, and the rest (26 percent) exceeding. Overall growth was strong, with more than 63 percent either meeting or exceeding their expectations. These figures help illuminate why the DFW economy continues to outpace the nation and attract more businesses to North Texas.
ECONOMIC OUTLOOK
Last year we recorded the most negative outlook for the world economy since the launching of our survey in 2007. This was not too surprising, given the uncertainties underlying the Greek and Spanish economies as well as the overall slowdown in the rest of Europe. Since then Greece continues to be a question mark, borrowing costs for Spain have increased, and growth in China appears to be slowing down. The prospects of future bailouts or defaults in the EU continue, but the overall outlook of our CEOs has improved slightly from last year. Of our respondents, 52 percent expect the world economy to worsen (compared to 60 percent last year), while nearly 10 percent expect an improvement (versus only 7 percent last year). However, in spite of this small uptick in sentiment, the CEOs in our sample generally expect the world economy to face significant headwinds in the year ahead.
The outlook for the U.S. economy has bounced back substantially from last year's record lows. More of our respondents (33 percent) expect an improvement in the U.S. economy than a deterioration (26 percent). Although not a ringing endorsement for robust growth nationwide, these results are a stark contrast to the 40 percent who expected conditions to worsen last year, while only 13 percent expected an improvement.
As has been typical among our respondents since we began conducting this survey, the economic outlook for the DFW area is once again far more positive than it is for the world and the country. A majority of respondents (56 percent) said that economic conditions in our area would improve, while only 7 percent expect a decline. This is a significant rise in optimism from the 42 percent who expected an increase last year. In fact, last year was the SMU COX CEO SENTIMENT SURVEY 2012 first time we had more respondents expecting conditions in DFW to remain the same than those who expected an increase. This year's results bring the trend back to where it had been for most of this survey's history.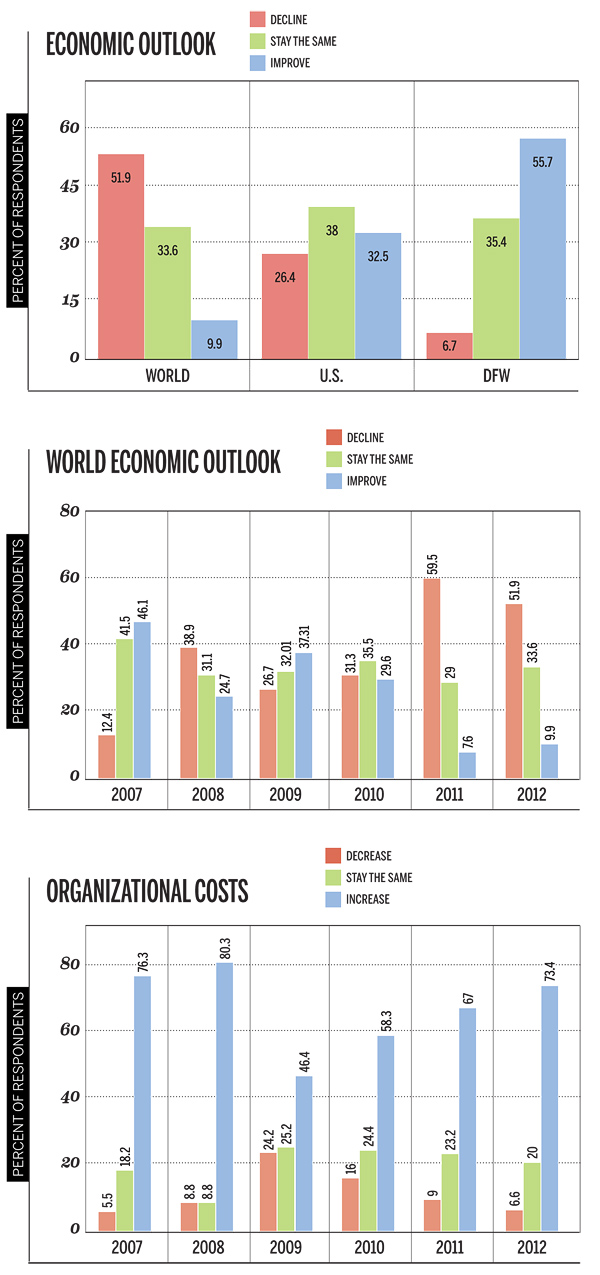 OUTLOOK FOR DFW BUSINESSES
Aware that our CEOs were more optimistic about the DFW economy than this time last year, we hoped their personal business outlook would also be positive. We were not. A strong 68 percent believe their revenues will increase over the next 12 months, compared with 62 percent last year. This is the largest predicted increase since 2007, when 80 percent of respondents expected increases in their organizations' revenues. Only 19 percent of CEOs believe their revenues will decrease next year. An improved 53 percent see their profits increasing as a result, as opposed to 50 percent last year. But all is not positive; more leaders are expecting to see increased costs than anytime during the past four years, with 73 percent of CEOs expecting cost increases, 20 percent thinking they will stay the same, and only 9 percent believing there will be a decrease. These results suggest that organizations are going to have to continue to fi nd ways to increase their efficiency in the year ahead in order to stay ahead of these cost pressures. In fact, 53 percent of CEOs expect productivity to go up in their organizations over the next 12 months.
Our survey also uncovered other positive news for the DFW economy. Slightly more than 39 percent expect to increase their staffing levels over the next 12 months, while only 16 percent expect to downsize their operations. Employee pay increases are expected in 52 percent of our respondents' organizations (only 3 percent expect a decrease), as are increases in capital expenditures (39 percent) and training budgets (29 percent).
What are the top business challenges that our leaders will face in 2013? The top concern listed this year was the current economic climate (49 percent), up by six points over 2011. However, in a break from previous years, domestic competition has arisen as the second most important business challenge that CEOs face (12 percent). Perhaps even more surprisingly, labor availability has also climbed the list and is now the third business challenge listed (9 percent). These findings are consistent with what CEOs told us when asked about their top three challenges they faced. They listed sustaining competitive advantage, attracting and retaining good employees, and meeting quarterly earning projections as their top personal concerns going forward.
Clearly, business leaders see their jobs as positioning their businesses for future growth in a more competitive environment while ensuring that their organizations have the talent they need to achieve their objectives. Interestingly, most CEOs feel that their leadership bench is either excellent (25 percent) or good (55 percent). To build their talent bench, most CEOs (68 percent) reported growing from within, while only 5 percent relied on outside talent exclusively. The rest (27 percent) employed buy-and-grow talent strategies equally.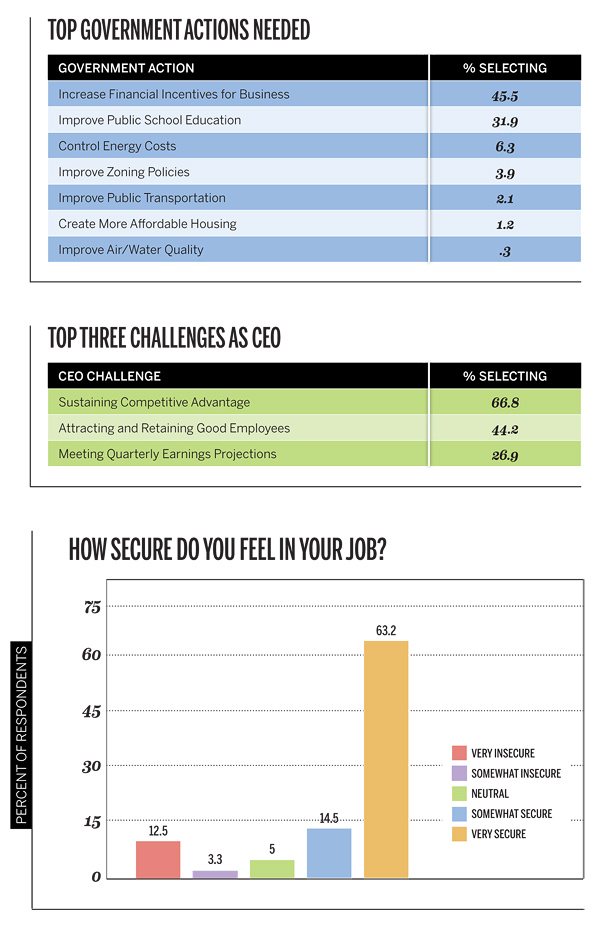 RATING THE DFW AREA
The Bureau of Labor Statistics has listed the DFW area among the top three in the nation in terms of job growth for the last several years. Similarly, a substantial 59 percent of our survey respondents believe DFW represents the best growth opportunity for their businesses in 2013. They predict a substantial 75 percent of their sales will come from the local area. They, like their buyers, love living in a community that exudes optimism and possibility.
When asked about the factors contributing to the quality of life in our area, the answer given by 63 percent of CEOs in our survey was our low cost of living. Recent national surveys support that reasoning.
Our survey respondents also noted factors such as the quality of our travel infrastructure, good weather, and great entertainment opportunities as our area's top features. Many of the corporate relocations in past years have placed "ease of travel" along with "low cost of living" at the top of their reasons for moving. In response to present and future travel needs, Dallas/Fort Worth International Airport is undergoing a $2 billion renovation, gutting four of the five current terminals.
In terms of entertainment, it will be hard to beat 2011 when DFW hosted the Super Bowl, the NBA Finals, and the World Series. However, from a more intellectual perspective, residents and visitors alike have two wonderful cultural locations that could fi ll weeks of viewing and participation. Fort Worth has its wonderful Cultural District, with museums, arenas, and entertainment venues galore. Dallas has a vast array of opportunities in the Arts District, with museums, art galleries, the symphony hall, theaters, the new Perot natural science museum, Dallas City Performance Hall, and Klyde Warren Park. Visitors can top off a visit to these attractions by spending a night at the popular new Omni Convention Hotel. It is for cultural reasons like these that Dallas ranked No. 25 in the world (tied with Vienna) in the Economist Intelligence Unit Report's survey of "Hot Spots: Benchmarking Global City Competitiveness." The survey measured how "attractive a city is to talent, capital, tourists, and businesses."
Of course, great companies need great employees. This became apparent when 10 percent of our leaders indicated their thirdranking business challenge was labor availability. When asked about the quality of the DFW workforce, only 31 percent rated it as high, while 54 percent believed it was adequate. Our survey also indicated that the second government action desired by our CEOs was to "improve the quality of the DFW public school systems." Much of the blame does fall on our local school systems. The Brookings Institute agreed with the assessment. In August they ranked the DFW area 87th among 100 national metro areas that do not match the educational level sought by employers. The study found that in a sampling of employer needs, 46 percent of the Dallas job openings required a bachelor's degree. However, only 21 percent of Dallas job seekers had such a degree, with 16 percent lacking even a high school diploma. As one educational expert noted, Dallas is a "talent borrower," drawing well-educated employees from other cities. Mike Miles, the new DISD superintendent, and other city leaders are trying hard to change that.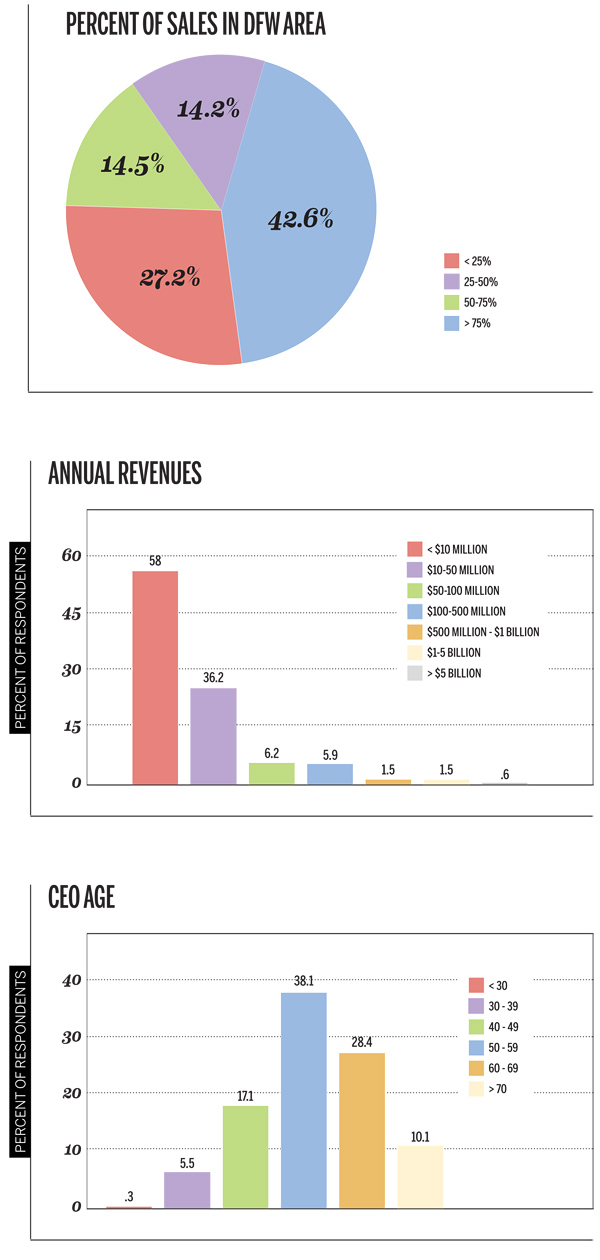 Although improving the quality of education is critical, respondents indicated the top action they desire from local governmental entities is to increase financial incentives for business (46 percent). According to news accounts, economic development help is being delivered. Relocations to DFW seem to be steadily increasing, and one of the main reasons is because of the incentives we provide to companies. Great examples abound this year. Frisco attracted a New York medical device company headquarters to the city with a generous gift. The Colony wooed a Nebraska Furniture Mart store and distribution center the same way. In total, that project will produce 4,000 construction jobs and 2,000 distribution-center jobs. The McKinney Collin County Regional Airport recently opened a new commercial runway, with generous tax incentives for companies that build hangars and bring aircraft to its operations.
One of the most exciting DFW economic development stories may be the "on again" Inland Port, which is Mayor Mike Rawlings' key to his "GrowSouth" development initiative. The potential for growth impacts more than just the south Dallas communities. The mayor's plan incorporates 12 DFW municipalities and more than 200,000 acres. In addition to increasing distribution networks for our current area companies, the port would immediately benefit from increased Mexican truck traffic and the recent growth of ship traffic at the Port of Houston. Some believe it could also rejuvenate interest in building the earlier proposed high-speed rail line between Houston and DFW. At present, the development project is proving to be more than a pipe dream. Much of the infrastructure is currently being laid, and major companies like Quaker Oats, BMW, Kohls, Home Depot, Whirlpool, American Standard, and L'Oreal have committed to, and/or are in the process of, building new distribution centers.
CONTINUING TO LEAD IN DIFFICULT TIMES
CEOs know that successful organizational leadership requires a solid set of characteristics. In selecting their most important attributes, our CEOs indicated decision-making (58 percent), strategic thinking (51 percent), and strong ethical character (50 percent) as their top three. When we queried our respondents on the top three metrics they use to measure their personal success, they listed their company's success, the impact on the lives of employees and families, as well as the amount of time spent with loved ones, as their primary measures. Most leaders acknowledge the guidance they received from "significant others." We asked leaders to reveal the people who influenced them the most: Parents were cited first (33 percent), followed closely by spouses, who received 30 percent of the votes, and then a professional mentor (15 percent).
Leading a company in turbulent times is a trying experience. We wanted to know how our DFW leaders feel about their jobs. When asked about their level of job satisfaction, a small percentage (13 percent) indicated any level of dissatisfaction, while 82 percent said they were either satisfied or very satisfied. When asked about their job security, a solid 78 percent felt either very or somewhat secure in their jobs, while 16 percent admitted some degree of insecurity.
Who does a top-level executive rely upon for advice and counseling? Responding CEOs placed their spouse at the top of the list, followed by a friend, and then their chief operating officer. This last choice is perhaps a refl ection of our previous fi nding concerning the need to remain efficient and productive in light of increasing operating costs. This is a change from previous years, when the CFO has come in at the No. 3 spot, suggesting that efficiency and cost control are now more pressing issues than financial ones.
THE BOTTOM LINE
As the U.S. economy continues to sputter along while still facing darkening clouds in Europe and the prospect of the so-called "fiscal cliff," business leaders in DFW are optimistic about their prospects in our own back yard. CEOs' overall sentiment has brightened a bit, and their expectations for the performance of their organizations is generally positive. We just need to find a way to get this slow train cranked up into overdrive.