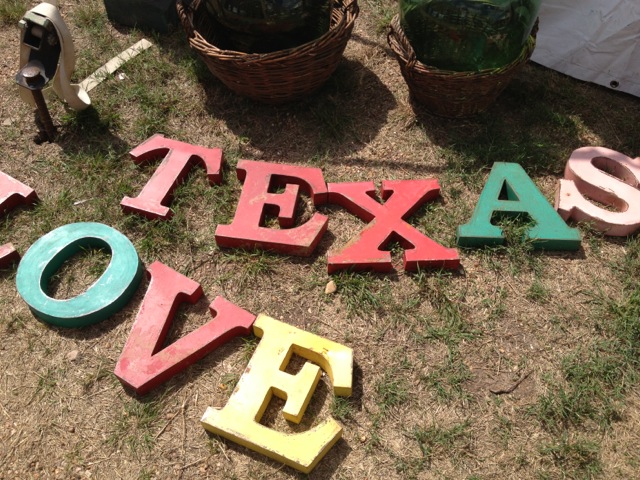 At Home with Tracy Martin Taylor: Hello, Round Top!
Off to southeast Texas we go!
Tracy Martin Taylor, the decor maven behind Eleven 11 Design, wants to help you beautify your home in 2014. Once a month she'll be stopping by the D Home world headquarters to share a little interior design insight with us. Today, let's take a trip with her.
Just when I thought everybody had made the trip to Round Top, I hear of a new client or friend that's planning to make the trek, hang with their besties and try to find some treasure. My team goes to both the spring and fall shows to find one of a kind, unusual, vintage and just generally fantastic pieces that will take a space over the top. If you are headed there, here are some tips or at least my musings on the adventure.
I'm all over the place on this spring's shopping list. I always 'over lamp' which is a term I coined after many trips back with 8-10 lamps in tow. There's a lovely lady with a booth at Marburger Farms (March 31st-April 5th) and thanks to her, many of my clients have a vintage lamp or two that she found for me.
We always hit Mclaren's (just north of Round Top and open March 24-April 5th) for all things British, Irish and generally interesting. Last time we scored a set of barstools made out of bike rims that were perfect for a special family room on our to do list. They have many vintage pieces like two sided wall clocks from an old office building, hard to find china, carved wood imported items and more. My fave from the spring show was a pile of vintage British tins for the coolest accessory on a coffee table. Plus we know the Mclaren brothers well enough to get a cocktail while we shop so that doesn't hurt either.
Blue Hills (March 22-April 6th) is a must stop on my agenda. It's smaller; more edited and has great "facilities." The Antique Maps dealer is the best for maps, fashion prints and all kinds of art that is one of a kind. We always score there for our clients and I also do a bit of holiday shopping at the same time. I can always find a western print for my Dad or something really special for a friend at this place. I think we were there for two hours last trip. And it's not a huge space!
The Warrenton fields (March 22-April 6th) are where the magic happens for us. Take your comfy shoes and your slow gait so you don't miss something you can't live without. This is the mecca for bargains if you can take the time to fully peruse. The scores I have found here are too vast to mention. There's a great taco place and a Royer's location to keep you fueled. Speaking of Royer's, once you get in town, call them and make a rezzie for the best food and pie you can eat. The salted caramel pie is the best.
Bottom line: Round Top is one of Texas' coolest events and definitely worth making the trip!
Love your space,
TMT