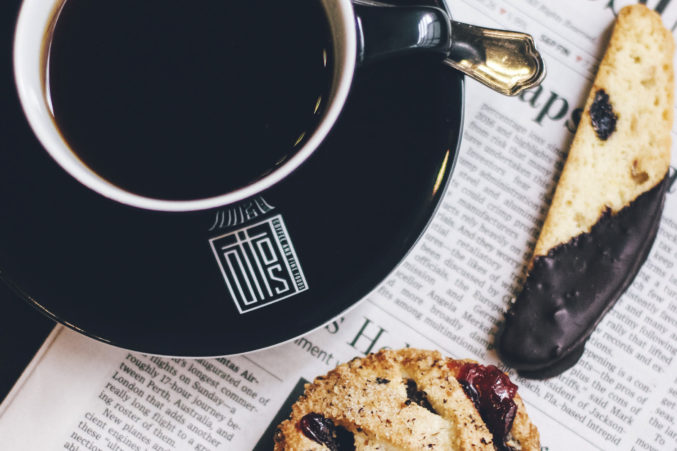 Otto's Coffee & Fine Foods to Open at The Adolphus
The Viennese coffee shop if offering free java on Wednesday, April 18.
The Adolphus' newest concept Otto's Coffee & Fine Foods opens on Wednesday, April 18. The Viennese coffee shop has partnered with Oak Cliff Coffee Roasters to feature an "old-world coffee experience." According to the release:
Perhaps the most unique element of Otto's will be the concept's walk-up window serving Liège waffles and coffee. With the scent of waffles emanating out of the hotel, the "waffle window" will offer its own iteration of the European-style handheld favorite featuring powdered sugar and house made fruit compote.

Inside the shop, a simple yet sophisticated pastry program will anchor the breakfast menu, with a selection of house made items like bagels, pain au chocolat, almond croissants and various sweet breads. Additional offerings include fresh breakfast sandwiches, quiche Lorraine, steel cut oats, chia seed and acaí puddings, and a unique DIY parfait where guests will select their 'crunch,' yogurt and house made compote.

Lunch will focus on simple, artisanal offerings, such as European-style baguette sandwiches as well as a variety of grain and green salads. Otto's will also feature a special selection of traditional Viennese treats and sweets, such as sachertorte, Linzter torte and apple strudel—available until they run out.

Even presentations will pay homage to the traditional Viennese café, as coffee will be served on hand-crafted wooden boards along with sparkling water and a chocolate sable. Eiskaffee—or iced coffee—will feature espresso and vanilla ice cream, another nod to Otto's Viennese roots.
To celebrate, Otto's is serving free coffee on April 18 from 6 a.m. to 7p.m.
(Otto's will be open daily from 6 a.m. to 7 p.m.)