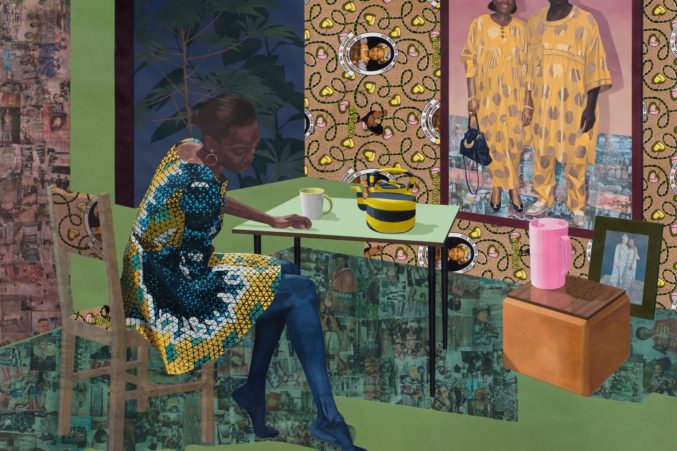 At The Modern, Nigerian-Born Painter Njideka Akunyili Crosby Illustrates Her Dual Identity in Counterparts
The artist's new exhibit at the Modern Art Museum of Fort Worth is her first in Texas.
Njideka Akunyili Crosby's new exhibit at the Modern Art Museum of Fort Worth is the 35-year-old Nigerian-born artist's Texas debut. Sort of.
The Los Angeles resident knows the state well. Her husband is the sculptor Justin Crosby, who was born in Texas and whose parents still live in Austin. She even spoke at UT's Blanton Museum of Art in October. But Njideka Akunyili Crosby: Counterparts, imported from the Baltimore Museum of Art, is the first time her works on paper have been shown in Texas.
The exhibit consists of six pieces divided into three pairs – think unconnected diptychs – blending the cultural contexts of her dual identity. Each piece was made using the same meticulous process, which involved everything from making lists to carefully selected photo transfers. Crosby wants to use her craft to create a new language and framework for describing hybridity, inheritance, and changing traditions. She used a variety of media – a combination of acrylic paint, photographs, colored pencils, collages, charcoal and fabric. The artist also intentionally chose not to frame the images. She wants viewers to get as close to the work as possible.
Concepts like colonialism, appropriation, black identity and consumerism are inevitable when reckoning with identity, though calling her an activist (as with any immigrant or artist of color) is an oversimplification. Hers are not overtly political works, but sincere layered explorations of living in an era of globalization.
Those themes may permeate her work, but Akunyili Crosby jokes she is not all doom and gloom. "There's an element of play in my work, just [not easily] not coming across," she said, standing in front of Dwell: Aso Ebi, featuring a woman sitting at a coffee table in blue stockings and a patterned dress. On the opposite wall is a large, framed photograph of her parents in yellow formal clothing. Below them is a green floor composed of paint and small photo transfers of cultural icons, like former First Lady Michelle Obama.
Akunyili Crosby spent her childhood in Enugu in southeastern Nigeria, and later went to boarding school in Lagos. While she was raised in her native country, she was trained as an artist in Philadelphia and New Haven, Connecticut before ultimately settling in Los Angeles.
As she crisscrossed differing landscapes, memories and relics joined her along the way. They appear in her works, as do cultural stereotypes and norms. Pieces of her childhood, such as photos of her parents, a TV playing James Bond movies, and colorful patterned garb appear alongside her husband's dog, West Elm furniture and, in one case, blackamoor serving dishes.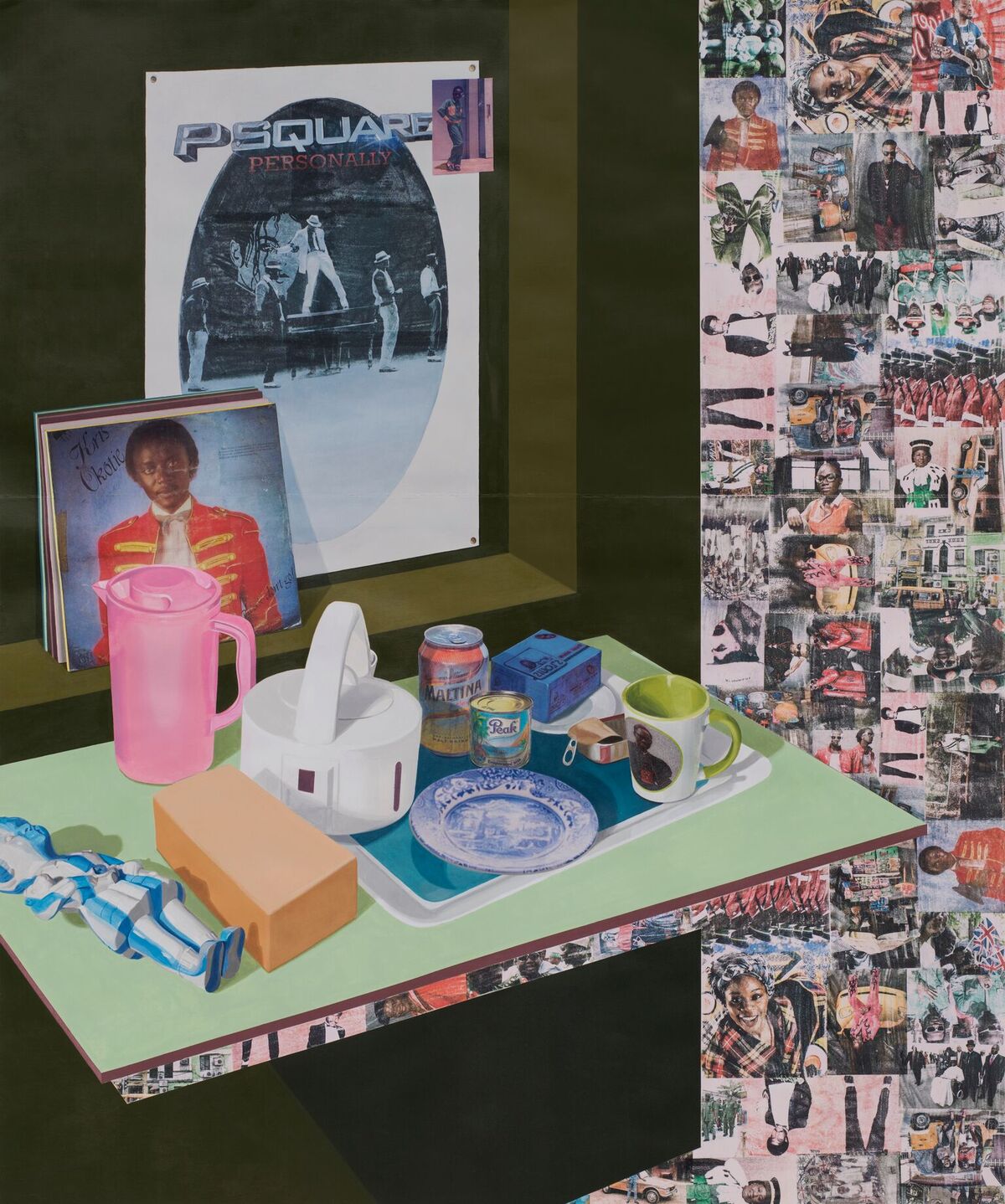 In that piece, As We See You: Embarrassment of Riches, the dishes feature chiseled black men at a table with a Thanksgiving feast. Above that dinner table is a mirror with a young woman's reflection. Paired with it is As We See You: Dreams of Jand, a British colonial afternoon tea scene with an African doll known as a Clonette or DeiDei doll, rendered in ivory. An album featuring Nigerian musician Chris Okotie styled as Michael Jackson sits in the background.
In Home: As You See Me and Home: Say It Loud, those nostalgic items are everywhere. The pair integrates furniture and decor from her childhood and current home. Yet, unlike the rest of the works, they are figureless. Without a central figure to latch onto, she wants the audience to reflect if they are looking from the outside, as a colonizer, or the inside, as the colonized.
For her thoughtful debut, she deserves a warm Texas "howdy." She deserves a place in the museum's permanent collection, too.