Wrapped in Mexican authenticity and flare, El Come Taco has the biceps for the taco business. Guns for the gun show if you will. And with the taco trend gently slipping into obscurity, we can now grab some of those meat-filled tortillas without feeling like we're riding the "it crowd" pony to cool town. Tacos are, and have always been, awesome. Okay, so as I said, El Come is missing one key factor in their journey to exceptionalism. Here's how it went down.
On my first visit, I arrived promptly at 11 am (that's when they open) and asked the man behind the counter if it was indeed taco time. "Yes," he said politely.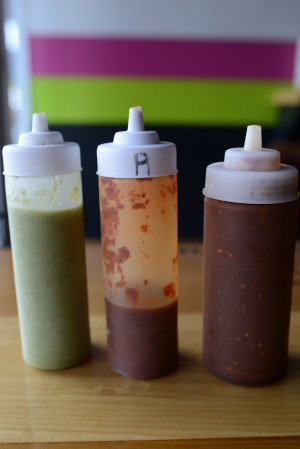 I was intrigued by the veal brain and beef tongue options, but decided to extend some normalcy and go for the pastor (pork), capechano (brisket and chorizo), and the cecina de la casa (sirloin). "Would you like cactus or potatoes?" Again I was intrigued and thirsty for food. I chose to try the cactus. I noticed a trompo in the kitchen as well. Now we're talking. Trompos are basically a spinning vessel with meat on it.
The meat, after being marinated, spins and is slowly heated. It is then cut off and put on the taco. My tacos arrived with 3 lime slices in the middle and the server educated me about the three sauces that came with my table. The green one is spicy, the one marked pastor is best for pastor, and the other red sauce is the house favorite. Ok, I am going to eat my tacos now. Upon looking, the meats were cooked perfectly, the cilantro was fresh, and the cactus kind of looked like canned green beans. I am no cactus expert so I accepted that as the norm.
On the plate, the tacos were beautiful, but something was missing inside. With all the well-prepared items inside the soft yet unflinching tortilla, it seemed they had forgotten to season the meat. Every taco I tasted was like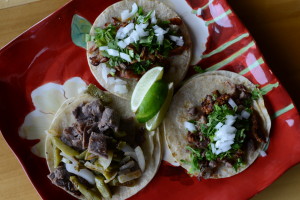 biting into nothingness. Perhaps I smoked too many cigarettes as a toddler and my taste buds were destroyed. No, that's not it. I went back for a second visit with three other tacos and had the same experience. There was no seasoning on the meat. What gives?
A little long winded? Maybe, but that doesn't make up for the lack of seasoning in those tacos. Maybe I'll have to go late night when the meat's had time to soak up the flavors, but I doubt it.
Get the SideDish Newsletter
Dallas' hottest dining news, recipes, and reviews served up fresh to your inbox each week.