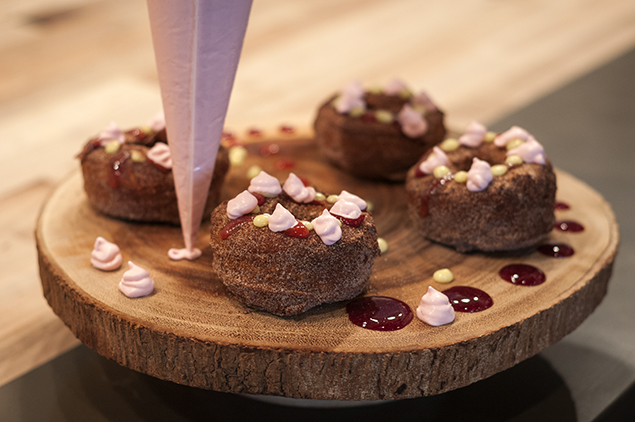 As you all know, SOUK opens its pretty Moroccan doors for dinner service today inside Trinity Groves.
And, yes, there are cronuts (aka "creative donuts") on the menu. But we'll get to that later.
Yaser Khalaf (Baboush, Farnatchi), chef Najat Kaanache (who made a splash at the now-defunct Private Social), and Charles Accivatti have teamed up to open a sleek Moroccan bistro at Phil Romano's restaurant-retail-and-a-bunch-of-other-stuff development space. In Arabic, souk means "bazaar."
SOUK looks every bit like the set of a fantasy Aladdin dream house. Plush pillows on the floor take the place of chairs. Multicolored sheer drapes hang over a market-esque decoration on the wall. Minus all the hubbub of an outdoor bazaar, SOUK's atmosphere feels every bit as rich as the aromas of a spice shop.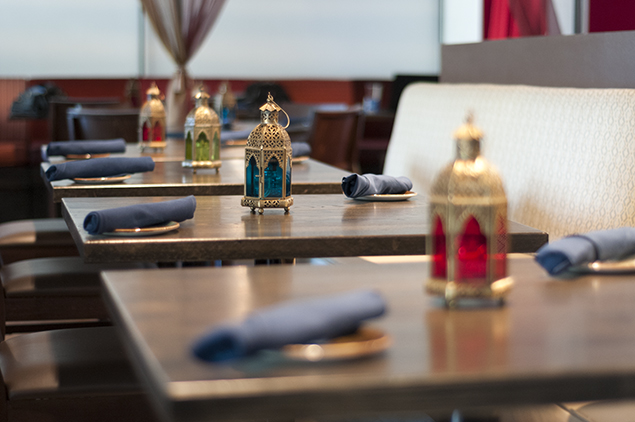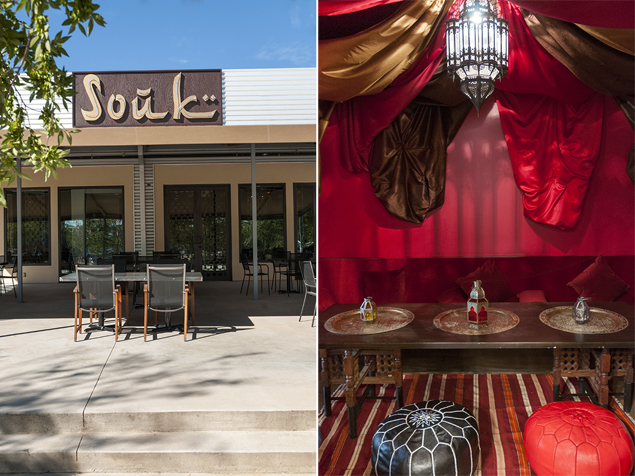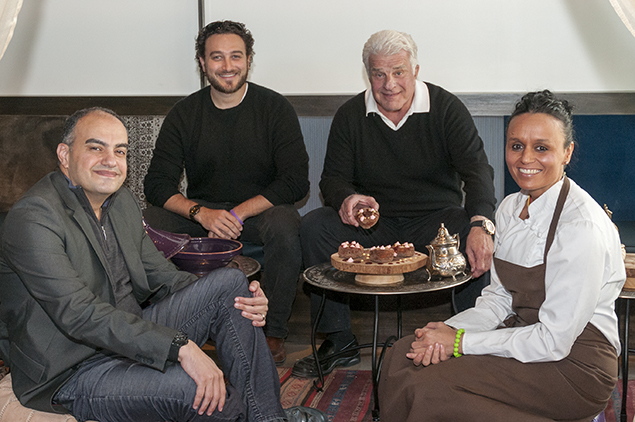 THE MENU
Kaanache, of Moroccan descent, has created an intriguing menu filled with everything from a fez beet salad (tomato, cucumber, roasted red beets, Jleben) to chicken and beef kebabs. They're made on a rustic grill that was built especially for the restaurant. A 6-oz. Moroccan steak filet is only $25. And there's even a "Kids Korner" on the menu for little ones who prefer flat bread pizza, macaroni pasta, or a mini kofta hamburger.
"It's about sharing. I want everyone to have something different so they can share. I'm Moroccan, but I don't want to say these are my grandma's recipes. It's going to be a mix. Basically, everything is from the land of Morocco, but you have to remember: what is Morocco? What is the culture?" According to the Pilgrim Chef, her food is a mix of American, French, Portugal, and Spanish.
Pair your dishes with cocktails (like the Moroccan Mule), wines (Pascual Toso Malbec from Argentina), or coffee. Kaanache says they will have about 13 spices for the coffee mixes.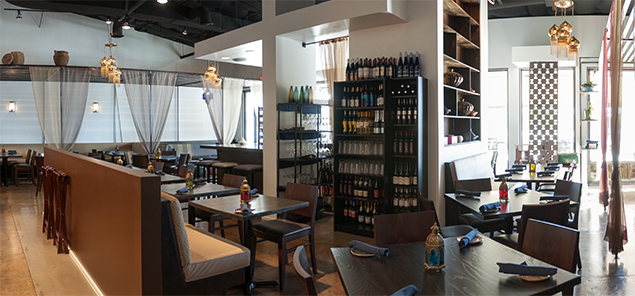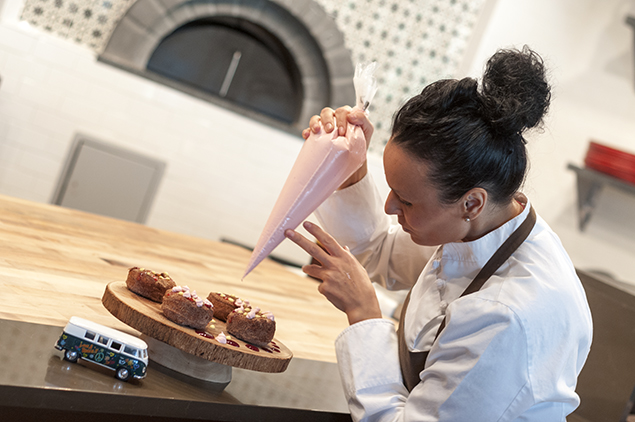 CRONUTS, CRONUTS, CRONUTS
What's most surprising of all, though, are the cronuts. I'm pretty sure they're the least Moroccan item on the menu. Back in June, we brought to light the Dallas Cronutroversy here on SideDish, when chef Kaanache claimed she invented the term 'cronut' to describe the creative donuts she served at Private Social.
Now she's back with her fried pastry again.
"We have them on the  menu and we have them with a ™ [trademark symbol] at the end," says Kaanache. "They are sweet and salty. We call them 'cronuts' because they're ours."
There are crawfish cronuts™ to start (croquette donuts, cilantro, saffron, and chermoula mousse) and sweet lemon curd, raspberry, toffee, and chocolate cronuts™ for dessert.
Accivatti, the chef's longtime business partner, says the trademark symbol is there because "February 2013 was when we first invented 'cronuts' to describe creative donuts. And then we found out via Twitter that Dominique Ansel claimed to have invented cronuts in May. Immediately, we filed an official trademark application to protect our name with the United States Patent and Trademark Office."
So, then, how is Ansel able to use the term if it's been trademarked in Dallas?
"Right now he has a good faith trademark application on file, meaning he had no prior knowledge in any realm. He had never heard, seen, or been made aware of the fact that anyone else had used cronuts in connection with the same class of goods for which he has filed. That's what affords him remote junior geographical rights at present…"
But this trademark issue is not what's occupying the forefront of Accivatti and Kaanache's mind these days. They're focused on SOUK's reception in Dallas. They're confident it will work.
"I was born with these dishes," says Kaanache. "My whole life I've been doing crazy molecular dishes. This is the first time I'm doing home, you know? Just like at home."
Get the SideDish Newsletter
Dallas' hottest dining news, recipes, and reviews served up fresh to your inbox each week.