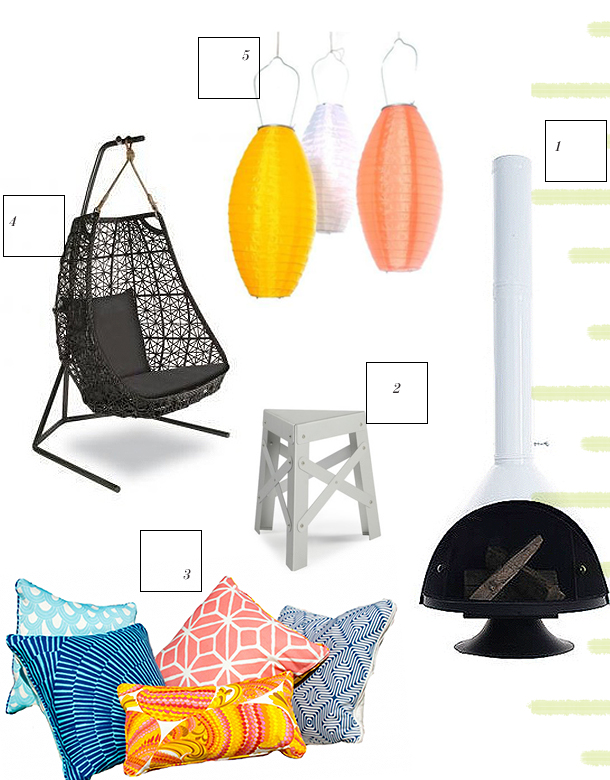 (Tracy's patio picks: 1. Malm fireplace 2. RS Barcelona Paper Eiffel accent stools 3. Trina Turk pillows 4. Kettal Maia hanging chair 5. Shoji Modern solar-powered lanterns)
Sure it's drizzly, and cold, and grey…but it won't be for long. It's Texas for the love of Pete, it could be 100 degrees next week. Rain be damned, it's time to start prettying up the patio. Lucky for us Ryan did a little roundup of lovely pieces for eating al fresco earlier today on the D Home blog, and our D Moms design maven Tracy Martin Taylor is here to share her tips, tricks, and finds for creating a comfy and chic outdoor space.
Enjoy!
*******
By Tracy Martin Taylor
Here in Dallas, we have some clearly defined seasons. There's football season, State Fair season, and duck-into-the-air-conditioning-and-hide-from-the-sun's-punishing-rays season. And then there's my favorite season of all – spring.
When spring fever strikes, and I find myself hungry for fresh air and greenery, I follow my instincts and head for the nearest outdoor space – my patio deck. Even though we've been neglecting these spaces for the past few months, it's now time to celebrate the season in our very own pieces of backyard paradise. If your outdoor haven is in need of some seasonal sprucing, then I have a few recs to make your outside time more fab. After all, it should be party worthy, right?! Grab the littles, clear out the cobwebs, sweep away the old leaves, and pick up a few key pieces that you can put to good use before the Texas summer scares us indoors once again.
I like to think of my outdoor spots as extensions of my indoor living room: a great place for entertaining and a worthy home for a fabulous statement piece. You know the piece that draws the eye your favorite living room? Try to find that special something for your outside happy place.
Here are some of my faves:

Love your space,
TMT
For more design inspiration from Tracy, be sure to check out her blog.
Get the D Brief Newsletter
Dallas' most important news stories of the week, delivered to your inbox each Sunday.