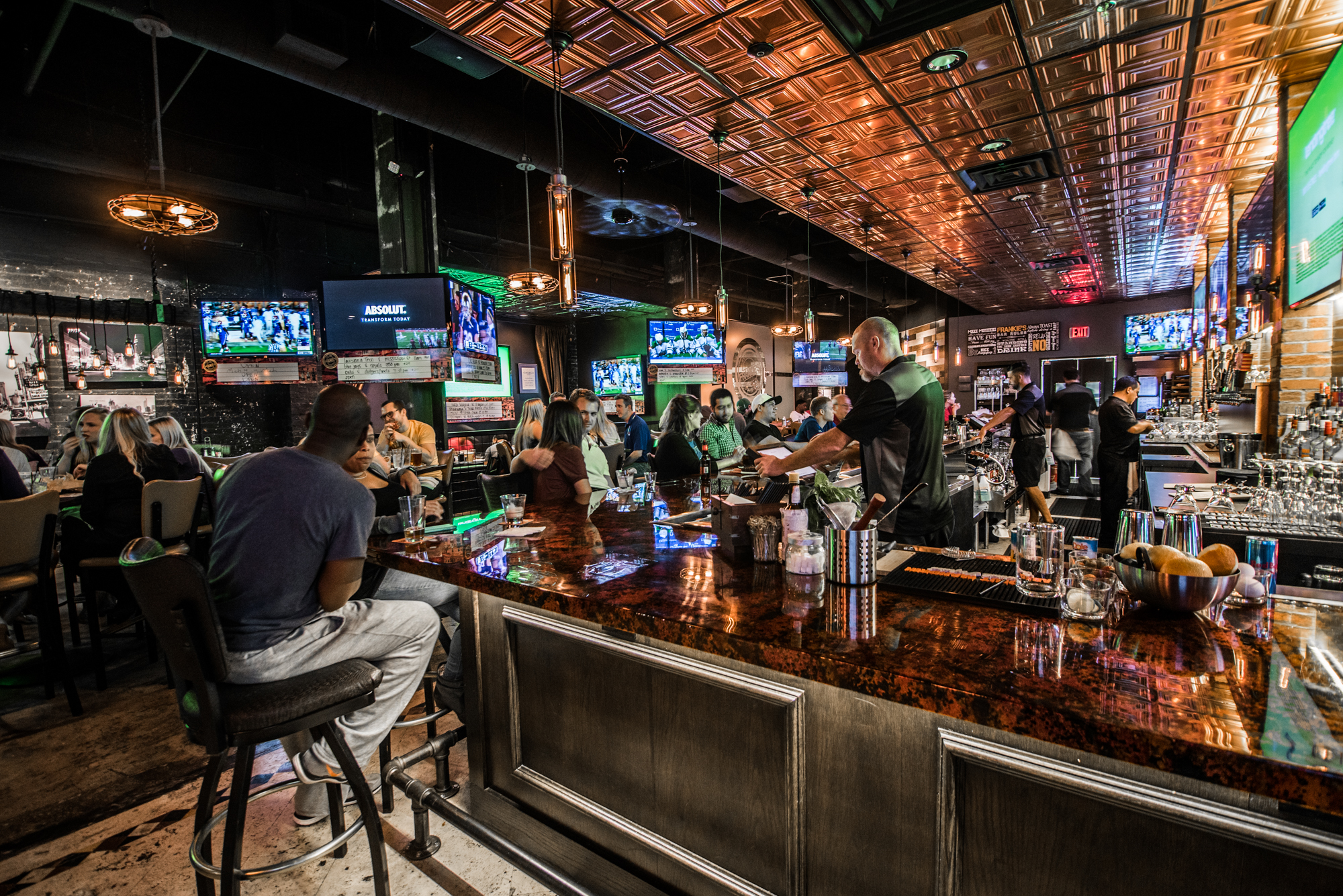 10 Places to Catch March Madness in Dallas
Bring your brackets along to these North Texas bars.
March Madness kicks off this Thursday, causing sports fans to seek shelter in sports bars this weekend. Although SMU can't play in the tournament (despite being one of the best teams in the country), you'll still want to take in a few games for bracket purposes. Whether you plan on watching the tournament alone and nursing a beer or you're looking for a place to haul your friends during St. Patrick's Day weekend, look no further than this roundup of 10 North Texas sports bars that are perfect for catching a few games.
A TCU favorite within (jaywalking) distance of campus, Buffalo Bros serves up delicious pizza and wings during the game. You'll be joined by plenty of hungry sports fans at this cozy Fort Worth sports bar.
Head to the Uptown Arts District to catch all four rounds of NCAA basketball at this trendy McKinney Avenue sports bar. Christies' walls are covered with TV screens, so don't worry about puny visuals or muted game audio. This coupon from their website gets $10 off your tab of $25 or more–so bring some friends. If the game's a dud, try their tournament-sized pool tables or arcade games.
With 44 flat screen TVs, you won't miss a second of any game you're interested in. The sleek sports bar is usually bustling with sports fans and locals in search of a pint of beer or a perfectly crafted cocktail. Plus, Frankie's can be found in both downtown Dallas and Sundance Square in Fort Worth. Join their March Madness bracket contest for a $10 entry fee, and root for your team while taking advantage of Frankie's St. Patrick's Day (Weekend) drink specials.
Goodfriend Beer Garden and Burger House
Sip a pint of beer while enjoying one of 2015's Best Burgers. With a top-notch beer selection, Goodfriend is great for hungry and discerning sports fans to watch a few games.
This Lower Greenville bar is popular for its variety of seating and 30 HD TV screens. From March 15 – 17, Henderson Tap House is hosting March Madness watch parties (you can call to set up a private one), and they're opening early for the games. The beer specials are ideal for a group; $10 gets you a pitcher, and $20 gets you a bucket of domestic beer ($24 for import). RSVP online and try a brick oven pizza while rooting for your team.
Sometimes, you just want to focus on the game and eat some good bar food. 1st & 10 is the kind of sports bar where fans can be glued to the game without any unnecessary frills. Get the Point Burger with the cottage fries and enjoy your beer side by side with the neighborhood regulars. 1st & 10 isn't promoting any March Madness specials, but it's a great place to watch some college basketball.
Celebrate March Madness at The Nodding Donkey, a saloon-sports bar hybrid near SMU that serves comfort food while you watch the game on one of the 17 big screens plastered throughout. In 2013, D Magazine readers rated it the best sports bar in Dallas. The airy wrap-around patio and delicious bar food (brisket tacos, anyone?) make up for the slightly pricier menu. Try the Donkey Punch.
Sports fans bursting with Texas pride will love The Rustic's locally sourced fare and casual outdoor space. Also known as "Pat's Backyard," the outdoor area is named after country singer and part-owner Pat Green and offers picnic tables, fire pits, a grassy hill, and even a concert space. Watch your college basketball here if you're not a fan of crowded indoor sports bars. The Rustic's March Madness special takes place from 10 a.m. to 5 p.m. March 19 and features an inflatable screen and half-priced appetizers. The food's nothing to pass up, either. Try the chorizo empanadas or wild boar meatballs over smooth black beans, paired with one of the 40 beers on tap. What's more, members of the military and uniformed police officers, firefighters, and paramedics always receive 25 percent off food.
TVs and collegiate flags crowd the walls at this ultimate dive sports bar on busy Greenville Avenue. The rowdy bar has a patio, cheap beer served in mason jars, and cheese fries. (Don't wear nice shoes.) Stan's promises Thursday and Friday beer specials for the first round of March Madness, so come thirsty and ready to shout.
Popular for its weekend brunch, Vickery Park is also a great place to watch college basketball. The gorgeous outdoor patio is always packed with people and HD TVs, so if you thrive on the energy of a crowd–and a breath of fresh air–this might be your pick. Bonus: Vickery Park serves a late-night menu until 2 a.m. Thursday through Saturday that includes smoked-cheese burritos, so don't worry about going hungry if you're staying up late for an overtime game.
Elle Carnley is a dmagazine.com intern.