New boozy promotions and menu updates mean another reason to guzzle down a cold one and make it a double. This Texas heat is killer and the best way to overcome it is to hydrate…with alcohol of course. Take your pick of tipsy events this week and as always drink responsibly.
For the Beer Lovers:
As part of their Tuesday Night Concert Series, LUCK at Trinity Groves will host music stylings of Paco Estrada with special tappings of Martin House Brewing Company's Salty Lady and Salsa Verde tonight (the Salsa Verde is a hatch chile and tomatillo ale). Buy the beer, keep the glass (while supplies last) and tap your foot to the music. I highly recommend enjoying their latest stout beer float concoction using homemade beer ice cream, but only after you enjoy their PB & Jellumbo Shrimp Bahn boy sandwich which was featured on Spike TV's Frakenfood. Music begins at 8 pm.
R Bar & Grill at the Hilton Arlington wants to get you drunk. With $1 craft beer nights every Monday evening through the end of August from 4 pm to close, Monday may just become your favorite day of the week. Executive Chef Michael West will pick the beer from breweries like Oskar Blues, Franconia, Revolver and Real Ale to pair with a highlighted dish. Regular happy hour kicks off tonight with $2 domestic pints, $5 house wines and $10 pizzas every Tuesday through Friday from 4-7 pm.
After a long week there's nothing more enjoyable than a movie and beer. Leave it to Hard Rock Cafe Dallas to make your guilty pleasure a socially acceptable activity. Starting this Friday through the end of August, Hard Rock will partner with Franconia Brewing to host Brews and Views. Franconia products like Franconia Wheat, Franconia Dunkel, Franconia Amber and seasonal will be on tap for $2.50 a pint and there is no cover charge. The movie begins at 9 pm and this week kicks off the promotion with cult classic Back to the Future.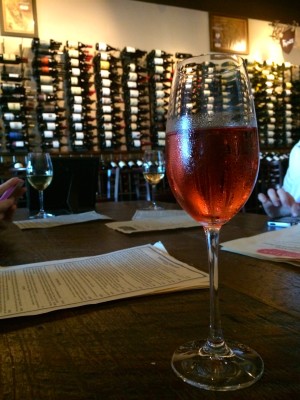 For Wine Lovers:
Every Wednesday from 5-7 pm, wine lovers should flock to III Forks in Dallas for Wine Down Wednesdays. For $15 per person, guests can sample six wines selected by the Wine Director and nibble on paired hors d'oeurves created by Executive Chef Chris Vogeli. Each month features a new theme and the month of August will kick of the promotion with Pinot Noir and Sauvignon Blanc.
Thursday, head to Driftwood for a New Zealand Wine dinner with plates crafted by Chef Kyle McClelland and wines selected by Robert Hall from Kim Crawford wines. Dishes include sparkling Honey Crisp apple shooters and pickled Thai-style oysters, raclette tart, whole French red mullet, roasted Hudson Valley duck and strawberry rhubarb consommé with goat milk panna cotta. The night runs for $85 a person and begins at 6:30 pm with a reception and dinner at 7 pm. Make reservation by calling 214-942-2530.
For Cocktail Lovers:
The spot for "Best Brunch" of the Big D, Bolsa has quite the craving for boozy things. Just this past weekend they opened their "Adult" juice bar, which I'm telling myself is completely healthy for the body. Today, Bolsa in Oak Cliff will team up with Angels envy Bourbon to bring a five-course Bourbon Dinner to the public. Envision farm-to-table dishes from Chef Andrew Bell including bourbon-brined quail and goat cheesecake to accompany craft cocktails from the bar staff. Fork over $55 and be there by 6 pm for a great way to say "TGIF!"
The Standard Pour just acquired Casa Rubia's sous chef Cody Sharp to convert the menu with a new "Low country, Southern-inflected 'Husk meets Cochon/Herbsaint' theme." This place is one of my favorites for a well-crafted cocktail, and with a new menu revamp (not saying the old one needed any polishing) from one of the most talked about restaurants of the summer, I can see TSP becoming a serious destination for bites and drinks.
Drink This: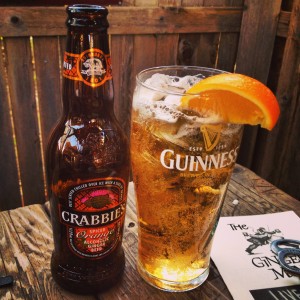 Just when I tell myself the heat index can't get any hotter, Texas slaps me with reality and turns up the temperature even more. As I try to mask my obvious sweat marks and throw on the SPF, I dream of air conditioning and a cold pint of Crabbie's Ginger Beer.
Grab a six-pack from Central Market or head to The Ginger Man to kick up your feet in their open patio, but don't go through summer without trying this beer. A cross between a hard cider and ginger soda, the drink is the perfect combination of spice and sweet. Just recently, the company rolled out with their newest flavor, Spiced Orange, that zests things up with a tangy twist. Try it with a large scoop of vanilla ice cream and you have yourself the adult version of an Orange Julius. If that doesn't get you (you're crazy), then try it mixed into a variety of cocktails like a Moscow Mule.