We all love a reason to pop some champagne, eat a slice of cake or five, get a little rowdy and make some regrets for in the morning. Or is that just my version of a party? Whether you're in search of a place to unwrap presents or just looking for an excuse to gather the troops, here's some key places I've found as destinations to throw down. Feel free to point me in the direction of your favorite get-together locations.
Cause for celebration: You hit another birthday milestone.
Setting: Obviously it's a pizza party. Who doesn't love a birthday pizza party? You can dress it up or keep it casual with your close group of 15 friends.
What to get: We like variety, so why not every pie on the menu? However, the Delia with all its bacon marmalade glory must be strategically placed in front of you. Cake is out of the question because you have the Nutella dessert pizza.
Where to next: The Rustic for live music, local brews and one of the best outdoor patios.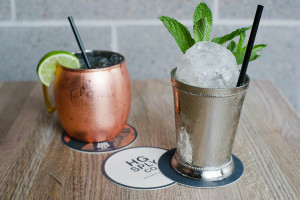 Cause for celebration: Your friend flew in from out of town and you're looking to show them a good time, but you want to keep things pretty tame.
Setting: The newly-renovated rooftop bar with a couple of new friends you just made.
What to get: You can go heavy or light with the offerings here, but steer towards the bowls that bring together the flavors of Texas in delightful way. Pair that with the frozen Moscow Mule which will surely impress.
Where you go after: Blind Butcher, Truck Yard, and Dallas Beer Kitchen. I say hit them all. Finish the night with a pie from Greenville Avenue Pizza to curve those drunken munchies.
Cause for celebration: All your friends finally managed to find a night to catch up.
Setting: Lots of talking, laughing, and drink guzzling.
What to get: At least two craft cocktails from their innovative menu and array of tapas plates to dive into. The duck, goat cheese and dried balsamic fig flatbread, lollypop lamb chops and roasted bone barrow are always a go-to for me. Definitely don't leave without dessert.
Where to next: The Dram because it's right across the street, and if you split up now, you may lose some of the group.
Cause for celebration: You've made it through 10 years of marriage and the flame is alive more than ever.
What to get: A plate from each menu section. The Italian menu may seem confusing, but every dish offers something swoon-worthy. You'll most likely go through five loaves of the wood-fired bread in between deep eye gazing.
Where to next: You've just made a food baby and all you want is the couch, a movie and some Pepto.
Cause for celebration: You made it a whole week on your diet.
Setting: Loud, social and lots of eating.
What to get: Most people choose to pack the pounds back on at one of Dallas' burger joints like Off-Site Kitchen, but you deserve an endless meal with one of the city's largest beer selections. Begin the night with a beer flight and the Hungry Farmer's cheese and meat board. Keep the food coming with the chicken skin chips, stick meats, crispy duck wings and one of the Prince Edward Island Mussel plates, because it involves infinite slices of carbs.
Where to next: Go home. You're drunk.
Cause for celebration: You finally got the job!
Setting: A little fancy, a little hip and very energetic.
What to get: The biggest steak you can order with a side of lobster mac 'n' cheese. You'll probably order wine for the whole table because you're basically made of money now.
Where to next: So & So's because it may get a little sloppy at this point.
Cause for Celebration: SMU finally decided to give you a diploma.
Setting: Intimate conversation with the parents before they grill you about finding a job.
What to get: This is probably your last nice meal for a while, so indulge. Go for the beef tartare and wild boar ragu with a glass of Napa Valley wine.
Where to next: After you get the parents in a good place, walk over to Henderson Tap House for a more lively setting or The Old Monk to keep it low key.
Cause for celebration: It's your last couple weeks of freedom before tying the knot, and you have all your wild girlfriends in town. Let's get this party started.
Setting: Think rowdy and lots of loud females.
What to get: Bottomless bruschetta and a couple of their flatbread pizzas. The aim here is more for the drinks and to get into trouble, but it helps that the food is good.
Where to next: You're in the heart of the Uptown bar scene, so probably every bar along the street.
Cause for celebration: You're alive after last night's outing.
What to get: Dim sum… and then dim sum this and dim sum of that. Kirin Court goes under the radar as one of the great brunch places and this place gets packed come Sunday morning.
Where to next: Bed. You deserve it.
Get the SideDish Newsletter
Dallas' hottest dining news, recipes, and reviews served up fresh to your inbox each week.