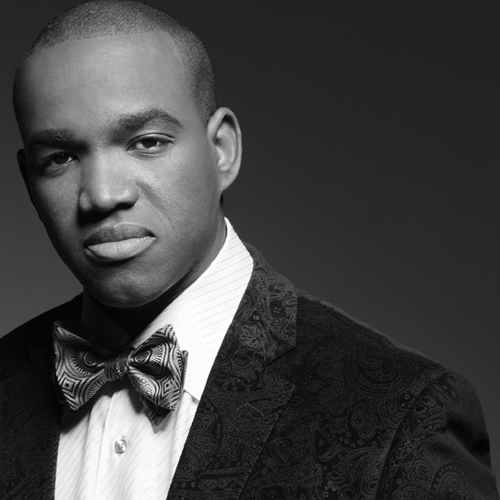 Tenor Lawrence Brownlee Wows With Performance at Kimbell
Vocal music of Franz Liszt—yes, you read that correctly—provided the highest of several high points in the recital by tenor Lawrence Brownlee and pianist Kevin Murphy.
Vocal music of Franz Liszt—yes, you read that correctly—provided the highest of several high points in the recital by tenor Lawrence Brownlee and pianist Kevin Murphy at the Kimbell Art Museum's Rienzo Piano Pavilion Thursday night. Liszt is, of course, remembered primarily for his solo piano music, and secondarily for orchestral music and a bit of organ music. So, maybe it's appropriate that the Cliburn Foundation, an organization principally associated with the piano, would be the sponsor of an event in which the hero of the piano was revealed to be a great composer of vocal music as well.
Tenor Brownlee's muscular, always stunningly accurate artistry proved ideal for Liszt's Tre Sonneti del Petrarca (Three Sonnets of Petrarch). Although infrequently performed in the original version for voice and piano—but a part of the standard piano repertoire in Liszt's own transcriptions for piano solo—this monumental triptych ranks among the greatest masterworks of music for voice with piano. The huge demands on both the pianist and singer are largely responsible for the relatively neglect of the original version; these demands extend far beyond the merely technical, for these three settings require an intellectual empathy with both fourteenth-century Italy, from whence the text, and nineteenth-century romanticism, which produced the music. Brownlee and Murphy clearly demonstrated the ability to discover and draw together both of those elements.
Brownlee and Murphy navigated readily form Liszt to twentieth-century Argentine composer Alberto Ginastera's Five Popular Argentinean Songs, providing an impressively different direction with succinct images of love and life, ranging from the boisterous Chacarera to the delightful illogic of Gato ("Cat").
A set of five traditional African-American spirituals arranged for voice and piano by contemporary American composer Damien Sneed provided the third high point in the concert. All five in this set ("All night, all day"; "Deep River"; "Balm in Gilead"; "Every time I feel the spirit'; and "Come by here, Dear Lord") were rich with emotional impact and underlying jazziness; at best, as in "Every time I feel the spirit," Sneed's setting surprise and confound our expectations to create a timeless journey from darkness to light. Delivered with relentless power by Brownlee and Murphy, these arrangements form a hugely significant addition to the grand tradition, going back to the nineteenth century, of the spiritual arranged as art song for voice and piano.
It's always welcome to hear new and underexplored corners of the vocal repertoire in the context of a song recital; however, some of these directions proved less fruitful. Brownlee and Murphy opened with Mozart's concert aria "O sogno, o son desta," a dark curtain-raiser to which Brownlee brought plenty of technical skill but little dynamic variety or drama. A set of songs by late romantic German composer Joseph Marx were likewise intriguing as expressions of colorful, other-worldly poeticism in the texts, but were hampered by a conventional harmonic language, albeit gussied up with striking piano accompaniments.
Likewise, four songs from American composer Ben Moore's collection Fourteen Songs (published in 2006) wandered dangerously close to sentimentality and sometimes fell head first into the trap; aside the power of the texts by Joyce and Yeats, one at times had the uncomfortable feeling of listening to late-nineteenth-century parlor songs.
Even with these blips, the recital was an overwhelmingly powerful event, well-deserving of the enthusiastic ovation, which in turn led to a suitably showy rendition of "Ah! mes amis, quel jour de fête!" from Donizetti's La fille du régiment, an aria with a record-breaking nine High Cs for the tenor—a challenge Brownlee met handily.