Everything Your Home Needs for a Festive Gathering
Welcome the holiday season with these decor ideas, from front porch displays to Thanksgiving-ready tablescapes.
Once the last piece of Halloween candy has been devoured, it's time to turn your attention toward decorating your home for fall and Thanksgiving.
If you're the host for Thanksgiving dinner this year, start sprucing up your home now in preparation for the main event. Darling Homes has made decorating for fall simple with a few pro design tips, from front door floral ideas to breathtaking tablescapes. Best of all, the decorations are simple to make and inexpensive, as most items are found at craft stores or possibly your own front yard!
And if you're dreaming of fall decorating in a brand-new home, take note that all Darling Homes are designed to be striking and distinctive from the inside out. Each home has thoughtfully designed dining and common areas that effortlessly flow for ease of entertaining, making elegant dinner parties and casual gatherings with loved ones simple, yet refined. Many homes in Darling Homes' collections are a party host's dream with GE® stainless steel appliance packages, gas cooktops, vent liners, and double wall ovens. Homeowners and guests also appreciate the attention to detail in the bedroom and bath areas, as master suites and guest and secondary bedrooms are designed with intentional privacy in mind. Many Darling homes have options for grand outdoor living spaces, complete with dining areas and fireplaces—a cozy spot to cap off any holiday gathering.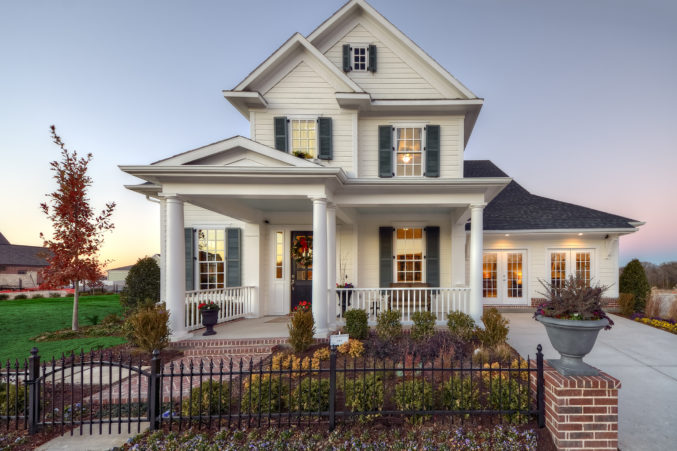 Outside the Home
First impressions are made as soon as your guests arrive. Spruce up your front patio with fall florals in warm tones placed in wreaths or swags made from real leaves in your own yard or artificial foliage from a craft store with pops of miniature Indian corn for color. You can also use the pumpkins from Halloween that weren't carved. Mix and match pumpkins of various sizes, colors, and textures for a true harvest look. Although you've likely had the pumpkins placed since mid-September, they can last until December. To keep your pumpkin from rotting before the big day, wipe it down without a weak solution of household bleach and water and protect it with a spray sealant found at craft stores. If possible, place pumpkins in the shade for protection from the elements. Don't forget to refresh your home's flower beds with mums in a variety of fall colors.
In the back of the home, make the transition from indoor to outdoor entertaining effortless by creating a space that's multifunctional for both dining and relaxing. You can do this by adding plenty of seating near a fireplace or fire pit, which will encourage guests to go outside to unwind and linger. Be sure to extend the fall decorating theme to this area as well—another place to display your leftover pumpkins.
Inside the Home
When planning your fall décor, walk the common areas of your home to determine where guests will most likely mix and mingle, then place your decorating emphasis in these areas. Just like outside, natural products used as decorations add fall color and should last because they are protected from the outdoor elements.
The showstopper at any Thanksgiving gathering is, of course, the table. Here, Lee Crowder, Darling Homes' and Taylor Morrison's resident design expert, shares her two favorite options for praiseworthy fall tablescapes. Consider them a DIY guide to creating the perfect fall tablescape!
Fresh Fall Tablescape
Setting your table for fall doesn't have to be complicated or expensive. In this video, Lee creates a stunning table setting with a cozy throw she found in her home, white pumpkins, terracotta pots, candles, and fresh ferns. Watch Lee work her magic, then turn your table into a fresh fall scene.
Formal and Fun for Thanksgiving Dinner
Elegance is taken up a notch with a tablescape set for a more formal dinner. Transform white pumpkins, fresh eucalyptus, and a few other simple materials into a stunning DIY and budget-friendly tablescape that will transform a typical Thanksgiving table into a work of art, complete with fun touches for the whole family.
__________________________________________________________
To learn more or browse Darling Homes' collections of floorplans that will accommodate a holiday gathering of any type and size, visit their website.