I have now seen black subway tile lining an entire men's restroom, complete with black lacquered urinals. I have seen a magenta and royal blue Albert Einstein spewing water into a puddle that drains into a sunlit pool. I have perched on a barstool underneath several dozen surveillance mirrors while sipping a local, craft beer. I have stared 12 stories up at a black and white photograph of a cheerleader's unblinking, heavily-lined eyeball. I have ordered a kolache from the bowels of a shipping container. I have seen a hotel room with charging stations for more than seven devices. I have now seen inside a millennial soul as imagined by the older generation. They're calling it the Lorenzo Hotel.
In March, developer Larry Hamilton completed the aggressive transformation of the long-deserted Ramada Inn at the corner of Akard and Griffin streets in The Cedars, just south of downtown. He purchased the hotel in 2006 with plans to renovate it, after previous successes with the Davis Building and the Lone Star Gas Lofts downtown. It stalled during the Great Recession and sat (relatively) empty until the $41 million renovation plans resurfaced a few years ago. The project was aided, in no small part, by an $11 million loan from the city's Community Development Block Grants, passed down by the U.S. Department of Housing and Urban Development.
The developers also received $2.2 million in tax increment finance district reimbursements; Hamilton told The Dallas Morning News in 2015 that it would go toward paying for large-scale public artworks between Interstate 30 and Akard. That public art would bleed right into what Hamilton's describing as a "boutique hotel that caters to millennials." Which might explain the visual fidget spinner that is the Lorenzo.
Even before the swish of the automatic doors grants access to the lobby, the hotel subjects visitors to a frenetic assemblage of art and design. Wire-sculpted birds encircle the top of the building. Watchful black-and-white eyeballs stare out of the 12th floor windows. An enormous black, white, and blue graphic that proclaims "Lorenzo" (named for Hamilton, whose full name is Lawrence) stretches the length of the building. Hamilton teamed up with designers Stanley Abbott and LaRue Thornton to create a hotel so intentionally outlandish, you can't avoid eye contact with it.
"The whole thing is in your face," says Hamilton.
"That's kind of the brand," says Abbott.
Not even a corner is spared from their aesthetic. The lobby bar manages to blend mid-18th century French with an 18-year-old girl's college dorm room, thanks to details like the hot pink busts, black and white curtains, and faux leather banquettes. The hallways are lined with a hodgepodge of art—some by local artists like Toni Martin and Albert Scherbarth, some from Hamilton's personal collection.
"We wanted to have different kinds of art everywhere, a smorgasbord of different textures," says Abbott.
There's no rest for the art-weary, either. A hot pink paintbrush set in an ornate black frame is adhered to the ceiling in every room directly above the bed. You can stare at that while listening to music on the Bluetooth radio/alarm clock or sipping coffee from the Keurig. Or you can read passages from Hamlet's soliloquy on the custom-made carpet. ("For in this sleep of death what dreams will come?") If you feel like escaping the room for a minute, you can look out the luxurious floor-to-ceiling windows. Or, better yet, look at the interior wall, which is wallpapered in a sepia photograph that captures a scene that, as Abbott explains, "leads you down a pathway to somewhere else."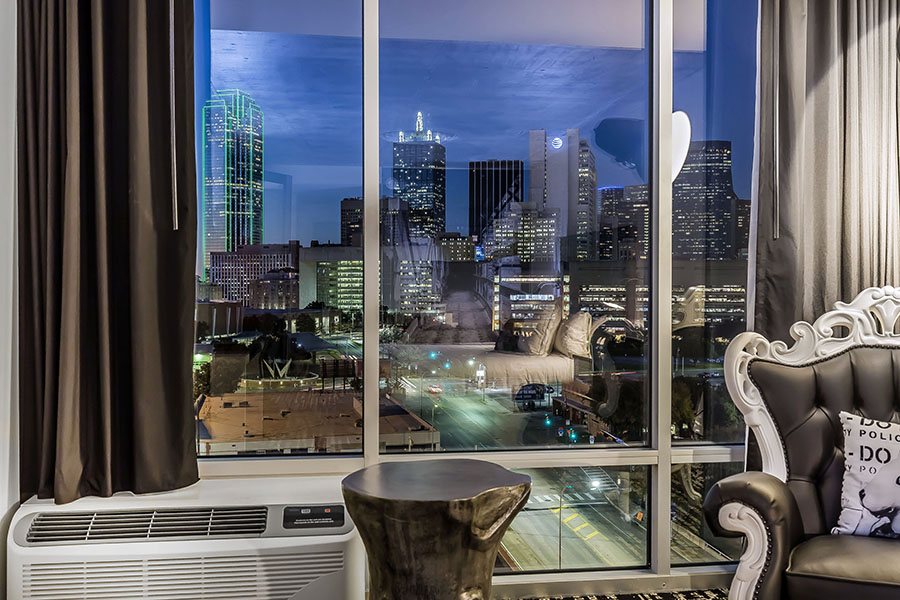 These perspective photographs, many of which are by photographer Angela Antonson, are ubiquitous in the hotel. There's a different one in each guest room, at the end of most hallways, and most cleverly in the bathroom. During renovations, Antonson captured images of models posing in the empty pool and sitting on an array of old toilets.
 The most interesting works of art are those that subtly reference this particular hotel's history. On every floor, a black mold of a hand holds the sign that directs you to your room. The hand belongs to one Tom Coughlin, the erstwhile caretaker Hamilton hired to live in the empty hotel when he bought it. For years, a single light remained on in one of the higher floors. A stationary bike sat on a balcony until Coughlin moved out in 2015.
There's also a black, white, and hot pink portrait of Tina Turner. This is, after all, believed to be the same hotel Turner fled to when she finally escaped Ike. It sits just south of the lobby "library" – a collection of books purchased from the public library recently enough to still bear old hold stickers.
Before touring the property, the multi-colored neon lights slithering up and down the exterior each night seemed excessive with the other existing design elements. Especially in a city that isn't short on neon. After touring, it's hard to pinpoint what "too much" would even mean in this context.
"It's one thing to take a piece of land and build a cool building on it," Hamilton says. "It's another thing to take one of the ugliest buildings in town and make a silk purse out of a sow's ear."
I didn't tell Hamilton that for his millennial silk purse, he picked the wrong shade of pink.
Get the FrontRow Newsletter
Get a front row seat to the best shows, arts, and things to do across North Texas. Never miss a beat.