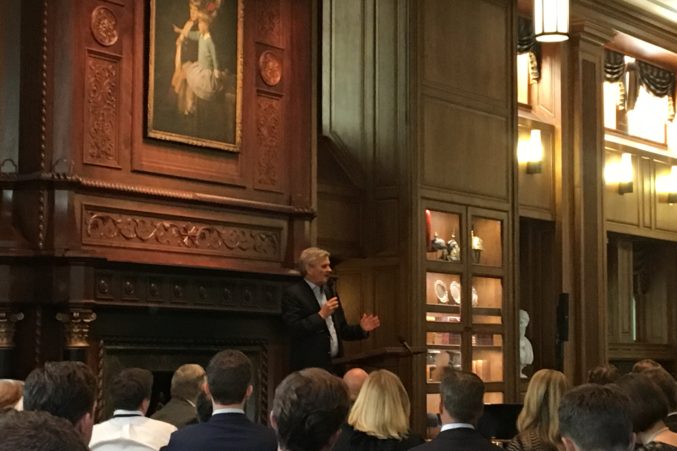 Dallas Business Leaders at Rise of the Rest: The Future is in Entrepreneurs
AOL co-founder Steve Case featured Dallas as the 34th stop on the nationwide tour that aims to improve startups' access to capital.
During his Rise of the Rest Roadtrip in Dallas, AOL co-founder Steve Case highlighted local startup ecosystem as a community rife with investment opportunity and low on venture capital investments. He also had a call to action for investors: Take a look at local startups. They could be the next big business.
"This feels like it's a moment," Case, now chairman and CEO of Revolution, which launched Rise of the Rest, said during his breakfast presentation Monday at Old Parkland. "Dallas is on the rise … but it could be done better."
When it comes to venture capital, the national numbers are disparate though not surprising. Startups in California, New York, and Massachusetts score 75 percent of venture capital investments, said J.D. Vance, managing partner for Rise of the Rest Seed Fund. Meanwhile, the rest of the U.S. fight over the last 25 percent with Texas receiving only 2 percent.
"That means there's this remarkable arbitrage opportunity to invest in the entrepreneurs in Texas," Vance said. "The fact that only 2 percent of venture capital is going to Texas, and the fact that even less goes to Dallas means that there there are real business opportunities."
And that's what the Rise of the Rest tour aims to do: Improve the imbalance in startups' access to capital by spotlighting entrepreneurs and economic growth in innovative cities. Dallas is the 34th city the tour has visited. The Dallas tour included a visit to several organizations and companies that have been on the forefront of innovation such as Paul Quinn College, which has retooled its curriculum to focus on entrepreneurship and experiential learning; the Dallas Entrepreneur Center, which provides space and resources to local entrepreneurs; Booster Fuels, an on-demand gas startup that catapulted onto the market with backing from Perot Jain; and rewardStyle, which developed a platform to monetize fashion blogging. The tour culminates with a fireside chat with Amber Venz Box of rewardStyle and Case, followed by a pitch competition, in which one of eight local startups will win a $100,000 investment from the Rise of the Rest Seed Fund.
Speakers at the kickoff breakfast included Harlan Crow, chairman of Crow Holdings; Ron Kirk, former Dallas mayor and U.S. Trade Representative; Andre Fuetsch, president of AT&T Labs and AT&T's chief technology officer; Jennifer Sampson, CEO of the United Way of Metropolitan Dallas; Dale Petroskey, president and CEO of the Dallas Regional Chamber; Rob Kaplan, Federal Reserve Bank of Dallas president and CEO; and Richard Benson, president of the University of Texas at Dallas.
Supporting entrepreneurship is an important conversation to have, especially now, said Kaplan. GDP growth is expected to weaken through 2020 due to the aging workforce and a slow in productivity, according to the Fed. "We're not investing enough in human capital and not investing enough in entrepreneurs," Kaplan said.
And while Dallas is still gung ho on the possibility of landing Amazon's HQ2, local business leaders advocated for the community to similarly rally around the community's entrepreneurs.
"I bet it drives them crazy to see us bending over backwards to try to bring in … Amazon when we should be reaching out to small businesses that have the potential to go from two employees in a garage to 10 guys … and then 100," Kirk said about entrepreneurs. He said the small businesses are where the jobs come from, and that's why Dallas needs to focus on the little guys. "Our next Fortune 500 is here. … We want Amazon—that would be wonderful—but small businesses that go from 10 to 100 people tend to not pack up and go to Mexico or Japan. They're going to grow; they're going stay here."
"A lot of people recognize that while spending some time trying to lure Amazon's second headquarters is important … the better thing is to try to back the next generation of entrepreneurs that might be the next Amazon," Case told me after the presentation.
Petroskey said that even if Dallas loses the bid for Amazon's HQ2, in some ways, the city has already won. "We also learned with the Amazon bid what we need to work on," he said. "I had a minute with Jeff Bezos while he was up here … I said, 'You helped us up our game.'"
Case concluded the breakfast with a valuable piece of advice for current and potential investors: Stop looking for what won't work. "When you hear these pitches … just imagine a scenario where it might actually be successful."
After all, Case built a career around a company that bet the farm on what was then an unfamiliar platform called the internet. That was back when only 3 percent of people were online. No one believed that was the future. Until it was.