Dominique Alexander stood in the middle of a circle of some 150-plus protestors outside Jack Evans Police Headquarters on Monday night. The evening was still hanging on to an overcast glow, and Alexander, a young, controversial activist wearing a blue shirt supporting District 4 City Council candidate Keyaira Saunders, was summarizing the evening's objective. "If you want to know why we're out here," he said, motioning toward the police station, "we need oversight for this building right here."
Alexander, who founded the Next Generation Action Network, was an organizer of Monday night's protest against police brutality and for justice for Botham Shem Jean, the 26-year-old who was shot dead in his apartment by Dallas Officer Amber Guyger. Attendees wore shirts that said "Black Lives Still Matter" and "Stop Killing Us"—a Colin Kaepernick jersey was also in attendance—and carried signs that said things like "Stand up to racism" and "Amber Guyger is a cold blooded killer." A group of Latino protesters joined in the evening, spotlighting the death of Jorge Olguin, who died earlier this month at a South Dallas apartment complex after he was shot multiple times by a security guard.
"There's something wrong with a system that keeps attacking black and brown bodies," said Freddie Haynes, the senior pastor at Friendship-West Church. "Too many black and brown bodies have been killed. And that's not because you've got a few bad apples. You've got a sick tree."
Added Alexander: "I know we have a hard problem getting justice in these streets, but can we get justice in our own living room?"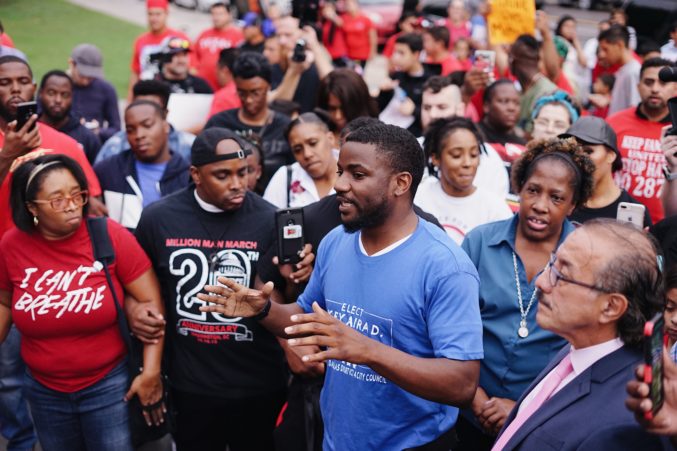 In the five days since Jean died, the public has more to talk about but no more concrete answers as to what led Dallas police officer Amber Guyger to fatally shoot Jean. Guyger, who lived one floor directly below the 26-year-old Saint Lucia native, told police that she parked on the wrong floor of the parking garage at South Side Flats, mistook his apartment for hers, inserted her unique digital key into a partially open door—thus opening it—and then issued un-answered commands to a figure in the dark apartment, whom she believed was a burglar. When the commands went unanswered, Guyger, who was still in uniform after coming off a long shift, fired her gun twice, hitting Jean once in the torso and killing him, according to an affidavit released Monday. She was charged with manslaughter and turned herself in Sunday night to the Kaufman County Jail. She posted $300,000 bond and was bailed out about an hour later. 
In a press conference after the release, Jean family-lawyer Lee Merritt said he has witnesses who contradict that sequence of events in one particularly important way. He says his team has spoken to neighbors who heard a woman knocking on Jean's door, demanding that he "let me in, let me in." The Dallas Morning News' original story on the incident quoted a neighbor who said they heard "police talk: 'Open up! Open up!'" Merritt also noted the bright red door mat outside Jean's apartment.
Monday night, as it became dark and the protest was organizing to go on the move to South Side Flats, less than a quarter-mile away, Merritt appeared off to the side, speaking on-camera to a couple TV stations.
"This is probably the least articulate I can be: That affidavit is bad," he told me after finishing up with the interviews. He said it appeared to be the best compilation of facts someone could come up with to "justify something that was otherwise unjustified." And yet he feels that, even on its face, the affidavit's narrative constitutes murder.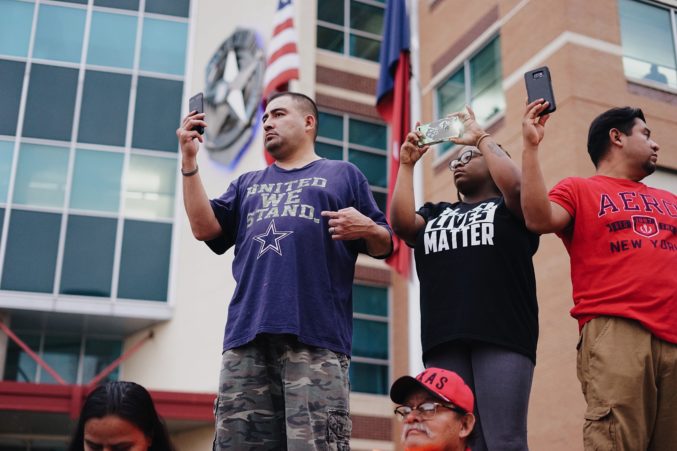 "She went into an apartment, she opened a door, she saw what she described as a shadowy figure, she gave it commands, it failed to comply, and she shot it dead," he says. "When she started doing that, she was operating as a law enforcement officer. There are certain protocols you must follow before you use deadly force. What's absent from that affidavit is where she thought her life was threatened or someone else's life was threatened."
Not that Merritt believes the affidavit. He takes issue with the description that Guyger didn't discover she was in someone else's apartment until she stepped back out to check the number by the door—even as she had by that point flipped on the lights. The affidavit reads:
"Guyger fired her handgun two times striking the complainant one time in the torso. Geiger then entered the apartment, immediately called 911, requesting Police and EMS, and provided first aid to Complainant Jean. Due to the interior darkness of the apartment, Guyger turned on the interior lights while on the phone with 911. Upon being asked where she was located by the emergency dispatchers, Guyger returned to the front door to observe the address and discovered she was at the wrong apartment."
"She's standing with the lights on, and has to go look at the door to discover it's the wrong apartment," Merritt says. "That affidavit is bad, and it has me convinced that not only is there something strange going on—this officer's lying."
But Merritt and his legal team have yet to develop their own theory. "And that's rare," he says. "I don't know. I don't think she knew him. I don't think there's a pre-existing relationship. I don't know what she was doing at his door. I don't believe she got there by accident. I don't know what happened."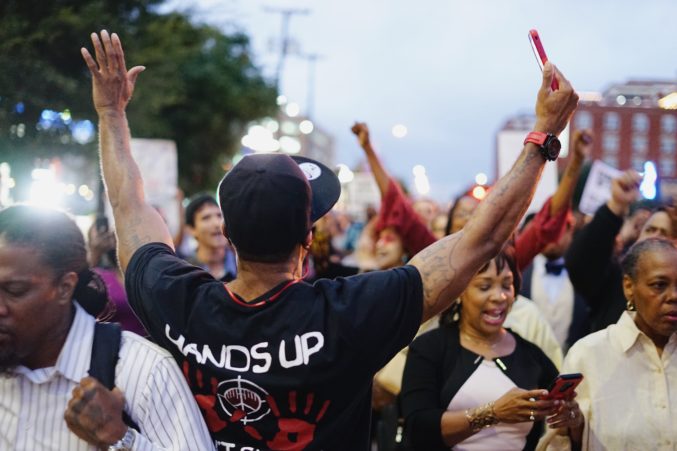 Meanwhile, outside South Side Flats, most had taken a knee in a solemn moment of remembrance, joined by a few residents who moseyed out from the apartment building. Things got tense not long after, at the corner of Cadiz and Lamar streets, where cops on horseback and at least a handful of cruisers with their lights flashing blocked various entryways. With the intensity of the taunts directed at police ratcheting up, you suddenly heard pop pop pop pop pop, followed by a wave of coughing and gagging and some retreating. A stinging substance had entered the air. There were calls for people to take their kids home.
That did nothing to ease tension. The horseback cops positioned themselves on Cadiz Street, blocking the protesters' path and bringing the two sides nose to nose. Right around the time Alexander hopped on a megaphone to try to calm tempers, one horseback officer motioned to the others to move down, creating a 10-foot gap through which the crowd could pass. (Later, Asst. Chief Lonzo Anderson said the police force was "very pleased with the outcome" of the evening. He said the stinging substance and pops were from a pepper ball gun, and that they would be "addressing that internally." I looked up for clarification. "You can see the expression on my face," he said.)
The group took a right on Griffin Street—it was about 8:30 p.m. by now, an hour and a half after the night began—and walked a few blocks east to the Dallas Police Association Office. A few people spoke and, right up next to the doors, the group chanted, "No Justice, No Peace," and "Why are we here? Bo!"
They made it full circle back to police headquarters by about 9 p.m., the giant shield glowed blue above Alexander and Haynes and all the others, who stood on a concrete stoop for some final remarks. Alexander challenged the people to show up to Wednesday's City Council meeting. Diane Ragsdale, a longtime activist and former Dallas City Council member, called for a police oversight committee with subpoena power, investigative power, and a budget. That reiterated the earlier comments of Alexander and Haynes. "If you don't want us coming back out here," Haynes had said, "then you make sure the system is changed.
"You make sure there are consequences to injustice and police brutality."
Get the D Brief Newsletter
Dallas' most important news stories of the week, delivered to your inbox each Sunday.