Newcomer baker Catie Cohen of Demeter's Kitchen in Denton has been doing something no one else in the area is: making bread with grains leftover from the brewing process.
There are reasons people across the country are delving into this nerdy, spent-grain thing. First, it's an outcropping of the no-waste mentality pervading the hottest kitchens of late. Second, as any brewer can tell you, the overlap in terms of ingredients in brewing and bread-baking is great: both deal with grains, water, fermentation, and time. And the aspects that make brewers fall in love with grains (their roasty-toasty flavors versus less so–more on that below) actually give flavor to a crusty loaf. This is why it makes sense that you're eating it in a brewery. Specifically, in this case, Denton County Brewing Company, which gives Cohen spent grains, and where she has developed the toast boards that are the only bar food at this place of libation.
Her sourdough might come, if you're in the brewery, sliced and with a slathering of bourbon apple butter and aged goat cheese from Latte Da Dairy (where Cohen holds a part-time job). Or whipped kalamata olive feta topped with nigella seeds. Or her roasted garlic hummus and a fluff of microgreens from nearby Greenfin Farms. She got here in time to take advantage of Gemini Peach and Rose Farm's crop for a combination of peach jam with Kashmiri chili. Her topping spreads use local growers' and cheesemakers' products.
Any of these are perfect with a dark, malty beer like the doppelbock. (Cohen offers that tip. And promises of raised trivia ability.)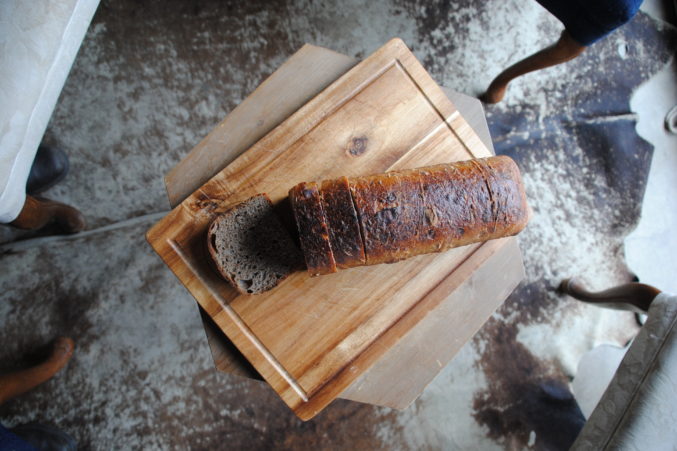 Spent grains—usually barley, wheat, rye, or a combination thereof—are the soaked leftover when the mash and wort are done. The sugars have been used, but there are still nutrients, still substance and, importantly, flavor. A brewer will "choose the extent to which grains are malted or roasted. A stout is going to be a darker, roasted grain, because a stout is full-bodied, very roasty, usually. And those flavors come through." A home-brewer gave her a batch of grain used for an IPA. "The grains are golden, buttery, shortbread-like. In the bread, it adds just a touch of sweetness. Maybe a little bit of butteriness," Cohen says. She's been given a heavy Scottish barley used for a special-occasion beer, and the grains from "a quirky, silly [birthday-brew] beer with cupcakes in the mash."
They become the base for experimentation. There are, first of all, the different spent grains. Some bakers dry and pulverize them. Cohen processes them into a porridge, freezes them in portions so they're ready to use. She has at least five kinds in her freezer, currently: "I have a list where I keep track," she says, as she also gets spent grain from small-batch brewers. She's recently experimented with drying and grinding the grains into a flour.
And then the myriad whole-grain flours make for a palimpsest of possibilities, a matrix of "mash"-ups. She's been using Barton Springs' Rouge de Bordeaux and spelt and double porter spent grains. Or the boutique, spicy wheat strain with spent grains from DCBC's Lights Out stout and her own ginger spice mix for a ginger bread. Or a heritage red wheat with emmer or rye with Popcorn Cream Ale spent grains from Toasty Bros., a small-batch brewer. Or yet again both Yecora rojo and Sonora wheats alongside green cornmeal with the same spent grain.
Cohen and her partner moved to Denton from Portland over the summer for his job, less than a year ago. (She was one of those who'd given up a corporate job to do something she loved.) Pursuing her culinary love, she'd worked at Pondicherry in Houston. She apprenticed with Josey Baker Breads in San Francisco. And she worked at Tabor Bread in Portland, with its all stone-milled, whole-grain, long-fermented sourdoughs, all cooked in a wood-fired oven. All have influenced her.
Here, she named her home-based company Demeter's Kitchen after the Greek goddess of the harvest and hearth. She fulfills her mission to "support, elevate and contribute to the place we call home" (Denton, now) by using freshly milled flour from Austin area-based Barton Springs Mill (at least 50 percent in each loaf, complementing the spent grain). Each naturally leavened loaf is just fresh-milled, whole-grain flour, spent-grain, water, and time.
For the toasts it's always Pullman loaves. But there are also boules, which Cohen sells through a thriving home-based business. They have the rugged surfaces and the scoring—sometimes leafy designs (like fellow female bread-baker, Dallas-based Kuluntu Bakery's breads), sometimes circles and other organic forms—of artisan bread.
While there's nothing about the slice of bread that announces itself as indicative of its origin—other than the fact that it comes to you in a brewery, on a board, with a savory spread or two—Cohen's creations have sense of place baked into its very crumb. After all, you can't find this anywhere but Denton.
Get the SideDish Newsletter
Dallas' hottest dining news, recipes, and reviews served up fresh to your inbox each week.