A few decades ago, we were introduced to artisan bread by Empire Baking Company and then Village Baking Co. Now, a new batch of intrepid bakers is pushing the wild-yeast envelope. With long fermentation times, high hydration levels, and signature sourdough starters, they are turning levain into Instagram-worthy art. Here are a few chewy, tangy, geek-out-worthy glutenous creations worth seeking out.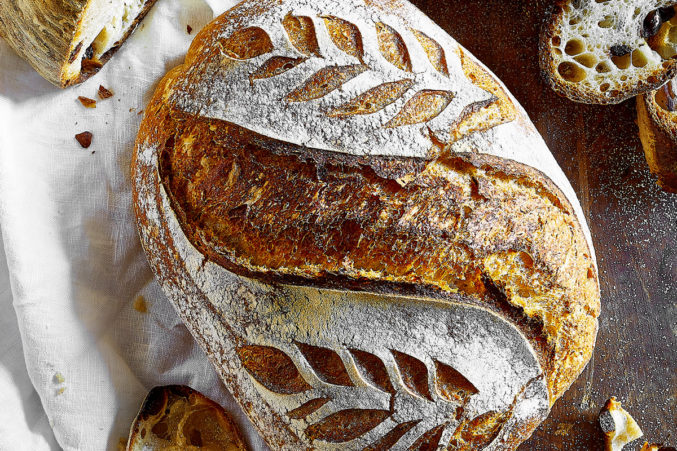 Kuluntu Bakery
A home baker, Stephanie Leichtle-Chalklen has lived in South Africa and worked in a high-end bakery in New York. She wants to build community around sourdough, which she does through classes she holds twice a month in her Coppell home. (Kuluntu means "community" in isiXhosa, one of the languages of South Africa.)
"For most people, bread is just something you eat, something that sustains you. But I see bread as a canvas for self-expression. I just let my hand move and create something beautiful."
The intricate, leafy designs that grace her loaves, made with a double-sided razor, have become her calling card. A nutty aroma and blisters just under the crackly surface speak of long fermentation and just the right amount of steam.
In South Africa, Leichtle-Chalklen worked with heirloom grains and freshly milled flours. Her starter, which she began in 2015 when she moved to New York, has been to Cape Town and back. Here, she makes a sourdough loaf whose surface is pebbled with sesame, flax, and sunflower seeds, as well as specialty loaves flecked with ingredients like dried cherries and cacao nibs. Production is small, limited by the space she has available to two handmade loaves in two Dutch ovens at a time.
Wrapped in butcher paper and tied with string and a sprig of rosemary, her loaves have a cottage look, but they're works of art with a distinct point of view. "Bread-baking is male-dominated, and in my opinion, the scoring usually reflects that—deep slashes and simple, striking patterns," Leichtle-Chalklen says. "I'm trying to make a really pretty loaf—something that looks artistic, something that looks organic. That's why I like to do the leaf patterns."
Made from organic flour, the loaves—as well as bagels, quick breads, pies, cakes, and other sweet treats—are available for home delivery. $8–$12. Sourdough and seasonal bread-baking classes are offered twice a month for $75 to $100.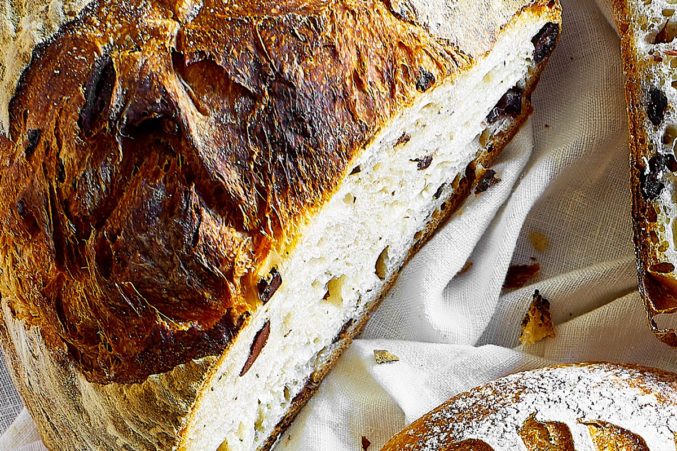 Candor Bread
After beginning as a coffee roaster, and then venturing into bean-to-bar chocolate, Davis Street Espresso is now the source for a purist's dream of chewy, tangy natural levain in Bishop Arts. Barista turned bread whisperer Laura Blomstedt attended a weeklong intensive class at the renowned San Francisco Baking Institute, and then she refined her own formula through experimentation, chasing an old-world style. Her country loaf is the foundation of daily coffee shop toasts, but a weekly bread subscription offers an at-home option, available for Friday or Saturday pickup at Oak Cliff's Coffee Goods next door.
Candor stays as local as possible without milling grains in-house. For now, they source flour from Panhandle Milling near Amarillo.
Blomstedt's hallmark is the classic white boule, with an inviting, open crumb; creamy, chewy texture; and burnished, flour-dusted crust that bears the marks of the shaping basket. She uses the same starter for loaves tawny with whole wheat or studded with olives. Owner Shannon Neffendorf dreams of the day when the bread is made with house-milled flour. This would complete the artisanal circle of coffee beans, chocolate bars, and boules.
Bread for subscriptions is out of the oven and available for pickup by 3 pm on Fridays. $9–$10.
BrockStar Bread
Brock Middleton is not afraid to go funky, crafting his own misos and fish sauce. His day job is as a chef on the line at Bullion, but at night, he's a wild sourdough rogue.
Fellow chef Misti Norris encouraged Middleton to put his name on his work and elevated his naturally leavened country loaf, with its signature charred crust and chewy crumb, to the staple that accompanies her currywursts and koji-cultured butter on the boundary-pushing charcuterie boards at Petra and the Beast.
Middleton experiments with hydration levels to free up the gluten to form beautiful air pockets.
In specialty loaves that change every week, he gets adventurous with out-there combinations. You might see a loaf laced with shrimpy rice and fermented spot prawn caramel, or one filled with butternut squash—seasoned with Szechuan peppercorns and roasted in Norris' house-rendered pork fat—and glazed with Espelette pepper jam. There's also a rice pudding-inspired sweet sourdough with cachaça-soaked raisins and notes of vanilla, cinnamon, and nutmeg.
Middleton has experimented with hydration levels (the weight of water relative to flour) to free up the gluten to form beautiful air pockets. He flirted with 86 percent before landing around a still-high 80 percent. "I have a tendency, if people say something is a bad idea, of needing to learn it for myself," he says.
Petra and the Beast and Butlers Cabinet in Fort Worth are commissaries and sale spots for Middleton's wares.
Call to reserve a loaf, or try your luck as a walk-up. $12, Petra and the Beast; $9, Butlers Cabinet.
Get the SideDish Newsletter
Dallas' hottest dining news, recipes, and reviews served up fresh to your inbox each week.