Dallasite Brittany Cobb is bringing her popular Flea Style store to Mule Alley in Fort Worth. The store features rare finds that Cobb has sourced across the globe, including clothing, jewelry, home decor, hats, and unique western wear.
Opening Oct. 1, the 3,400-square-foot space will also house Flea Style's biggest hat bar to date, slinging its private-label Stetson collection as well as colorful vegan options and a huge assortment of unique accents for customers to make bespoke hats. A mini version of their full-fledged restaurant Heirloom Haul, opening later this fall, will also sit inside offering specialty sips such as their best-selling frosé and signature lattes for guests to enjoy in-store or while walking around the Mule Alley district.
Mule Alley also will welcome Second Rodeo Brewing and Tucker Brown to its growing list of tenants at the recently revamped development.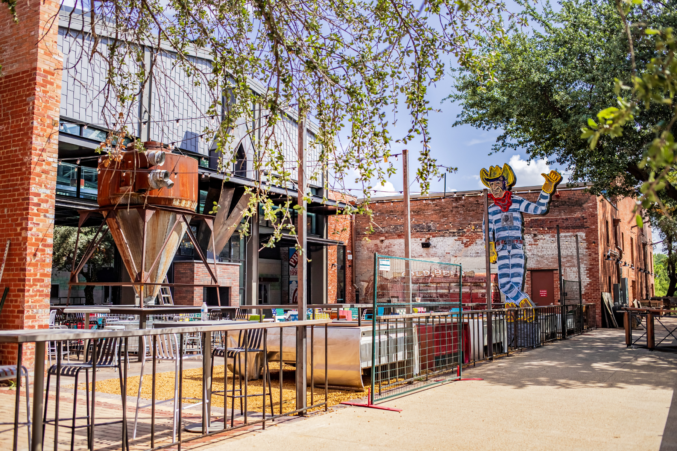 The long-awaited
Second Rodeo Brewing
features a 14,000 square-foot multi-purpose indoor and outdoor event patio and bar garden, all centered around the in-house brewery with a rotation of beers led by Brew Boss Dennis Wehrmann. Brought to Fort Worth by the Truck Yard folks, Second Rodeo Brewing is Mule Alley's newest, dog and kid-friendly stomping ground for visitors and locals to find live country music daily, rotating brews on draft, full bar, chef-driven grub, and much more.
Tucker Brown
will offer a variety of Western retail offerings available for purchase from clothing to shoes to jewelry and much more. Since the 1986 opening of their tiny corner store across the street from Texas Tech University in Lubbock.
"We don't have anything like these new tenants in the Stockyards, and we are so excited to bring them to the Mule Alley district right in time for cooler weather and holiday celebrations," says Fort Worth Heritage Development Co. Team Leader of Design and Development Kayla Wilkie. "These three concepts are joining the iconic brands that already call Mule Alley home and we are excited to offer our guests great new shopping opportunities from Flea Style and Tucker Brown, along with Second Rodeo Brewing, which will be the perfect casual spot for visitors and locals to hang out in the district and a great place for entertainment along Mule Alley."
INDUSTRIAL
ThredUP
, one of the largest online resale platforms for women's and kids' apparel, shoes, and accessories, has leased 600,000 square feet in Lancaster for its newest flagship distribution center. The state-of-the-art facility is designed to be thredUP's first four-level distribution center and upon completion will store as many as 10 million items – more than doubling the company's total capacity to 16.5 million items across its network. thredUP plans to invest $70 million in capital for the new distribution center. Melissa Holland, Craig Jones, George Curry, and Jamie Galati of JLL represented thredUP in the transaction. Krista Clark Raymond and Nathan Lawrence of CBRE represented IDI Logistics.
Denton Crossing 3 & 4
, a two-building, Class A+ industrial portfolio located at 900 & 920 S. Western Blvd in Denton, has sold. Both buildings were completed in 2020. Denton Crossing 3 is a 398,442 square foot fully leased warehouse facility, while Denton Crossing 4 totals 126,890 square feet of fully vacant warehouse space. James Campbell Company purchased the property from Scannell Properties for an undisclosed price. Randy Baird, Jonathan Bryan, Ryan Thornton, and Eliza Bachhuber with CBRE National Partners arranged the transaction on behalf of the seller.
Good Sportsman Marketing
leased 494,238 square feet at Passport Logistics Center – Building 200 in Dallas. Blake Kendrick and Charles Brewer with Stream Realty Partners represented the landlord, Brookfield Properties. Sarah Ozanne with Stream Realty Partners represented the tenant
Louis Vuitton North American
leased 211,100 square feet at 220 Freeport in Coppell. Newmark's Blake Anderson, Tom Carragher, Adam Petrillo, Al Petrillo, Craig Engelhardt, Jeff Cannon, Chris Koeck, and Steve Korfiatis represented the tenant. Transwestern represented the landlord.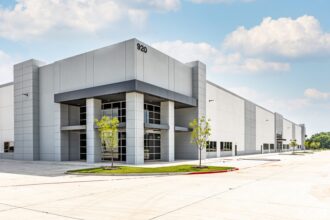 James Campbell Company, a Hawai'i-based, nationally diversified real estate company, acquired two Class A industrial buildings in North Texas, located at
900 S. Western Blvd.
and
920 S. Western Blvd.
Andrew Gilbert and Keaton Brice of Holt Lunsford Commercial to handle the leasing efforts.
WNA Cups Illustrated
subleased 90,000 square feet at 1221 East Centre Park Blvd. in DeSoto. Newmark's Gary Lindsey represented the sublandlord. CBRE represented the tenant.
Chandler Walnut
purchased a 60,000 square foot industrial building at 3801 Austin Lane in Fort Worth. Forrest Cook and Brett Carlton with Stream Realty Partners represented the seller, Pile-Thorton L.P.
FlexXray
renewed 55,624 square feet at Midpoint I-20 Distribution Center – Building 2 in Arlington. Luke Davis and Matt Dornak with Stream Realty Partners represented the landlord, DRA Advisors. Site Selection represented the tenant.
Custom Sleep Mattress
has leased a 43,909-square-foot warehouse at 900 S. Haltom Rd. in Fort Worth from MG Real Estate LLC. Nick Talley of Bradford Commercial Real Estate Services represented the landlord in the direct deal.
Store Display Fixtures
leased 43,407 square feet at 11111-11125 Zodiac Lane in Dallas. Ryan Boozer, Lena Pierce, and Mac Hall with Stream Realty Partners represented the landlord, LINK Industrial Properties. Lee & Associates represented the tenant.
Infinity Concise Manufacturing
leased 18,988 square feet at 1275-1281 Round Table Drive in Dallas. Jason Moser with Stream Realty Partners represented the landlord, ATCAP Fund Dallas/OKC.
MULTIFAMILY
Dallas-based Lion Real Estate Group
has acquired 
Trinity
, a 496-unit multifamily property located at 1147 Esters Road in 
Irving.
The 
Trinity
 transaction marks LREG's first investment from its newest fund, LREG Multifamily Fund II, which recently raised 
$118 million
 from a mix of high-net-worth and institutional investors.
The Multifamily Group, a Dallas-based commercial real estate brokerage firm, facilitated the sale of The Oaks of Arlington. Jon Krebbs represented the seller and procured the buyer.
Brook Valley Townhomes
, located at 11901-11918 Brook Valley Circle in Balch Springs, has sold. The 48-unit property, built in 1972, recently sold for $3.1 million ($64,583 per unit and $79.61 per square foot). Kevin Weable with M&D Commercial Group represented the unnamed seller in the transaction.
OFFICE
Fourteen555
, a 249,564-square-foot, Class A office building located at 14555 North Dallas Parkway in Dallas, has sold. The building is 100 percent leased. Newmark's Robert Hill, Chris Murphy, Gary Carr, John Alvarado, and Chase Tagen represented the seller. David Milestone, Brett Green, and Josh Francis represented the buyer in the sourcing of acquisition financing.
Curative Talent
, a leading healthcare staffing solutions company, has signed a lease to open its corporate headquarters in mid-2022 at Toyota Music Factory. CurativeTalent will occupy more than 50,000 square feet of creative custom Class-A office space inside Toyota MusicFactory adding hundreds of employees to the mixed-use development.
Law firm
Bradley Arant Boult Cummings
continues its Dallas expansion, relocating from Renaissance Tower to a 32,928-square-foot space at Fountain Place located at 1445 Ross Avenue in Dallas. Bradley was represented in lease negotiations by Savills' Lesa Nickelson French and Ric Kanatzar.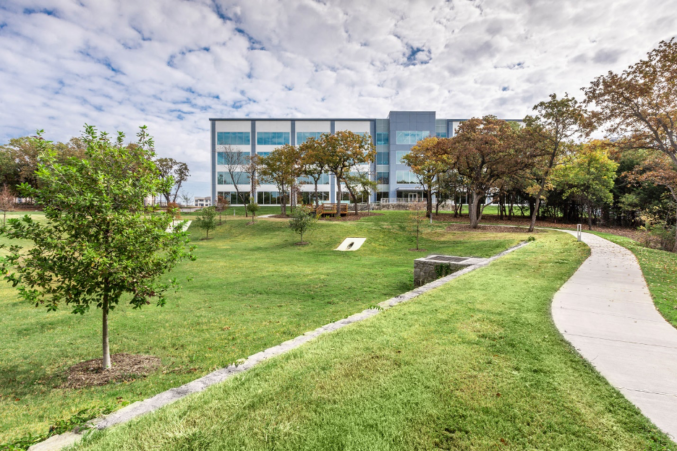 Lakeside International Office Center welcomed four new tenants. Located in Realty Capital Management Lakeside of Flower Mound Development, the tenants join 11 others in the building.


OrangeGrid, a financial technology provider of workflow-based solutions, signed a lease for 9,684 square feet.


Mitsubishi HC Capital, a multinational conglomerate specializing in structuring equipment financing and trade finance across a spectrum of industries, signed a lease for 3,930 square feet.


CD Construction Consulting, a construction lender consultant that represents national lenders across the U.S., signed a lease for 1,331 square feet.


Edward Jones, a full-service investment firm, signed a lease for 1,141 square feet.


JLL brokers, Daryl Mullin and Cannon Camp represented the landlord on all four leases. Hughes Marino, Inc. in association with ParaSell, Inc. represented OrangeGrid. Megan McNulty with TB Advisors represented Edward Jones. Mitsubishi HC Capital and CD Construction Consultants were not represented by a broker.
ARCO/Murray National Dallas
expanded its lease at One Energy Square. The expansion of its office at 4925 Greenville Ave. in Dallas brings the space to 13,382 square feet. Whitebox Real Estate represented the tenant and Haley Hullett of JLL represented the landlord.
First Foundation Inc.
leased 4,328 square feet at Williams Square East Tower in Arlington. Newmark's Rebecca Griffin represented the tenant.
Sumrall & Bondy, PC
leased 3,362 square feet at Campbell Center, 8150 N Central Expressway in Dallas. Evan Hammer and Brendan Zrowka of Whitebox Real Estate represented Sumrall & Bondy, PC and Barbara Houlihan & Michael C Williams of JLL represented the landlord.
Exegistics Resource Solutions
negotiate a new lease at 3665 Western Center Boulevard. The new 2,811 square foot space is in Fort Worth. Sean Smith and Brendan Zrowka of Whitebox Real Estate represented the tenant and Amber Calhoun of Graham Property Brokerage represented the landlord.
Osman Centinkaya
, an individual renewed 2,261 square feet at 12850 Hillcrest Rd in Dallas. Lynna Smith represented the landlord, Hartman Income REIT.
RETAIL
The Shops at Vista Ridge
, a 74,837-square-foot community retail center located at the southeast corner of FM 3040 and MacArthur Boulevard in Lewisville, has sold. Matthew Rosenfeld, Kevin Butkus, and Giovanni Scardino with Weitzman handled negotiations on behalf of the seller, Lamar Companies, and Real Capital Solutions.
Bicentennial Retail Plaza, a 12,500 property in Southlake, has sold. Hudson Lambert and Jennifer Pierson of STRIVE exclusively represented the seller, a local Dallas developer, and cooperated with an outside broker to source the buyer, a north Texas investor.
Rush Bowls
and
Atipico
are the first two tenants to move into The Union Dallas (A Red Development project). Rush Bowls leased 1,000 square feet in the lobby of The Union office tower. It offers all-natural food bowls. Atipico, the restaurant that adapts to different lifestyles with a menu of creative dishes that is constantly evolving, plans to open at The Union Dallas in November 2021. The 5,130 square foot concept will offer a unique menu that creatively reinterprets international food while satisfying different dietary preferences.
SOL Barber and Styling Academy
has leased 4,500 square feet at Buckner Commons, 9208 E R L Thornton Fwy. in Dallas. Brian Sladek and Colin Cannon of RESOLUT RE represented the landlord.
Spice Creations Fine Indian Kitchen
has leased 2,800 square feet of retail space in McDermott Towne Crossing, 1328 W. McDermott Drive in Allen, from CH Retail Fund III/Allen McDermott LP. Kyle Espie, of Bradford Commercial Real Estate Services, represented the tenant. Jordan Prescott of Edge Realty Partners represented the landlord.
Get the D CEO Real Estate Newsletter
Get weekly updates on breaking commercial real estate news and relevant industry reports.