Timo Nentwich has lived on four different continents in the past 25 years. "Without the trust, openness and support we are proud to have within our family, this would not be possible," he says. A recent proud moment was the launch of Siemens Xcelerator portfolio, which supported the transition to a SaaS company.
In his extended 2023 Dallas 500 Q&A, the executive vice president and CFO for Siemens Digital Industries Software talks about technological enhancements, how to influence from a position of leadership, and more.
Education: The Open University Business School (MBA)
Birthplace: Germany
Best Advice: "Start your next role not only to improve business, but aim to improve culture, motivation and underlying dynamics."
Dinner Party: "I'd love to sit down with Robert Gerald Turner, the President of SMU. I would love to learn his perspective, how the mindset of the next generation of leaders has changed over the years, and to exchange on how business can accommodate constantly adapting to be attractive for current and future talents."
Destination of Choice: "The most magical place on earth I have been fortunate to visit so far is the Okavango Delta in Botswana. It is one of the very few situations, where a river does not end in an ocean but ends in a basin within the Kalahari Desert resulting in an amazing wildlife and scenery."
Hobby/Passion: "In my free time I love to spend time with my family and friends. Go running, play tennis or go paddle boarding on Lake Grapevine."
Industry Change: "It is incredible to see how advances in technology have influenced the way products are designed and tested before they go into production and there is so much more potential in the years to come. This not only influences product design, safety and costs, but can be a huge enabler for sustainability and environmental base decision making in the future."
Local Fare: "Jose on Lovers Lane is one of my regular go-to-places. It's a lively spot that combines great food and a relaxed atmosphere."
Go-to Advisor: "Over the years I have had the fortunate situation to have met and worked with many outstanding leaders that I still exchange with on a regular basis. Nowadays I try to balance experience with advise from young talents learn their perspectives and new approaches."
Toughest Challenge: "Over the past 25 years my family and I have lived on four different continents. With every move you not only encounter new (usually challenging) business environments, it also requires your whole family to embrace new cultures, find new social networks, and being open to start something new and still staying in touch with the friends you found along the way. Without the trust, openness, and support we are proud to have within our family, this would not be possible."
First Car: "My dad used to be a car mechanic so it is no surprise that cars have had a special interest throughout my life. My first (and second and third) car was a VW Beetle. I loved this masterpiece of a car, the sound of the boxer engine and the ability to repair nearly anything with only a handful of tools."
Proud Moment: "I am very proud of the team at Siemens Industry Software for successfully launching our Xcelerator Portfolio, transforming our company towards SaaS, and bringing new benefits to our customers."
Must-Read: "Erich Fromm's To Have or to Be? is a classic I often refer back to as it nicely addresses authenticity in leadership. Thinking Fast and Slow by Daniel Kahneman not only helped me to better understand my process for taking decisions but to reflect on how my biases influence me. In a changing world you need to know when to trust your instincts and when to challenge your spontaneous thoughts."
Bucket List: "Climbing Mount Kilimanjaro and visiting Machu Picchu"
Key Leadership Strategy: "Influencing is the art of not only making decisions but to influence the system on multiple levels to help talents thrive, to make teams work better, and to bring the whole organization to the next level."
Future Forecast: "There are so many moving parts that will influence the next years to come: it is not only technological enhancements but geopolitical instability, supply chain pressures, and most importantly the need to fight climate change. All of these will significantly impact us and our societies. It is the obligation of our generation to find answers to these pressing topics."
Get the D CEO Newsletter
Stay up to speed on DFW's fast-moving business community with weekly news reports, interviews, and insights.
Author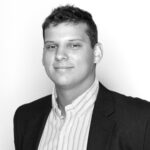 Ben Swanger is the managing editor for D CEO, the business title for D Magazine. Ben manages the Dallas 500, monthly…