Dr. Kenneth Cooper
Lifetime Achievement
Dr. Kenneth Cooper has had a remarkable career. He founded the field of aerobics with his 1968 book. He came to Dallas in 1970 to found Cooper Aerobics, building what would become a world-class research and exercise institute. He became the most famous fitness expert in the U.S. And he's not done yet. Read our feature on the 87-year-old Cooper
here
.
MD Medical Group
and

Children's Health Clinics
Outstanding Healthcare Deal
Years before Children's Health and MD Medical Group agreed to go into business together, the two sides had established mutual interest. "It has always been, 'OK, we should be doing something together,'" says Alvaro Saenz, CEO of MD Medical. "But we didn't know what that something was."
In May, the pieces finally came together: Children's agreed to sell 13 of its 17 clinic locations to MD Medical, becoming a minority owner in the for-profit clinic operator through the transaction. The deal closed in June. For MD Medical, it meant diving further into the communities of predominately Medicaid-beneficiary patients it serves, while gaining the backing of the eighth-largest pediatric health system in the country. For Children's, it meant spinning off an unsustainable primary care model without giving up its stake in the game. (Children's closed three of the clinics it didn't sell and maintains full control of the location at Children's Health Specialty Center in Dallas.)
"It has always been, 'OK, we should be doing something together,' But we didn't know what that something was."

Alvaro Saenz
"As we looked at primary care, it wasn't as if we were going to be able to do that alone," says Julie Hall-Barrow, senior vice president of network development and innovation at Children's. "It made a natural partnership with MD Medical from an efficiency standpoint and, most importantly, from an access standpoint."
As Saenz told D CEO Healthcare when the news first broke, the Children's clinics served "the exact same populations" in "almost the exact same area" as MD Medical locations, which are branded as Clinicas Mi Doctor and MD Family. MD Medical is in low-income neighborhoods such as South Oak Cliff, Pleasant Grove, Garland, and West Dallas, among others.
The company has found a way to serve those communities through a for-profit model with extended hours that focuses on seeing more patients daily, and through employing nurse practitioners alongside one to two pediatricians per site.
Saenz is up-front about the fact MD Medical doesn't provide some of the top-of-the-line benefits that staffers within major systems are used to. In 2018's North Texas job market, that has led to turnover. "It's not like I'm opposed to matching a 401(k)," says Saenz. "I just can't do it. I can't afford it."
But the vacated positions have been filled, he says, and transitioning the clinics under MD Medical's model has yielded efficiencies. Saenz says the partnership could grow from here; MD Medical is exploring how it could make urgent care centers work in the communities it serves. "There are some things we're working on that I think are pretty cool," he says. —Shawn Shinneman
Finalists: Baylor Scott & White Health, Frisco ISD, and Dallas Cowboys; Catalyst Health Network and UNT Health Science Center; Medical City Healthcare and UNT Health Science Center
Giuliano Testa
Baylor Scott & White
Outstanding Healthcare Practitioner
It isn't every year a local healthcare practitioner makes Time's list of the 100 most influential people in the world, but that is exactly where Dr. Giuliano Testa found himself this year for transforming the world of abdominal transplants. Giuliano is Baylor Scott and White's chief of abdominal transplantation and led the hospital's uterine transplant clinical trial. Baylor was one of the first hospitals in the country to provide a transplant option to women whose uteri didn't function or were nonexistent. His trial also led to the delivery of the first two uterine transplant babies in the U.S. One of those mothers, who was born without a uterus, was told she would never be able to deliver a child, and she wrote a note about Testa for Time. "The experience was not without setbacks. But through it all, Dr. Testa was a pillar of strength and assurance. And that confidence was contagious." —Will Maddox
Finalists: Bruce Bowers and Todd Dewey, Medical City Dallas; Robert Jaquiss, Children's Health and UT Southwestern
Signify Health
Achievement in Medical Devices or Technology
Earlier this year, two major in-home healthcare and evaluation providers combined to form Signify Health. It became the largest player in the industry, with $400 million in combined revenue in 2017. CEO Kyle Armbrester is leading the new company, which has the largest network of clinicians that physically go into homes and provide them care. They use technology to recruit, schedule, and collect information from the providers, while working with predominantly vulnerable and elderly patients. The company leads the healthcare shift away from expensive hospital treatment where possible, and advancements are allowing greater medical capabilities to make it into the home. Armbrester worked hard to establish a common brand and identity for the new company. "I think my job was just getting people excited by the brand and inspired by it, and making sure it was something they wanted to rally around," he says. —WM
Finalists: Michael Walsh, Cariloop; Tamara Perry, Children's Health; Chris Brickler and Shawn Wiora, MyndVR
Helen Hobbs
UT Southwestern
Achievement in Medical Research
Dr. Helen Hobbs is no stranger to the winners circle, as she has received a number of awards over the past couple years for her work as director of the Eugene McDermott Center for Human Growth and Development. Earlier this year, she won the Gerald D. Aurbach Award for Outstanding Translational Research at the Laureate Awards from the Endocrine Society. Her work developed a new category of drugs that identifies how certain genetic variants impact cardiometabolic health and is able to better treat high cholesterol. The same work won the 2018 Grand Prix Scientifique from the Institut de France. Her research owes its data to the Dallas Heart Study, which she co-founded in 1999. It analyzes an ethnically diverse group of 3,500 Dallas County residents. She also was awarded $3 million for her research in 2015 for her work in developing drugs that lower LDL, or the bad kind of cholesterol. —WM
Finalists: Theodore Laetsch, Children's Health and UT Southwestern Medical Center; Parvez S. Mantry, Methodist Health System
Texas Health Resources
Achievement in Community Outreach
THR's Sexual Assault Nurse Examiner program began as a nurse-led effort to care for survivors of sexual assault. Today, 10 of Texas Health's hospitals offer forensic nursing services. The programs have affiliations with rape crisis centers across North Texas and help serve the 2,700 individuals who seek care in North Texas after being sexually assaulted. National statistics say only six in every 1,000 sexual assault result in conviction with prison time, but the SANE program trains and equips nurses to collect the forensic evidence that can be used to investigate crimes and prosecute offenders. In addition, the program hopes to provide dignity and privacy for sexual assault survivors and their families, reducing the chances of compounded trauma. Because of the importance of this specialized training, Texas Health offers it for nurses inside and outside their network at no cost to employers. —WM
Finalists: Dave Gregorio, Heroes to Health, ImpowerQ Associates; Mirchelle Louis, Cancer Support Community North Texas; and Oliva Rogers, Visiting Nurse Association of Texas
Christopher Crow
Stratifi Health
Outstanding Healthcare Innovator
The delivery of healthcare in America is being transformed by the innovations of Dr. Chris Crow, CEO of StratiFi Health, president of the Catalyst Health Network, and founder of Village Health Partners and Legacy Medical Village. StratiFi was created to empower independent physicians. It manages more than 1.2 million patients to improve the physician-patient relationship, providing independent practices with ways to more deeply connect with the people they serve. StratiFi's systems also seek to simplify the logistics of healthcare, and its continued growth has led to a new 50,000 square-foot headquarters in Plano, which should be ready for occupancy  before the end of 2018. As President of Catalyst, Crow connected a network of more than 500 primary care providers with nearly one million North Texans, hoping to challenge the status quo and bend the cost curve for residents with an independent primary care commercial Accountable Care Organization with value-based contracts. —WM
Finalists: Timothy Crombleholme, Medical City Dallas;  Celeste Johnson, Parkland Health & Hospital System, and Kimberly Roaten, Parkland and UT Southwestern; Brandon Pope, Baylor Scott & White
SimplyWell
Achievement in Wellness Programs
SimplyWell has designed workplace wellness programs for more than 20 years, and recently rolled out a wellness portal and mobile app. For employers, wellness programs can help control healthcare costs by inspiring healthier lifestyles and providing resources employees need to lead healthier lives. SimplyWell walks the walk, with 24/7 access to an onsite gym, health coaches, and other fitness activities. CEO Mike Lamb oversees the program that works to improve member health, manage the conditions of high-risk and high-cost employees, and provide wellness resources. Partnerships include personalized digital communication regarding healthy choices, awareness of issues, and several options for biometric screening. More than 90 percent of clients are satisfied with the product; 97 percent of members who are screened are satisfied, too. Client employers have access to real-time metrics to determine the impact of the program, and save more than $700 for each participant annually. —WM
Finalists: Faith Community Nursing Program, Texas Health Resources; Canine Companions, Judge Ed Kinkeade and Baylor Scott & White Health
Daniel Podolsky
UT Southwestern Medical Center
Outstanding Healthcare Executive
Growing up, Dr. Daniel Podolsky remembers the way his dad, who had his own doctor's office, used to give up his time to talk to patients on the phone, and how he'd accommodate them for visits on nights and weekends. Fast forward a few decades, and the younger Podolsky followed in his father's medical footsteps. But even though he couldn't be further from a solo practitioner, the president of UT Southwestern Medical Center, which has an operating budget of $3.2 billion, can see the line from his upbringing.
"From the earliest days when I was doing my own thing to the point I became a division chief and the years since, the overriding driver is a passion for the welfare of patients," he says.
Podolsky never set out to end up at this perch. After attending undergraduate and medical school at Harvard, he did his residency in internal medicine and a fellowship in gastroenterology. He snagged a position on the faculty at Harvard med in 1981, coupled with a staff position at Massachusetts General Hospital. Eventually, he started to consider how he could impact his subspecialty from higher up. "I realized that leadership in the division of my specialty in my hospital gave me the opportunity to think more broadly about where things ought to be going, to have a broader impact on the training, and to develop clinical programs." He became the division chief for gastroenterology in 1989, thrown into a messy financial situation that he says taught him a quick lesson about keeping a healthy bottom line.
Leadership success led to advancement, first as chief academic officer at Boston-based Partners Healthcare, and then on Sept. 1, 2008, he took office at UTSW.
During the past decade, Podolsky has led the creation of the Peter O'Donnell Brain Institute, watched a couple more Nobel prizes float in, and built out the system's international affiliations. Facilities-wise, he has overseen the opening of the William P. Clements Jr. University Hospital in late 2014, which will get a $480 million expansion by 2020. "I could never think that an achievement is a building, not in and of itself," Podolsky says. "But in terms of patient satisfaction, what we've seen is better and better outcomes." —SS
Texas Health Hospital Frisco
Achievement in Medical Real Estate
By the end of 2019, the joint venture between Texas Health Resources and UT Southwestern Medical center will have its first hospital in Frisco. The relationship pairs physicians from both organizations to provide healthcare and promote research. The partnership, called Southwestern Health Resources, brings together 27 hospitals, more than 300 outpatient and primary care facilities and nearly 3,000 physicians. The $270 million facility, called Texas Health Hospital Frisco, is designed to help each partner achieve its goals. Texas Health can offer patients more specialized care provided by UT Southwestern, and it connects UT Southwestern with a much larger number of patients, extending its reach into the community. The new hospital will be staffed by UT Southwestern faculty, Texas Health Physicians Group doctors, and independent physicians. It will include a brain institute, cancer center, pediatric specialties like ophthalmology, otolaryngology, gastroenterology, and dermatology, as well as primary care. —WM
Finalists: Baylor Scott & White Health Medical Center, Irving Campus; Scottish Rite for Children Orthopedic and Sports Medicine Center in Frisco; Steward Health Care's Relocation to Dallas
Janice Holmes
Children's Health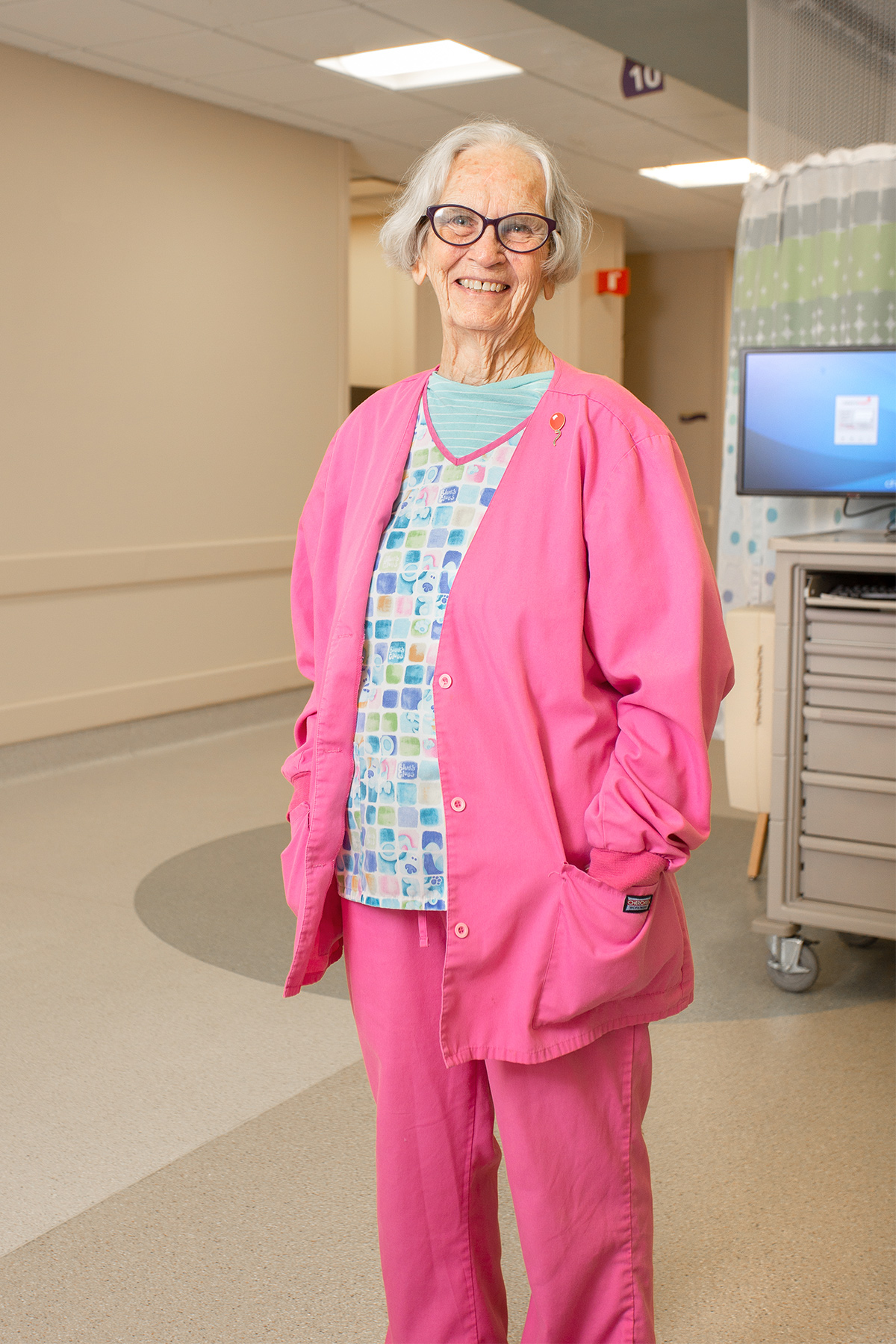 Outstanding Healthcare Volunteer
As the daughter of a physician, Janice Holmes grew up around hospitals. She felt comfortable in them. So, in 1968, when Holmes and her husband, Ernie, were recovering from the loss of their 5-year-old daughter to leukemia, there was only one place she wanted to be.
Holmes walked into the volunteer office at Children's Health, where her daughter had passed just weeks earlier, and signed up to help. Fifty years later, Holmes has become the hospital's longest-tenured volunteer. At age 82, she still goes in on Mondays, Wednesdays, and Fridays. She works in the recovery unit, keeping toys in kids' hands and pushing around stretchers and cleaning beds, among other tasks that help support nurses. She has even sewed blankets and made other items by hand for patients or to decorate.
"When we lost the little girl, she was the baby," says Holmes. "What was I going to do? All the others were in school. I hated school, but I was comfortable in hospitals."
That has served her—and Children's—well over the last five decades.
One of Holmes' five children grew up to be a pediatrician, starting his career at Children's and marrying a nurse at the hospital. Those two can attest to the impact volunteers have on increasingly time-strapped hospital personnel. Holmes likes to brag that volunteers save Children's Health, the eighth-largest pediatric health system in the country, more than $2 million a year.
"I'm a doctor's daughter—and a doctor's mother," says Holmes. "So, a lot of this stuff is just natural to me."
Holmes works the same shifts as a friend her age, and the two of them are the longest-running volunteers in the system. But neither has found any reason to hang it up yet after what has been, for Holmes, more than 20,000 hours of service. "We were talking about it the other day—you know, we're getting up there," she says. "I don't know how long we can be pushing stretchers and stuff like that. We might have to go down to doing something less than what we're doing. But I haven't really thought about not doing it yet." —SS
Finalists: Harriet Walker, Texas Health Resources; Marilyn White, Parkland Health & Hospital System
Get the D CEO Newsletter
Stay up to speed on DFW's fast-moving business community with weekly news reports, interviews, and insights.