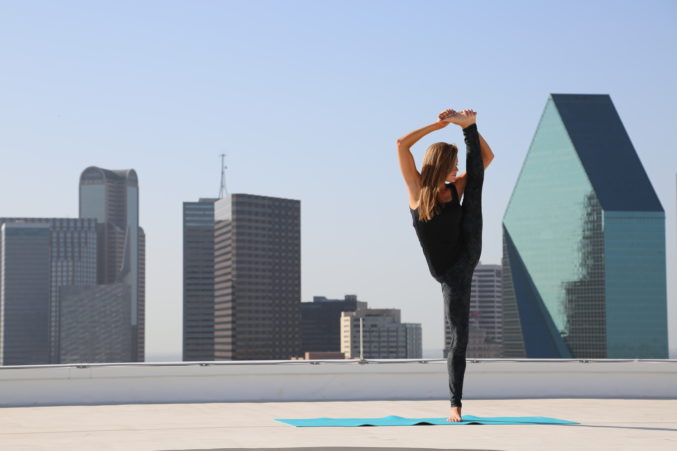 5 Ways to Work Out for Free This Week
May your spirits be light, and your wallets stay heavy.
Outdoor Voices Joggers Club // Tuesday, 7:30-8:30am 
Lace up every Tuesday morning with Outdoor Voices for a casual jog around the activewear brand's Knox District pop-up. Dogs and jog-walkers welcome!
Harwood Yoga in the Garden // Saturday, 9:30-10:30am
You know that pretty patch of grass between Mercat Bistro and Saint Ann? It's real pretty. It has a chess set and lots of large trees. You know! Get your Saturday started with a little yoga there at 9:30am and earn your brunch. Or your game of chess. Whatever floats your boat.
Free Grit Fitness at Athleta // Saturday, 9-10am 
So, Grit Fitness is partnering with Athleta in Turtle Creek Village to offer awesome free fitness all month long. Each week, there will be a different 9am class with titles practically guaranteeing next-day soreness. This week, it's "Powerbelle," aka "Barre on Crack."  See what we mean?
Free Zumba at Athleta // Sunday, 10-11am 
Maybe "Barre on Crack" sounds a little much for you. Understandable! You can still get your free Turtle Creek-adjacent fitness on this weekend with a Zumba class at 10am.
Fitness at Klyde Warren Park // All Weekend Long 
There's something for everybody this week. From yoga and barre to a class characterized by the word "intense," they've got you covered.
FRIDAY
Dancing in the Park | 6:30-7:30pm
SATURDAY
Intense Workouts with HD3 Sports & Fitness | 9-10am
Yoga with Dallas Yoga Center | 10-11am
SUNDAY
Barre with Barre in Your Bedroom | 9-10am
Yoga with Exhale | 10-11am
African Dance with Fihankra Dance & Fitness Studio | 11:30-12:30pm