Co-working vet Common Desk (founded in Deep Ellum in 2012) has expanded its local reach to Greenville Avenue in the newly renovated Energy Square—which has been home to Dallas businesses since the 1950s. The campus contains five large, highly amenitized buildings conveniently located off North Central Expressway and University Drive. Common Desk will take up 25,000 square feet in Building 2. The space will feature 11 conference rooms, 62 offices, 3 midsize suites, and ample socially distanced coworking space.
Because of its accessibility and future-forward vision, opening a location in Energy Square has been a longtime goal for Common Desk, and it first began pursuing opportunities with the prominent business campus in 2017, according to officials. Common Desk's location at Energy Square marks the second partnership between Common Desk and USAA Real Estate, adding to the first in Houston at 2500 Citywest, with the potential for a third on the horizon. It will be Common Desk's first partnership with Glenstar.
To date, Common Desk has 20 locations and counting in Dallas, Houston, Austin, Wilmington, and coming-soon Raleigh.
---
INDUSTRIAL
Vehicle Accessories Inc. is leasing 310,000 square feet near East Scyene Road and Faithon P. Lucas Sr. Boulevard. The automotive products company will move in next year, relocating its 315 manufacturing jobs and its $13.5 million annual payroll.
Crimstone AAA Operating Co. renewed its 174,932-square-foot lease at 4100 Platinum Way in Dallas. Transwestern's Brett Owens represented the landlord, Platinum Way Holdings.
Pronto Delivery Service renewed and expanded its 157,960-square-foot lease with Link Logistics Real Estate at 2007 Exchange and 1903 Exchange in Arlington. Transwestern's John Brewer, Jordan Wade, and Riley Maxwell represented the tenant.
Industrial Reserve has acquired 14 acres of industrial land at 947 Trinity Dr., Mansfield, from Trinity Forge Inc. Josh Meraz and Michael W. Spain of Bradford Commercial Real Estate Services represented the seller. Brant Landry of Landry Commercial. represented the buyer.
Hot Shot Services leased 72,653 square feet at Jupiter Trade Center in Garland. Holt Lundsford represented the landlord, IDI Logistics. Charles Brewer and Luke Davis with Stream Realty Partners represented the tenant.
Brook Furniture Rental signed an industrial lease extension for 42,560 square feet at 2100 Luna Road, Suite 100, in Carrollton. Natalie Bode of Esrp represented the tenant in lease negotiations. 
Trans Continental Hardware renewed 29,022 square feet at Interstate Warehouse I in Dallas. Lee & Associates represented the landlord, EastGroup Properties. Ryan Boozer and Lena Pierce with Stream Realty Partners represented the tenant.
Sun City Elegant Living leased 22,081 square feet at 1321-1343 Round Table Drive in Dallas. Jason Moser with Stream Realty Partners represented the landlord, ATCAP Fund Dallas/OKC. Briggs Freeman with Sotheby's International Realty represented the tenant.
Nexxt Gen Corp. signed a new 20,406-square-foot lease at 7412 Baker Blvd. in North Richland Hills. Transwestern's Todd Hawpe represented the landlord, Barnard Partners.
Builder Services Group signed a new 20,223-square-foot lease at 2585 NE 33 in Fort Worth. Transwestern's Todd Hawpe and Jeff Givens represented the landlord, Gyant Bethlehem.
Dental Sciences leased 17,277 square feet at Firewheel Distribution Center in Garland. Holt Lunsford represented the landlord, ATCAP Fund. Bob Hagewood with Stream Realty Partners represented the tenant.
Bear Robotics, a west-coast-based technology company assisting the hospitality industry by automating repetitive tasks, is opening up its Texas operations by signing a lease for 12,857 square feet at Addison Com Center, 16650 Westgrove Drive. Damian Rivera and Ben Gibbs of Esrp assisted Bear Robotics with the site selection process.
Model My Home has renewed 9,300 square feet of industrial flex space in Trinity West Business Park A, 1550 114th St. in Grand Prairie. Jim Ferris and Michael W. Spain of Bradford Commercial Real Estate Services represented the landlord, William J. Owen Trust, and OMO investment Co. John Brewer of Transwestern represented the tenant.
---
OFFICE
California-based mobile network tech firm MD7 has leased 25,000 square feet of offices in the One Bethany West building, west of U.S. Highway 75. The company plans to create more than 200 jobs with its relocation from San Diego to Allen.
Investment firm Arctos Sports Partners has leased 17,423 square feet at the soon-to-be-opened Weir's Plaza. Tommy Nelson and Dennis Barnes of CBRE negotiated the latest office lease.
Tasty Restaurant Group signed a new 9,377 office lease at 6201 Plano Pkwy in Plano. John Pelletier and Roy Reis of Esrp represented the tenant, and Trevor Franke and Gini Rounsaville of JLL represented Billingsley Company in lease negotiations. 
Highpoint Administrative Services renewed its 8,042-square-foot lease with Amtrust Financial Services at 4455 Lyndon B. Johnson Freeway in Dallas. Transwestern's David Besserer represented the tenant.
Vinci Concessions USA signed a new 6,368-square-foot lease with Billingsley Company at 4100 Midway in Carrollton. Transwestern's Billy Gannon represented the tenant.
Marksman Security Corporation signed a new 6,196-square-foot lease at Providence Towers at 5001 Spring Valley Road in Dallas. Transwestern's Kim Brooks, Scott Walker, and Justin Miller represented the landlord, KBS.
Weinstein Radcliff Pipkin Attorneys at Law signed a 4,279 square foot Renewal and Expansion at 8350 North Central Expwy, Suite 1550 in Dallas. Jarrett Dunaway and Austin Studebaker of Esrp represented the tenant. 
ZM Holding Corp renewed 2,626 square feet at 500 N. Coit Road in Richardson. Katherine Morrison represented the landlord, Hartman Income REIT.
Fort Worth IT Realty has leased 2,363 square feet of office space in Legend Bank Building, 6851 NE Loop 820, North Richland Hills, from Cocanougher Asset 1 Ltd. Erik Blais of Bradford Commercial Real Estate Services represented the landlord in the direct deal.
Excel Performance Medical Center renewed 2,195 square feet at 12850 Hillcrest Rd in Dallas, TX. Lynna Smith represented the landlord, Hartman Income REIT.
---
RETAIL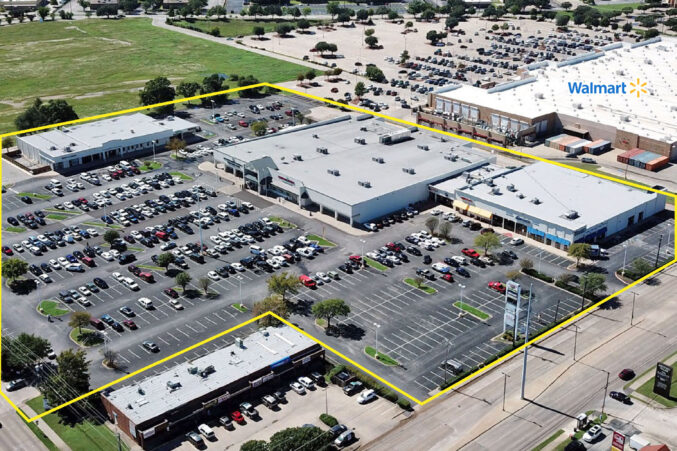 A 101,136 square foot shopping center located at the intersection of Northwest Highway and Saturn Road in Garland has sold. The center is home to Aaron's, Texas DPS, Jumping World and multiple restaurants and retailers. Eric Deuillet, Scott Rose, and John Hiller of Structure Commercial handled negotiations.
Grapevine SkateTown at 2330 William D. Tate has sold to a real estate investment group based in Carrollton. The sale includes a 32,989-square-foot building on 3.21 acres. Bill Bledsoe with  Henry S. Miller Brokerage represented both parties in the sale
Six new stores will have opened or plan to open next month at Galleria Dallas: Sprinkles Cupcakes, JD Sports, M.K.T., Pelindaba Lavender, Candy Club, and Kay Jewelers.
Fort Worth Camera signed a new 5,562-square-foot lease with TCRG Properties at 6483 Camp Bowie Blvd. Transwestern's Bill Behr represented the tenant.
Embellished Bodies signed a new 5,250-square-foot lease at 6206 South Freeway in Fort Worth. Transwestern's Lyndon Todd represented the landlord, Gyant 6206.
Honey Berry Pancakes and Café, a breakfast-and-lunch restaurant founded in Chicago, has leased 3,752 square feet of retail space in Frankford Pavilion at 4520 Frankford Road, for its first Texas location. Maggie Hansen and Stephen Wise with Weitzman handled negotiations as project leasing representatives for the center. Janet Scholl with Wingert Real Estate Company represented the restaurant.
New Leaf Custom Homes, a Texas-based premier custom luxury home builder, signed a new 3,651 square foot lease at The Hill in Dallas, located at 8041 Walnut Hill Lane. Clint Manning and Ben Gibbs of Esrp represented the tenant. 
Maharaja Indian Cuisine & Bar has leased 1,870 square feet at Shops at Three Eighty, 2281 E University Dr. in Prosper. Chris Flesner and Brian Sladek of RESOLUT RE represented the landlord. Ranjeeth Vasikarla of UrbanCountry Realty represented the tenant. 
Mathnasium has leased 1,869 square feet at Jenah Plaza 825 W Royal Lane in Irving. Taylor Cluff with DuWest represented the landlord. Jimmy Pham with Concept Commercial Realty represented the tenant.
OTHER NOTABLE PROJECTS
Plans for a major mixed-use development in Bishop Arts District have been unveiled. Dallas-based builder, Alamo Manhattan Corp. is looking to bring a more than $43 million apartment and retail building to the Oak Cliff neighborhood at Zang Boulevard and 7th Street. Plans include 208 rental units and 10,000 square feet of retail on a block that's now occupied by small commercial buildings. Architect Hensley Lamkin Rachel Inc. is designing the project. Construction will begin next year.
Richardson's $2 billion CityLine project is expected to get two new towers. Dallas developer KDC is detailing plans for additional high-rises that would include almost 1.4 million square feet of office space. The largest building is expected to be an 18-story, 513,000-square-foot tower.
Being referred to as a "legacy project" by Euless city officials, a first-of-its-kind Class A medical office broke ground at 2101 Westpark. The 60,000 square-foot office was developed by Dominus Commercial. Hoefner Welker led the design and Talley Riggins handled construction. According to officials, the project is set to become a major center of wellness—"a hub of health practitioners and organizations that offer complementary services with the goal of working together for optimal growth." The anchor tenant, MacArthur Medical Center currently sees up to 800 patients per day and is focused on becoming the community leader in women's and pediatric health. The building is slated to deliver in July 2022.
Get the D CEO Real Estate Newsletter
Get weekly updates on breaking commercial real estate news and relevant industry reports.