Share your top deals by emailing Real Estate Editor Bianca R. Montes at [email protected].
Teso Life, a coveted brand for Japanese lifestyle retail, will open its first store outside New York and fifth in the nation in NewQuest Properties' Carrollton Town Center in North Dallas. It has signed a long-term lease for 14,236 square feet of retail space at NewQuest's Carrollton Town Center. The NewQuest team spent nearly three years marketing Texas to Teso Life. Doors will open in early fall.
Teso Life emphasizes Japanese culture and aesthetics, specializing in authentic beauty products, hard-to-find flavors of popular snacks, home goods, and creative merchandise. The diverse lineup is made up of well-established and affordable, quality brands in high demand by Asian communities worldwide.
"To bring Teso Life at this time in the business recovery cycle gives Carrollton Town Center a sense of newness and encourages people to venture out and explore," says Heather Nguyen, who's gained prominence in retail brokerage for creating the high-end Asian-influenced lifestyle concept for Houston-based NewQuest Properties. "We traveled to Japan and visited many department stores and retailers. Teso Life's high-quality products for daily use are a perfect complement for the center, which has been successfully attracting a diversified demographic and new experiences for our audience."
Carrollton Town Center is 98 percent occupied, with just 3,454 square feet of available space. The project's second phase is limited to ground-leased pad sites, two of which are already under negotiation.
PERMITS
Southlake-based Magnolia Property Co. has filed a permit to build a new 140,000 square foot apartment community at 13725 Montfort Drive–previously an office building that was torn down. The new development is in the same area as the Dallas Midtown project. Wilder Belshaw Architects will design the $15 million plan.
E. Hardin has filed a permit to build a 41,571 square foot building at 250 N. Hardin Blvd. in McKinney. The project is estimated to cost $6.3 million, and Oklahoma-based The Small Group is the architect.
A permit has been filed to build a $5.5 million Radisson Hotel at 8230 Ester Blvd. in Irving. Ritzway Construction is designing the 109,112 square foot hotel.
SMU has filed a permit to start construction on a structure at the Washburne Soccer and Track Stadium. The $5 million project will include new locker rooms, bleachers, a team room, a training room, and a press box with elevators. Glenn Partners will design the 13,380 square foot building.
VRE Virginia Parkway has filed a permit to build a 7-Eleven at 3601 Virginia Parkway in McKinney. The 4,000 square foot convenience store project is estimated to cost nearly $5 million.
Bachendorf's owner Lawrence Bock has filed its permit to build-out a 1,700 square foot Rolex store at Highland Park Village. Design Alchemy is designing the $2.5 million project, which is expected to open this fall.
Raising Canes Restaurants has filed a permit to build a new restaurant at 6060 Coit Ave. in Plano. The estimated $2 million project will be 2,772 square feet. Dallas-based CSRS is the architect.
INDUSTRIAL
Arizona Tile renewed its 100,398 square foot lease at International Commerce Park, 2701 Regent Blvd., in Irving. Blake Kendrick, Jeremy Kelly, and Sarah Ozanne with Stream Realty Partners represented the landlord, Link Industrial Properties. Newmark Knight Frank represented the Tenant.
CKS Packaging leased 50,560 square feet at 2829 Merrell Road in Dallas From Gillis Thomas, L.P. Ryan Boozer and Lena Pierce with Stream Realty Partners represented the Tenant.
Apkudo Inc. leased 30,747 square feet at 800 W. Sandy Lake Road in Coppell. Holt Lunsford Commercial represented the landlord while Jeremy Kelly and Mac Hall of Stream Realty Partners represented the Tenant.
Flink Group Packaging Inks North America Corporation has signed a 28,892 square foot lease at Dallas Corporate Center Building 2, 11625 Columbia Center Drive in Dallas. Cole Collins and Gary Lindsey, with NKF, represented the Tenant.
C&R Trailer Repair leased 16,240 square feet at 810 Easy St. in Garland. Matt Spellman and Matthew Hickey, TIG Real Estate Services, represented the landlord, 4040 Forest Lane Partners. Jim Struble, of Jim Struble Realty, represented the Tenant.
Plant Interscapes renewed its 10,068 square foot lease at Manana I-35 Business Center, 10730-10768 N. Stemmons Fwy., in Dallas. Drew Feagin and Todd Poticny with Stream Realty Partners represented the landlord, DRA Advisors. Whitebox Real Estate represented the Tenant.
Karen Samuelsohn signed a 10,000 square foot lease with Dallas JDM Motors, 630 112th St. in Arlington. Transwestern's Joe Rudd leases and manages the asset, representing the landlord.
3228 Halifax purchased a 10,000 square foot building at 3020 Wichita Court in Fort Worth. T. Weldon Davis with Focus Service Group. represented the buyer. Jeff Rein with Stream Realty Partners represented the seller, Wireline Properties.
Robert H. Severance Co. has renewed 6,300 square feet of flex space in Trinity West Business Park Building A, 2550 114th St., in Grand Prairie. Michael W. Spain and Jim Ferris, of Bradford Commercial Real Estate Services, represented the landlords, William J. Owen Trust and OMO Investment Co., in the direct deal.
eSecurity Tech has signed a 4,871 square foot lease at Waters Ridge Tech 1, 1955 Lakeway Drive in Lewisville. Sara Bodzy and Carley Keiser with TIG Real Estate represented the landlord, Black Top. Tonya La Barbera, of esrp, represented the Tenant.
LAND
Landon Development Co. has revealed plans for a 637-acre mixed-use development west of Coit Road between Main Street and Eldorado Parkway in Frisco. The full build-out of the project is estimated to cost more than $1 billion.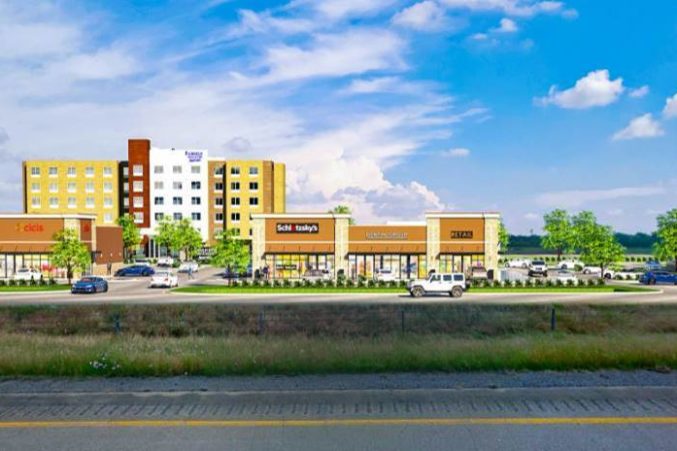 Enterprise America, a Dallas-based integrated real estate services company, has purchased almost two acres of land at Ennis Crossing, a 7-acre development in Ennis. The future site of a 95-key Marriott Fairfield Inn is located at the northeast quadrant of I-45 and East Ennis Ave. Demian Salmon with Stream Realty Partners represented Enterprise America in the purchase, while Jim Jamerson with SEGOVIA Retail Group and Chad DuBose with Foremark brokered the sale on behalf of DA Ennis 45 Partners.
OFFICE
Istation has signed a 50,000 square foot headquarters lease renewal at landmark high-rise Campbell Centre in Dallas, Texas. Emmitt Smith, of ESA, was instrumental in facilitating the relationship between NKF and Istation. John Wolf and Sara Fredericks represented Istation in the renewal. The building owner is Haberman & Haberman.
Planet Home Lending has expanded its lease to 35,471 square feet at Riverside Commons Building 3, 5020 Riverside in Irving. John Wolf, of NKF, represented the Tenant.
The Blum Firm signed a 14,780 square foot extension at 777 Main Street in Fort Worth. Transwestern's Whit Kelly and Dallas Margeson represent the landlord. McLeod-Zei represents Blum.
EXFO America has renewed its 8,282 square foot lease at The Points at Waterview, 3400 Waterview Parkway in Richardson. Matt Wieser and Ryan Evanich with Stream Realty Partners represented the landlord, 3400 Waterview. Kent Smith with NAI Robert Lynn represented the Tenant.
Crescent Communities signed a new 4,908 square foot lease with EOS Properties at Turtle Creek, LLC (KBS) at 3811 Turtle Creek. Transwestern's Kim Brooks, Scott Walker, and Justin Miller represent KBS. Walker Lafitte with Avison Young represented the Tenant.
RETAIL
BITTANO Boutique has leased 900 square feet of retail space at 4350 Lovers Lane in University Park, from Northside Lovers Lane Ltd. Kyle Espie, of Bradford Commercial Real Estate Services, represented the Tenant in the direct deal. Benton Rutledge, of Concord Capital Partners, represented the landlord.
Modera Clinic has leased 3,500 square feet at Shops at Three Eighty (2361 E University Blvd, Prosper). Chris Flesner and Brian Sladek, of RESOLUT RE, represented the landlord. Ben Gibbs, of ESRP Advisory Dallas, represented the Tenant.
Get the D CEO Real Estate Newsletter
Get weekly updates on breaking commercial real estate news and relevant industry reports.