More than 500 of the region's real estate leaders came together earlier this month to salute Dallas developer and entrepreneur Craig Hall as the North Texas District Council of the Urban Land Institute honored him with its prestigious Vision Award.
Hall is chairman and founder of the Dallas-based HALL Group, which he formed in 1968 at age 18, with $4,000 saved from small ventures.
Hall began his career buying residential properties while still in college in Ann Arbor, Michigan, and soon discovered his passion for real estate.
In support of Hall's keen interest in the arts, the table centerpieces for the Awards gala held in the Grand Ballroom of the Renaissance Dallas Hotel were sets of art supplies that are being donated to Promise House.
When the award was announced earlier this year at ULI North Texas' Capital Markets program, chair John Brownlee said Hall "exemplifies the highest qualities of leadership and entrepreneurship. His success in building an innovative, multi-faceted real estate company has contributed a great deal to the growth of North Texas."
Previous recipients of the ULI Vision Award in North Texas are H. Ross Perot and Ross Perot Jr. (2015), the legacy of Trammell and Margaret Crow (2016), Herb Weitzman (2017), and Roger Staubach (2018).
Following the presentation of the Vision Award, Hall's fellow developer and long-time friend Lucy Billingsley of Billingsley Co. interviewed Hall in a "fireside chat" on stage. Their wide-ranging conversation covered Hall's challenges in past economic downturns, his success in winemaking, and his focus on entrepreneurship, which is emphasized in his latest book, Boom: Bridging the Opportunity Gap to Reignite Startups.
Hall noted that Dallas does not yet attract the funding for new ventures that can be found in California and East Coast cities and that the region needs to seek ways to bring more financial support to new businesses.
Impact Awards recognize impactful developments
The evening continued with ULI's Impact Award presentations, featuring many of DFW's high-profile new developments. The finalists and winners of these awards were selected by a five-person jury comprised of experienced ULI members from around the country.
In the Innovation category, the 2019 Impact Award went to American Airlines Skyview 8, the first building to be completed in the new headquarters complex for American Airlines at DFW Airport. Designed by Pelli Clarke Pelli and developed by Crescent Real Estate, the building is comprised of four towers linked by light-filled connectors housing stairways and common areas, all emphasizing transparency, and collaboration.
In accepting the award, Crescent's Joseph Pitchford noted, "On behalf of American Airlines, we are thrilled to win the 2019 ULI Innovation Award for the Skyview 8 office complex. We are grateful that the ULI jury recognized how this unique project embodies American's extraordinary commitment to their team members and corporate culture."
Other Innovation finalists were Park District, submitted by Trammell Crow Company, and Gables McKinney Avenue Residences submitted by Studio Outside.
Public Places category
The jury selected as the winning entry the Dallas Farmers' Market submitted by the City of Dallas Economic Development Department. In choosing the Farmers' Market, the jury members praised the "unique and authentic feel" given by the architects, GFF.
Selected as finalists in the Public Places category were The Boardwalk at Granite Park, submitted by Omniplan, and Victory, submitted by Trademark Property Company.
Social Impact
A new category for Social Impact was created in 2019 in response to many outstanding entries that sought to improve the health and well-being of local populations in need of special services.
The winning entry, True Worth Place, is dedicated to the homeless, the vulnerable, and the underserved of Fort Worth. This HKS-designed resource center served nearly 5,000 people in 2017, representing almost all the people who experienced homelessness in Tarrant County during True Worth's first year of operation.
True Worth Place drew the jury's attention for the quality of materials, striking contemporary design, large open areas, and welcoming feel. One jury member described the resulting structure as "a rare place of dignity for those who have long been marginalized."
Other finalists in this new category included the Tolleson Family Center at Highland Park United Methodist Church by HH Architects and the Morris Foundation Women and Children's Shelter in Fort Worth, designed by Bennett Benner Partners.
Influence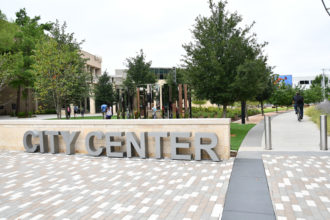 Arlington City Center developed by Catalyst Development won the Influence Award, which recognizes developments that have a positive impact beyond their own borders.
City Center is a multi-year project that brought about the new George W. Hawkes Downtown Library, the City Council Chambers, the City Center public plaza and the 101 Center mixed-use development with a shared public parking garage.
The Center's new central library was a highlighted feature that jurists noted was "a vibrant place where residents can gather without having to spend money." The project was also noted for being a development model that aging suburbs can replicate. The new Downtown Library, located just north of City Hall, offers resources and public computers, as well as meeting rooms and a makerspace. The 101 Center mixed-use development across from the library provides a new housing option that did not exist in Downtown previously. The new City Council Chambers, which is shared by the library, offers fully ADA-compliant meeting space for 200 people. Tying the buildings together is a landscaped and inviting plaza that offers public art for the community to enjoy as well as space for large community events.
The Next Big Idea
The popular finale for this 5th annual ULI Awards Event was the live competition for "The Next Big Idea."
The applicants in this category presented their concepts on-stage, with the audience voting for the winner via cell phone texts. The competition was close, with three very different finalists: The Hive Skyport for drones and Uber-elevate passenger aircraft, designed and submitted by Beck; neighborhood shopping center revitalizations by SHOP for the City of Dallas Economic Development Department; and an innovative cluster of low-cost housing units designed by Hanfield Hoffer Stanford of Fort Worth.
When the audience voting was complete, the SHOP renovations, with their innovative conversion of unused retail parking lots to parks featuring fountains, outdoor dining areas, and playgrounds, emerged as the winner of The Next Big Idea.
Get the D CEO Real Estate Newsletter
Get weekly updates on breaking commercial real estate news and relevant industry reports.