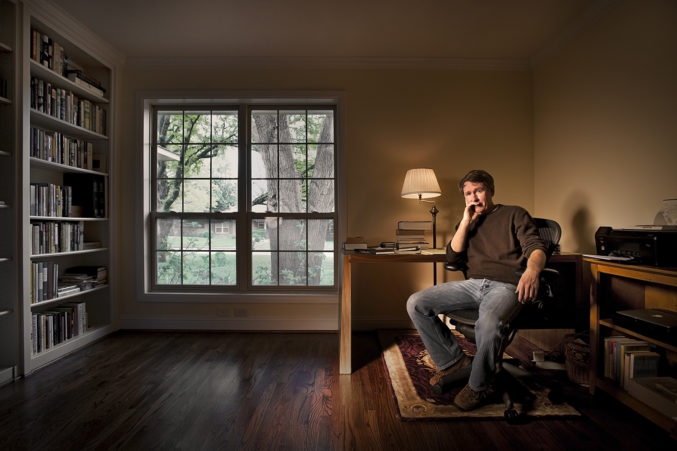 Ben Fountain Disinvited to Participate in DMA's Arts & Letter Live
The author is apparently too "divisive" for this year's program.
Ben Fountain is the author of Billy Lynn's Long Halftime Walk. Look for a piece of micro fiction from him in your July issue of D Magazine (along with stories from eight other local authors). Ben has a new book out in September titled Beautiful Country Burn Again. It starts with material that he wrote about in a series of essays for The Guardian, but about 70 percent of it is new stuff on the 2016 election. Here's how HarperCollins describes the book (published by its Ecco imprint):
Beautiful Country Burn Again narrates a shocking year in American politics, moving from the early days of the Iowa Caucus to the crystalizing moments of the Democratic and Republican national conventions, and culminating in the aftershocks of the weeks following election night. Along the way, Fountain probes deeply into history, illuminating the forces and watershed moments of the past that mirror and precipitated the present, from the hollowed-out notion of the American Dream, to Richard Nixon's southern strategy, to our weaponized new conception of American exceptionalism, to the cult of celebrity that gave rise to Donald Trump.
In connection with the book, Ben was all set this fall to give a talk at the Dallas Museum of Art's Arts & Letters Live series. He was making arrangements with Carolyn Bess, A&LL's director, and discussing another author that he might be paired with. Things were chugging along — until those things hit a wall.
Ben was informed that A&LL couldn't do an event for Beautiful Country Burn Again, on orders from the DMA's director, Agustín Arteaga. Reason given: the book looked like it was going to be "too divisive" and the DMA wants to emphasize "inclusivity." Bear in mind that it seems the DMA made this decision based solely on HarperCollins' description of the book, since galleys aren't out yet.
I asked Bess what exactly had happened. She declined to respond to my email and instead forwarded it to Jill Bernstein, the DMA's director of communications. Here's how Bernstein explained the matter in an email:
In April, we were in the process of exploring an event but nothing was confirmed. I know that Carolyn and Ben were in touch directly. As Ben knows, we will look for opportunities to work together in the future.
I pressed Bernstein for more details. Sure, nothing was confirmed. But wasn't something being planned? Whose decision was it cancel those plans? And how could that decision be made without reading the book? Bernstein declined to answer those questions.
As it happens, I was at a social gathering yesterday with Ben. I relayed to him the response I'd gotten from Bernstein. He smiled and said, "The point of the book is radical inclusivity, if you think about it. So I understand why people would be offended. Some assholes are going to be excluded."