Football
It was great last year. It's even better this year. And you shouldn't expect that to slow down, even if other things might.
Football
Cooper Rush, Tyler Smith, and Noah Brown each defied outside expectations to power Dallas' win over Cincinnati. A little more of that, and the Cowboys season might get back on track.
Football
Dak Prescott might not return for a while. Here's what Dallas must navigate ... and why the road ahead will be very, very rough.
Football
Dallas' offense took plenty of hits this offseason. Losing its stalwart left tackle on top of them might be more than it can afford.
Football
Dallas has a knack for unearthing players who augment DeMarcus Lawrence. You can expect another one this season ... and the defense will need it.
Basketball
We know how their roster stacks up leaguewide. Tim Hardaway Jr., Spencer Dinwiddie, and Christian Wood will determine if it progresses any further.
Football
The running back might be gone next year. If Dallas' playcallers can't figure out how to get the ball in his hands more often, they should be, too.
Basketball
Brunson is gone, and that sucks. But that doesn't mean the front office has failed.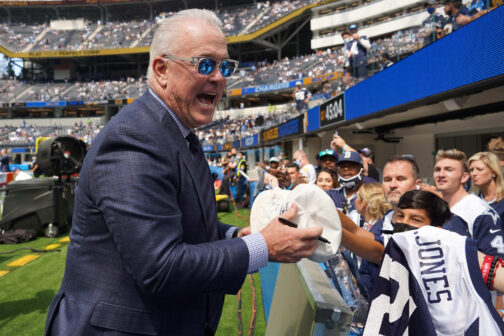 Football
Sure, Dallas is winning, but a lack of activity in free agency begs the question: how committed is the front office to being elite?
Basketball
One free-agent signing and one midyear trade took the Mavericks within three games of the NBA Finals. Maybe they don't need another All-Star, after all.