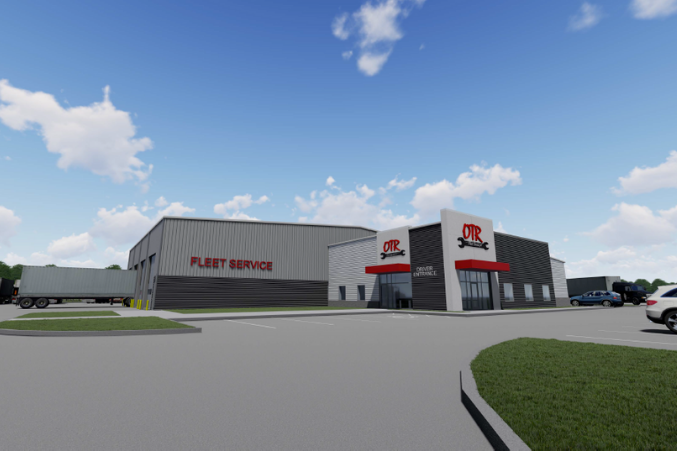 Deal Ticker: OTR Fleet Service Relocates to Dallas With 15,540 Square Foot Build
Plus a $52 million industrial project starts construction in Dallas, The Kessler School purchases a new site, Market Street Hospitality signs lease for new concept, and more.
Share your top deals by emailing Real Estate Editor Bianca R. Montes at [email protected].
I-20 Industrial purchased 14.594 acres from HCH Farms of Dallas. HSM Equity Partners will build a new 15,540 square-foot facility for OTR Fleet Service, a maintenance service provider for commercial vehicles. OTR is relocating from Forney to 34980 LBJ Freeway in Dallas. Huntley Luna and Nick Robinson of Henry S. Miller Brokerage represented the buyer. Tom Clarke, with Transwestern, represented the seller. Mark Smith of Commercial Development for HSM Equity Partners, will develop the facility.
INDUSTRIAL
A building permit has been filed for KeHE Dallas, a $52 million 994,000 square-foot industrial warehouse that includes freezer/cooler cold storage, dry warehouse, and office spaces. Ware Malcomb is leading design on the project, which is expected to complete late October 2021. The Illinois-based company is one of the country's largest food products logistics firm and clients include grocer Sprouts Farmers Market.
Beltmann Group signed a new 47,685 square-foot lease with LINK Industrial at 1011 W Royal Ln. Transwestern's Brett Owens and Clayton Johnson represented the landlord. Allen Gump, Allyson Yost and Payson MacWilliam with Colliers International represented the tenant.
RCP Transport signed a new 7,020 square-foot lease with DD30 Fort Worth, 1310 Colony Court. Transwestern's Frank Jester represented the tenant.
LAND
The Kessler School, a North Oak Cliff private school, has purchased the property for its new campus at 1822 W. 10th Street in Dallas—formerly the long-time home of Calvary Baptist Church. Located in the Sunset Hill neighborhood of Oak Cliff, the new campus totals more than 60,000 square feet across two acres. The Kessler School currently leases approximately 12,000 square feet at the nearby Kessler Park United Methodist Church. Eliza Solender of Solender/Hall represented The Kessler School. The seller was represented by Roosevelt Broach of Church Realty, Inc., which specializes in churches and schools.
MULTIFAMILY/HOTEL
Darwin German Real Estate has purchased The Corners Apartments, an 85-unit community located at 210 Wintergreen Road in DeSoto. The acquisition brings the firm's apartment community portfolio to 1,732 units in Dallas-Fort Worth. The Corners was purchased in an off-market transaction from Lubbock-based Madera Properties.
Aero, a 200-unit apartment community at 8300 Calmont Ave. in Fort Worth, has sold. Al Silva of Marcus & Millichap represented the buyer and seller.
Bella Vista Park, a 158-unit community, located at 2700 N. Buckner Blvd. in Dallas, has sold. Justin Li purchased the property from Dallas-based AmeriCan Multifamily Alliance Group. Chris Deuillet and William Hubbard, with CBRE Capital Markets' Investment Properties, represented the seller.
Arbor Park, a 78-unit apartment located at 503 Brown Trail in Hurst, has sold. Al Silva and Ford Braly of Marcus & Millichap represented the buyer and seller.
The Comfort Inn & Suites at 7801 Scott St. in White Settlement has sold. Chris Gomes and Joseph Jaques of Marcus & Millichap represented the seller. Gomes also represented the buyer.
Whispering Woods, an apartment community located at 2109 Lincoln Drive in Arlington, has sold. Mark Allen and Chibuzor Nnaji at Greystone ISG procured the buyer and represented the seller.
OFFICE
Trinity Universal Insurance Co. has completed a lease expansion at 8360 LBJ Freeway, bringing its total footprint to nearly 102,000 square feet. Gloria Medlock of Boxer Property represented the landlord. Travis Boothe, Robbie Baty, and Dan Fisk of Cushman & Wakefield represented the tenant.
Newline Interactive has leased 40,160 square-feet and an 8,000 square-foot expansion at 2930 Telecom Pkwy. in Richardson. Frank Puskarich and Louis Pascuzzi of Newmark Knight Frank represented the tenant.
Cadent Medical Communications (Syneos) renewed 12,609 square-feet at 1707 Market Place Blvd. in Irving for five years. With Jones Lang LaSalle, Erika Jean McNeil represented the tenant, and Michael Bowles represented the landlord, Hartman Income REIT.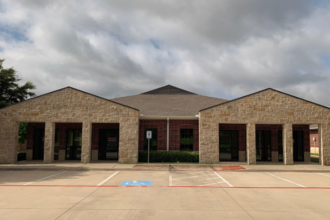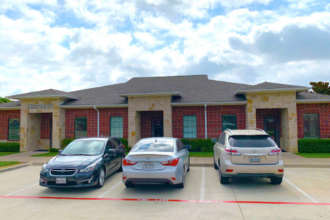 EBO Marketing Inc., the developer of Sandy Lake Office Park, has sold the project to a local accounting firm after walking back its original plan to part with just one of its two buildings. The multi-tenant office buildings, totaling 9,224 square feet, are situated on one acre at 1507 and 1529 E. Sandy Lake Rd. in Coppell. They were 75 percent leased at sale time. Richmond Collinsworth and Jared Laake of Bradford Commercial Real Estate Services represented the seller.
A 6,224 square-foot net-leased property at 2171 N. Hwy 77 in Waxahachie has sold. The subject property consists of a 6,224-square foot, freestanding iKids Pediatric Dentistry that sits on approximately 1.15 acres of land. Philip Levy and Vincent Kniff of Marcus & Millichap represented the buyer and seller.
Pacific Premier Bank renewed its 6,442 square-foot lease with ATCAP Partners at 12001 North Central Expressway. Transwestern's Nathan Durham represented the landlord.
Insperity Support Services renewed its 5,491 square-foot lease at 777 Main in Fort Worth with F7 SSSM, LLC. Transwestern's Whit Kelly and Dallas Margeson represented the landlord.
3008 Commerce St., a 3,935 square foot building in the Dallas Deep Ellum neighborhood, was sold by Khop Management and was home to Kirk Hopper Fine Art. Matthew Otte of Whitebox Real Estate represented the seller, and the buyer broker was Taylor LeMaster of Inroads Realty.
1426 N Riverfront Blvd., a 4,265 square foot building in the Design District, was purchased by Khop Management and is the future home of Kirk Hopper Fine Art. This replacement property, as part of the 1031 exchange, was sold by Quadrant Investment Properties. The seller broker was Christy Thelen, Trey Smith, Ward Eastman, Lauren Napper of Cushman & Wakefield. The buyer broker was Matthew Otte of Whitebox Real Estate.
Eyelvrin Property has purchased a 3,651 square-feet business condo at 7433 Las Colinas Blvd in Irving. Carley Keiser of TIG Real Estate Services represented the landlord, Las Colinas Center for Plastic Surgery. David Craft of Remax DFW Associates represented the buyer.
RETAIL
Ristorante Andrea has signed a 10-year 4,298 square-foot restaurant lease at Frisco Commons Shopping Center. Ristorante Andrea is a new restaurant concept from Market Street Hospitality, which operates Ellen's Restaurant (www.gritsrule.com) in Dallas' West End Historic District, Allen, and coming soon to Frisco, Fort Worth, and Keller, Texas, respectively. Ristorante Andrea will be joining Ellen's and the newly relocated III Forks restaurants in the popular Frisco Commons. Tim McNutt of DBA Commercial Real Estate Represented the landlord, Legacy Commons Frisco. Andy Anderson of Restaurant Properties Group represented the tenant.
An out of state private investor has sold 6000 Rufe Snow in Fort Worth. The 3,324 square-foot property is 100 percent net leased to Boston Market with seven years remaining. Matte Otte of Whitebox Real Estate represented the seller. The buyer broker was Peter Kikis of Matthews Advisors.
Long John Silver's, a 2,759 square-foot net-leased property at 2608 Ridge Road in Rockwall, has sold. Vincent Knipp and James W. Pickett III of Marcus & Millichap represented the seller. Knipp also represented the buyer.
Supercuts has leased 1,400 square-feet at Custer Creek Village, 3411-3501 Custer Parkway, Richardson. Lindsey Charnay represented the owner, Inventrust. Jimmy Pham, of Concept Commercial Realty, represented the tenant.