A new green space in Dallas' urban core is expected to spark more development in Deep Ellum, a neighborhood that has emerged in recent months as an office, residential, and retail hotspot. Carpenter Park is bounded by Live Oak Street and Pacific Avenue, extending up to North Cesar Chavez Boulevard.
City officials and the nonprofit organization Parks for Downtown Dallas are in talks to begin construction on Carpenter Park this fall.
"Dallas has gone from a standing-start downtown, with virtually no public parks in 2004, to the cusp of completing 23 acres of dynamic downtown parks in 18 years," said Amy Meadows, president and CEO of Parks for Downtown Dallas President. "Carpenter Park is critical to making this happen."
Economically, parks like the proposed Carpenter Park extension tend to have a lasting impact on their surroundings. A recent HR&A Advisors study found that Dallas parks had a 7:1 return on investment, giving $678 million a year back to the local economy.
The park system's ability to attract new real estate development and increase property values in the neighborhoods adjacent to parks accounts for more than half of the park system's total economic value ($345 million per year, out of the $678 million total).
"We expect that, when completed, the growth and activity around Carpenter Park will be aligned with these trends," Meadows said. "Especially given the significant amount of land ripe for development surrounding Carpenter Park."
The new green space is one of four priority parks that the City of Dallas identified in its 2013 Downtown Parks Master Plan Update. When finished, it will be the largest park in Dallas' core, topping Klyde Warren Park by nearly half an acre.
According to the HR&A study, Klyde Warren Park has attracted an incremental $900-plus million in park-oriented development in the six years following its initial $110 million capital funding. The report found that:
Between 2009 and 2014, the area within a quarter mile saw $1.1 million of residential development per acre per year, compared to roughly $133,000 per acre per year in the surrounding neighborhoods.

Klyde Warren Park also attracted significant commercial development, averaging $2.2 million more development per acre per year within a quarter mile radius in the surrounding neighborhoods.

Nearby land values increased from $125 a square foot to $250 a square foot or higher over the past decade and additional value is anticipated in coming years.

Add-Ons, Access, and Art
The new park is a redesign of the old Carpenter Plaza, located just east of DART's East Transfer Station.
"The City of Dallas did a major public works project and redid a lot of the roads on the eastern edge of downtown very close to I-345," Meadows said. "They removed several roads that crisscrossed through what was Carpenter Park, and by doing that, it created a contiguous landmass."
This landmass, which runs partially underneath an elevated freeway, will promote pedestrian access to the area.
Removing I-345 entirely has been a hot topic for city officials and neighboring residents since 2010. The highway, which connects I-45 to Central Expressway, dividing downtown and Deep Ellum, could provide 240 acres of space that could be redesigned, potentially providing new housing, retail, restaurants, jobs, and parks.
Last year, the Texas Department of Transportation held several community meetings to listen to thoughts from local residents and companies. It also launched a feasibility study, the results of which should be ready by 2021.
Hargreaves Jones, the New York-based award-winning landscape architecture firm involved in developing the 2004 Dallas Parks Master Plan and downtown's Belo Garden, is behind Carpenter Park's redesign.
"When we did the Parks for Downtown Dallas Master Plan—through both cases, both the original one and the update—we were trying to make sure that each of the parks was different," said Mary Margaret Jones, president of Hargreaves Jones. "Different in terms of design and character and different in terms of what they offer."
Similar in some regards to Pacific Plaza and Klyde Warren, the park will include a children's play area, gardens, an interactive fountain, a dog park, restrooms and concessions, and bocce ball courts.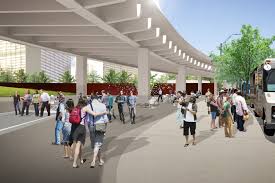 "As the neighborhoods surrounding this area of downtown and East Dallas continue to grow in density, the context in which the Carpenter Park resides may become very similar to Klyde Warren Park," said Meadows. "Both parks are remarkable in that they enliven previously viewed 'dead space' and encourage investment in the surrounding area, ultimately building a cohesive neighborhood."
Should phase two of the park's expansion be approved by the city in the coming years, the park will expand into the median between North and South Central Expressway and house basketball courts and a skate park.
Remnants of the original park will remain, as well. Hargreaves Jones worked with local artist Robert Irwin to keep his sculpture, Portal Park Piece (Slice), in the new Carpenter Park: the sculpture has called the park home since the 1980s. The piece, which was formerly a metal wall running north-south, will be turned ninety degrees to face east and west—a modification meant to symbolize the connecting element that this park represents.
Carpenter Park is set to be completed in late 2021 or early 2022, following the completion of Pacific Plaza downtown and West End Square, which will be wrapped up in early 2021 in downtown's West End Historic District.
Harwood Park, a project bound by Jackson Street, South Harwood Street, Young Street, and South Pearl Expressway, will be the last of the plan's parks and is set to be completed shortly after Carpenter Park at the end of 2022.
D CEO intern Audrey Deidrick acted as a contributing writer on this story. 
Get the D CEO Real Estate Newsletter
Get weekly updates on breaking commercial real estate news and relevant industry reports.