SkyWalker Property
and
Keller Williams
have purchased the Waxahachie Daily Light building at 200 W. Marvin Ave. in Waxahachie from GateHouse Media Texas Holdings II Inc. Newspaper management has inked a 90-day sale-leaseback to allow time for renovation of its new office and relocation. The 12,018- square foot commercial building ultimately will be the realty firm's base of operations in Ellis County. Renee Efimoff, senior vice president of SCM Real Estate Services, negotiated for the buyer. Representing the seller was Greg Cleghorn of BellCornerstone.
INDUSTRIAL
Hart & Cooley
renewed their lease for 152,274 square feet of industrial space at 200 Northpoint Drive in Coppell. Brian Gilchrist and Tim Vogds with CBRE in Dallas represented the tenant in the lease.
Johnson Controls
renewed its lease for 55,061 square feet of industrial space at 1615 Diplomat Drive in Carrollton. Brian Gilchrist and Tim Vogds, with CBRE in Dallas, represented the tenant in the lease.
United Fine Arts Services
renewed 6,670 square feet of warehouse space at 3109 Garden Brook Dr. in Farmers Branch. Brian Pafford, executive vice president and managing partner of Bradford Commercial Real Estate Services, and Susan Singer, executive vice president, represented the landlord, Gardenbrook Industrial, in the direct deal.
LAND
An
undisclosed developer
acquired 65 acres of raw land east of Oak Point in Denton County from an undisclosed seller for single-family development. Younger Partners land brokers Ben McCutchin and Michael Ytem handled the negotiations.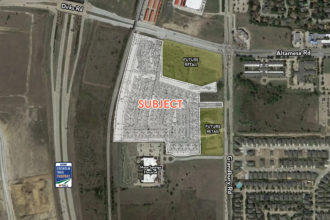 Phoenix-based
NexMetro Communities
acquired a 27-acre parcel at the southwest quadrant of Alta Mesa Boulevard and Granbury Road in Fort Worth. Younger Partners' Tom Grunnah, Michael Ytem, and Jeremy Lillard repped the buyer, NexMetro Trails.
The
City of Grand Prairie
sold 12.30-acres at 1901 S. State Highway 161 in Grand Prairie. Todd Noonan, senior vice president of Stream Realty Partners' Dallas office, represented the seller. Pat Watson-Capps, with Texas Lone Star Realtors, represented the buyer. The site is located along President George Bush Turnpike.
MULTIFAMILY
The Vineyards at Arlington Apartments
, located at 2007 Springcrest Dr., was sold. The 396-unit multifamily property is spread out over 31 buildings and 16.4 acres. The team of Taylor Snoddy, James Roberts, and Philip Wiegand, of NorthMarq, represented the seller. The buyer was Pegasus Real Estate.
El Paso on the Park
in Grand Prairie was sold. Bryce Smith and Chase Davis, with The Multifamily Group, represented the seller and procured the buyer.


Miles End Apartments, an apartment community, located at 3719 Miles Street, has sold to California-based Buyer, David Wehrly, executive vice president of Wedgewood Inc. Mark Allen, executive managing director at Greystone ISG, procured the buyer and represented the seller.


OFFICE
Dexperts Inc
has purchased a 20,090 square foot building at 3001 N. Skyway Circle in Irving from SkyWalker. The locally-based cybersecurity firm's headquarters and operations teams will relocate to the project in the coming months from a leased site less than three miles away. Michelle Hudson and Tom Hudson, of Hudson Peters Commercial, represented the seller, Life Is A Skyway LLC. Lisa Linford, of Texas Key Real Estate Group, negotiated on behalf of the buyer.
Premier Health Solutions
expanded its office lease to 17,350 square feet at Hall Office Park in Frisco. Clay Vaughn and Preston Lynn, with CBRE in Dallas, represented the tenant. Brad Gibson and Kim Butler, with Hall Financial, represented the landlord, Hall 2601 Network Associates.
USMD PPM
renewed its 8,348 square-foot lease with Medical Office Buildings of Plano and expanded to a total of 10,618 square feet. Transwestern Principal Jeff Smith represents the landlord.
Texas Health Presbyterian Hospital Plano
renewed its 8,144 square foot-lease with Healthpeak Properties. Transwestern Principal Jeff Smith represents the landlord.
Eyes in Sight Optometry
purchased a 2,034 square foot Medical Office building at 9191 Kyser Way in Frisco. Jimmy Pham of Concept Commercial Realty brokered the sale with Steve Tiemann of JP & Associates.
RETAIL
Making Dreams Real
has leased 1,885 square feet at Westwood Village, 215 Sunset Blvd. in Sherman. Sam Littlejohn and Stephanie Jacobs of RESOLUT RE represented the landlord. Cindy Wilson, of Paragon Realtors, represented the tenant. 
Get the D CEO Real Estate Newsletter
Get weekly updates on breaking commercial real estate news and relevant industry reports.