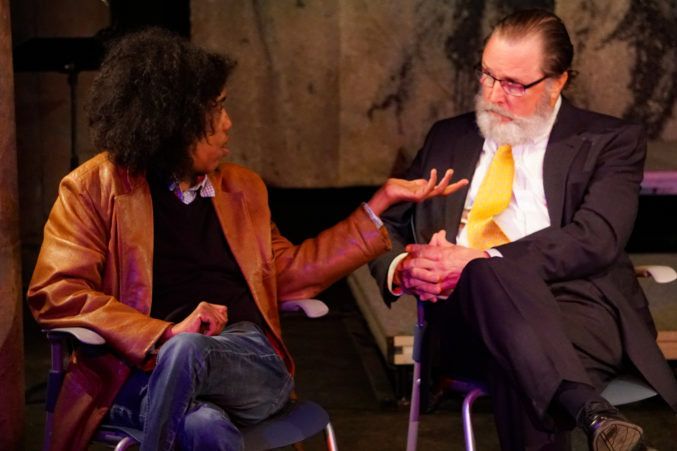 How Playwright Jonathan Norton Will Keep Dallas' Finer Details in the Canon With His Work
A first staged reading of 'a love offering' at Undermain reminds audiences this masterfully funny localist is watching.
It's one thing to risk offending an audience in the name of telling the truth. It's quite another to set ticketholders back down in the neighborhoods they left to come to the theater, make bare the contradictions of specific places and people they know or love, and still make the audience laugh without resolving the discomfort of recognition. Jonathan Norton does just that with a love offering, the play in progress that began Undermain's new festival of play readings last night. Whither Thou Goest, America? stages Norton's play through Sunday, with a discussion following Saturday's show at 7:30 p.m.
Norton's references are bountiful— a starting place that warms him to the seats— and all of the proper nouns in the script are assigned with intention. The assisted living center where a white patient's racist daughter, Josie (Laura Yancey), bullies two black women who care for her father? It carries White Rock's name. The nearby city Josie picks out as a new home for her Alzheimer's-striken dad, who called the younger nurse's aide T'Wana (Sydney Hewitt) a "nigger bitch" and attacked her? White Settlement. (Josie knows nothing about the place, really, she wails to her brother— only that she likes the sound of the name.) The "nondenominational" place of worship claimed by the patient's moral shapeshifter of a son Stewart (T.A. Taylor), after he prays so loud and convincingly long he brings a scripture-quoting T'Wana to tears? That's Fellowship Dallas, on Central Expressway.
When done correctly, localism or regionalism is never simple indictment or homage. It's a testament to place, a way to acknowledge those who know those places. The last Dallas artist to get this right within a straightforward narrative was Merritt Tierce, now based outside Los Angeles. Her novel Love Me Back chronicled Uptown's restaurant scene in a painful, dimensional way. Dream Cafe was not immune for the patio brunch or onsite sidewalk chalk for which its widely known. In the book, it was more; a place where the protagonist stops off on her road to self-destruction as a young mom amid the service industry's demoralizing demands. The Kroger on Cedar Springs had a certain isolated sadness; these were breathing places, and their mentions in the book could draw locals to look around more closely at who might be shopping in the same aisles.
Norton does that same service to the city in his play, at every wince and glint of insight. Olive Garden and Six Flags make appearances. Parkland Hospital is where T'Wana takes her young sons "when it gets really bad," since her job at the assisted living center comes with no insurance. T'Wana has no shortage of bumps and bruises given to her by patients, though, and she's thanked by the overbearing white brother-sister duo with surveillance and mistrust. "Alzheimer's doesn't turn anyone into a racist," Stewart says, yoked with his sister Josie in trying to preserve their father's upstanding reputation despite a documented history of racist attitudes that predate his disease. (Sound familiar? Confederate Monuments discussion, anyone?)
Next month Norton will workshop the play in Philadelphia in a joint partnership with the National New Play Network and Dallas' Kitchen Dog Theater. And next summer, Norton's play penny candy will receive its world premiere at Dallas Theater Center. The time to experience this playwright's work in a small room is now.